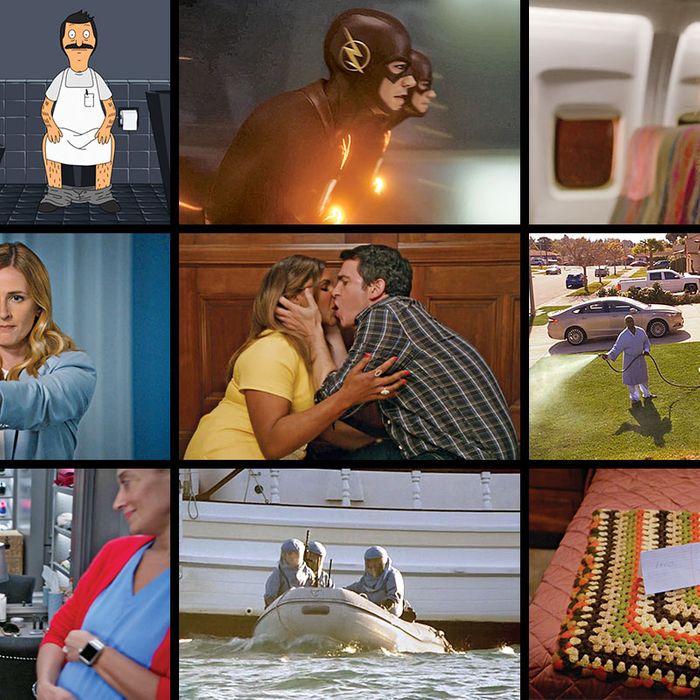 This is not a test. But it could help you on one.
Halt and Catch Fire
Aug. 23 (AMC)
Cameron and Donna hire Gordon. Mutiny goes to California. Joe pioneers anti-virus software.
The Strain
Aug. 28 (FX)
Nora is dead, Kelly finds Zach, and Eph is left on his own. The undead hunters hit the seas.
You're the Worst
Aug. 31 (FXX)
Lindsay is pregnant with Paul's baby. Gretchen and Jimmy say "I love you."
Narcos
Sept. 2 (Netflix)
Pablo Escobar escapes a raid on La Catedral; the Medellín cartel loses most of its men.
Masters of Sex
Sept. 11 (Showtime)
Libby and Bill end their marriage. Virginia skips town with perfume mogul Dan Logan.
The Big Bang Theory
Sept. 19 (CBS)
Sheldon's mom and Leonard's dad get to know each other … inside a hotel room.
Marvel's Agents of S.H.I.E.L.D.
Sept. 20 (ABC)
Lincoln sacrifices himself and Daisy goes rogue.
Brooklyn Nine-Nine
Sept. 20 (Fox)
After taking down a gangster's operation, Holt and Peralta join witness protection.
Scream Queens
Sept. 20 (Fox)
Hester was the Red Devil killer. The Chanels are sent to an insane asylum, and they love it.
New Girl
Sept. 20 (Fox)
Cece and Schmidt finally get married. Nick goes to New Orleans with Reagan.
Black-ish
Sept. 21 (ABC)
The Johnsons get ready for a new baby.
Empire
Sept. 21 (Fox)
Lucious marries Boo Boo Kitty, Jamal is moved to walk by the power of song.
Grey's Anatomy
Sept. 22 (ABC)
At Owen and Amelia's wedding, Meredith realizes she and Maggie have feelings for Riggs.
How to Get Away With Murder
Sept. 22 (ABC)
Caleb's dead. Frank's missing. Wes meets his dad, who gets killed.
Transparent
Sept. 23 (Amazon)
Maura visits with her mother and attempts to reconnect as her new self.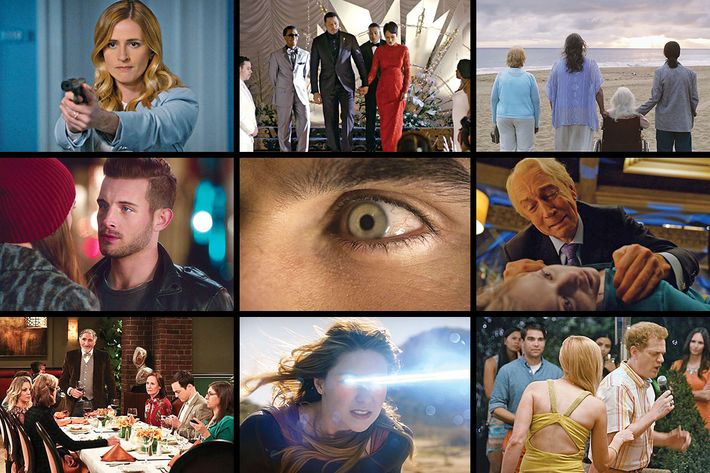 Bob's Burgers
Sept. 25 (Fox)
A celebrity chef recommends the restaurant for a magazine profile.
The Last Man on Earth
Sept. 25 (Fox)
Mike might have the virus; a gun-toting trio storms Malibu.
Quantico
Sept. 25 (ABC)
After averting nuclear disaster, Alex must choose: the CIA or Ryan?
Younger
Sept. 28 (TV Land)
Josh and Liza catch feelings at Thad's funeral.
The Flash
Oct. 4 (The CW)
Barry defeats Zoom, then travels back in time to stop his mother's death.
The Mindy Project
Oct. 4 (Hulu)
Mindy sleeps with Danny again, but he's engaged. Jody buys Mindy an apartment.
Arrow
Oct. 5 (The CW)
After defeating Damien Darhk, most of Team Arrow steps away from vigilante life.
Supergirl
Oct. 10 (The CW)
A space pod crash-lands near National City; Kara tracks it down and rips it open.
Fresh Off the Boat
Oct. 11 (ABC)
Gene uninvites the Huangs to his wedding, then flees to Taiwan with Grandma.
Jane the Virgin
Oct. 17 (The CW)
Jane is still a virgin. Sin Rostro shoots Michael.
Crazy Ex-Girlfriend
Oct. 21 (The CW)
Rebecca finally gets her romantic night with Josh. Greg realizes he's deeply in love.
The Vampire Diaries
Oct. 21 (The CW)
Damon and Enzo are overtaken by an evil, mysterious being, and Bonnie can't save them.
The Walking Dead
Oct. 23 (AMC)
Negan takes charge of Alexandria, then introduces survivors to his trusty baseball bat.
Mom
Oct. 27 (CBS)
Violet runs away to Lake Tahoe. Bonnie raises money to pay for Christy's tuition.
The Affair
Nov. 20 (Showtime)
Noah lies to protect Helen and Alison, even though they played a role in Scotty's death.
*This article appears in the August 22, 2016 issue of New York Magazine.