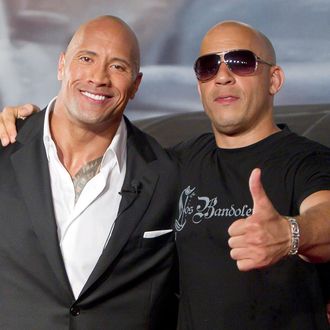 In happier times.
Photo: Buda Mendes/STF/Getty Images
Last night, the Rock shocked all of us who would like to believe in the family at the heart of the Fast & Furious films with an Instagram post in which he referred to some "candy asses" among his co-stars who don't conduct themselves as "stand up men and true professionals." "When you watch this movie next April," he added, "and it seems like I'm not acting in some of these scenes and my blood is legit boiling – you're right."
Now, we know that Charlize Theron and Dame Helen Mirren aren't at fault, because the Rock noted that his "female co-stars are always amazing and I love 'em" (which is  good, because you do not eff with Cipher). But still, that leaves a whole slew of prime suspects. We put on our best DCI Jane Tennison shoulder pads and dug into the the possible feuds.
Ludacris and Tyrese
TMZ's sources "eliminate" a feud with Tyrese and Ludacris, which is too bad, because we live for drama. Still, we can imagine that Johnson remains suspicious of the pair's music careers, especially as he's working on some songs of his own for Moana. Did they make fun of his Disney show tunes?
Kurt Russell
On the one hand, he is a male member of the Fast 8 cast. On the other, c'mon.
Kristofer Hivju
Game of Thrones' Tormund Giantsbane is playing a villain in Fast 8, which would explain why Johnson wouldn't have to act angry in scenes with him. But that beard is too glorious to ever be worn by a candy-ass man.
Jason Statham
The Rock has fought with Statham in the Fast movies before, which would explain the blood boiling thing, but also, the pair have a pretty good repartee. Johnson, for instance, has made it clear that he'd beat Statham in a real fight, and Statham, ever the gentleman, has agreed.
Vin Diesel
As the two biggest members of the Furious franchise, Diesel and Johnson are sure to butt heads from time to time, but their collective ribbing seems like something more out of a bromance than a feud. See the trailer for Ballers season two, where Johnson pokes fun at Diesel. This is the kind of friendship where any fight would be addressed more civilly than through Instagram shade. Unless, of course, it's all hype for a bigger feud. Hmmm …
Scott Eastwood
The newest member of the Fast cast, this Hot Hollywood Son, is playing a Paul Walker–replacement who works with Kurt Russell's character. Now, there's plenty of potential for feuds with the Rock onscreen, as well as a few other red flags we can't help but notice. Eastwood's inaugural Instagram mentions co-stars Russell and Diesel, but not the Rock. Plus, Scott and his father Clint made some pretty pro-Trump comments in an Esquire interview, where Scott also described some potentially annoying on-set behavior: "I'm on this Fast and the Furious movie right now, and everyone goes back to their trailer," Eastwood said. "I stick around and say, 'Why you are setting up the shot like this?' I want to learn." And, the smoking gun: In that very interview, he describes his political stance as "No candy-asses." Really, given that the Rock made "candy ass" plural, the only question is who else he might be feuding with at this point.