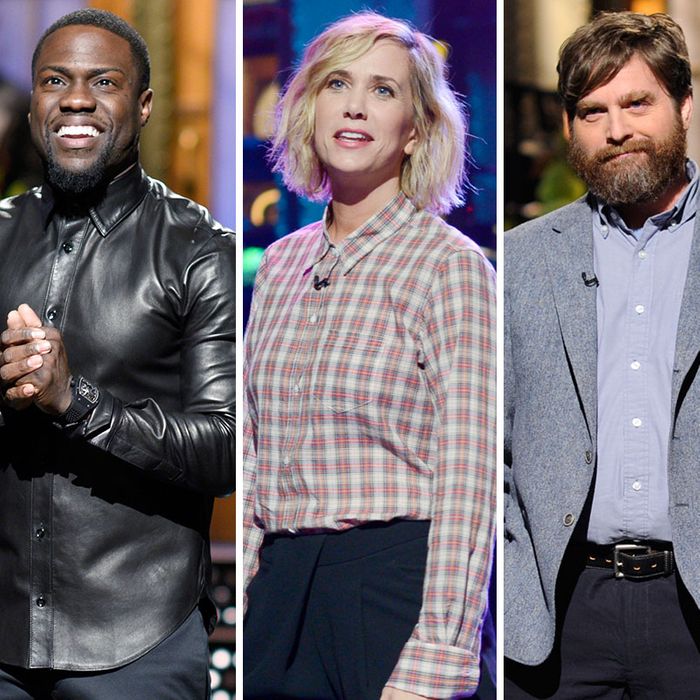 Fall is upon us, which means it's time to talk about fall-type things. For some, that means discussing whether your local pigskinners found a hurler with the arm to pull off a spread offense. For others, it's the beginning of the journey to find the spiciest pumpkin. For fans of the Greek smiling mask, like me, it's time to debate Saturday Night Live.
That rite of autumn brings it with a number of standard questions: Who left? Who should join? What do they need more of? What less? And, most dramatically, who will host the season premiere!? With the premiere exactly one month out, it's time to speculate about which fancy person will welcome us to the first episode of the show's 42nd season.
Before we name names, it's good to take a spin on the ol' Wikipedia page for Saturday Night Live episodes and see whose hosted previous premieres. Working backwards from last year, it's been:

2015: Miley Cyrus
2014: Chris Pratt
2013: Tina Fey
2012: Seth MacFarlane
2011: Alec Baldwin
2010: Amy Poehler
2009: Megan Fox
2008: Michael Phelps
2007: LeBron James
2006: Dane Cook

In that list, there are a few clear trends: returning hosts or former cast members (Cyrus, Fey, Baldwin, Poehler, Cook); stars of big summer movies (Pratt for Guardians of the Galaxy, MacFarlane for Ted, Fox for Transformers 2); breakthrough athletes (Phelps, James). The first episode is a scary proposition for the show, so having either the steady hand of a return host or the excitement of a hot commodity helps in getting the ball rolling.
First, a note of who I don't think will host episode one. There aren't any musicians who make sense to host. It's a very limited group as is, in particular if they are looking for a musician who hosted before. Lady Gaga would've been a fit but her album is probably too far out. And Drake hosted the second to last episode last season, which is just too quick of a turnaround. Mark Wahlberg has a movie coming out that weekend — Deepwater Horizon — but he's never hosted, so I doubt he'll give it a go now and I doubt the show will want a virgin. Shia LaBeouf also has a movie coming out that weekend — American Honey — and though he's hosted twice before, he's generally too much of a question mark for the premiere.

Okay, then who will it be? Here are my best guesses, in descending order from least likely to most likely.
Leslie Jones
Not very likely. Cast members are cast members; they are not hosts. Eddie Murphy did it once in 1982, but that was because his 48 Hours co-star Nick Nolte got sick, and also he was Eddie Murphy. That said, the main thing Jones has going for her is the it's-so-crazy-it-just-might-work angle. From Ghostbusters to the Olympics, Jones was the most-discussed comedic force of the summer. She also has a role in Masterminds, which comes out the weekend of the premiere.
Beyond that, it would be an opportunity for Jones and SNL to give the finger to the trolls. It's about Jones not only persevering, but saying to the alt-wrong that she is stronger and more successful than they'll ever be. I have little doubt that Jones will address what happened in the premiere, most likely during Weekend Update, but I wouldn't mind seeing it as the opening monologue.
Eddie Murphy
Speaking of Eddie Murphy and things not likely to happen. Murphy has hosted before and obviously was a famous cast member; he's also on the awards trail for Mr. Church, a drama he stars in that comes out in mid-September. If he can do his first podcast interview, he can host SNL — and it definitely would get the show a lot of buzz going into a new season. Now, there's a reason Murphy hasn't hosted since 1984*: He famously vowed to stay away from the show after David Spade told a harsh joke about him back in the 1995 season. However, Murphy has said that he buried the hatchet with Spade a few years ago and he, of course, appeared on the SNL 40. The door seems open for him to come back, whether it's for the premiere or not.
Lin-Manuel Miranda
It would've made sense for Miranda to host last year, when Hamilton was at its peak; however, when you're doing seven shows a week, there isn't much time for SNL's grueling production schedule. The situation is different now, as Miranda has stepped down from the titular role. The question is whether Miranda, an unabashed comedy nerd, has enough national recognition to host. Moana, the Disney movie he did the music for comes out in November will help a little, and his role in the Mary Poppins sequel will help a lot, but he might just not be there yet for the premiere. Either way, whenever he does, you know he's going to freestyle the opening monologue. Could the show even have him as host and musical guest, with him performing songs from the musical? Probably not, but if they did, oh to be in the room where it occurs.
Margot Robbie
Robbie appeared in two of the summer's highest grossing films: Suicide Squad and The Legend of Tarzan. It's hard to argue this accounts for a sort of breakout on the level of Chris Pratt, but in a bomb-filled summer this is as close as we got. I have little doubt that Robbie's team will be pushing for her to host, if not the premiere, then at some point, as she's proven adept at comedy and a high profile SNL appearance can help her get roles down the line. Even so, my feeling is that if she ends up hosting, it's because all the people below said no.
Zach Galifianakis
Galifianakis is a well-liked host, with three classic appearances under his belt (plus he was part of SNL 40). He also seems like the type of host that writers enjoy working with, as he's game to do and push for weirder, more adventurous sketches, like "Darrell's House." He too is starring in Masterminds, which comes out on SNL's return weekend, and with an upcoming season of Baskets on the horizon, it would make sense for him to do it. He hasn't hosted since 2013 — that is a long enough time away from the show. My only question is if he'd be seen as too weird for a premiere.
Kristen Wiig
A former cast member who has hosted before, Wiig appeared in one of the summer's most talked-about films. She's yet another co-star of Masterminds, and she's one of the greatest ever to do funny voices on the studio 8H stage. There's no reason she wouldn't be a great premiere host. The only thing that maybe could be a point against her is that she's too good. With whomever they end up adding, SNL will have a big cast it'll need to service. When you have Wiig, you let her do her thing — you don't have her play a tertiary role. My instinct is if they are going to go with a former cast member, they're going to for someone who has more experience playing secondary roles.
Jason Sudeikis
Suds has never hosted SNL, even though he's had starring roles in two major box office hits: Horrible Bosses and We're the Millers. He is also starring in Masterminds, so this seems like as good a time as any to give him a crack at it. He'll also be starring in the Fox animated show Son of Zorn. The biggest thing going for him is his evenness and versatility. The show has struggled to find cast members who could play dads, bosses, and everymen since he left, so it's a good option for a premiere when you want to showcase what the cast can do.
Tom Hanks
One of the all-time great hosts, Hanks hasn't actually hosted the show since 2006. Crazy, right? In that way, he would be a nice, classic pick like Alec Baldwin was. Hanks is in two big movies this fall: the Sully Sullenberger biopic for dads, Sully, which comes out on September 9, and the Da Vinci Code–verse film Inferno, also probably for dads, which comes out on October 14. This gives Hanks the sort of "I was in this and I'm going to be in that" appeal as a host. Hanks would also be a good pair with Bruce Springsteen, who has an album coming out in September and seems like a no-brainer premiere musical guest.
I know what you're thinking: "Cool lineup, gramps." There's truth to that. SNL wouldn't necessarily avoid having an occasional older-skewing show, but the premiere? I'm not so sure. 
Kevin Hart
Summer hit: Check (Central Intelligence made over $200 million worldwide). Hosted before: Check (twice and not last season, which is also a plus). Upcoming project: Check (Hart's second stand-up concert film, What Now?, comes out on October 14). If I were a betting man, which I'm not (too nervous!), my money would be on Hart, who has everything going for him and who, like Cook when he hosted, is undeniably the biggest stand-up in the world. He's exactly the type of host you want giving your first monologue of the season. Maybe pair him with Frank Ocean. Doesn't that sound like a nice premiere? There is just one person, or five, in his way.
Simone Biles and/or the Final Five
A twist, after a bunch of usual suspects, right? But if there is anything Biles can do it's twist and turn and flip and land and smile in a way that says, "Yup." With the Olympics having been on NBC, you have to imagine an email has been sent floating this idea. And if you had to pick one breakout it would undoubtedly be Biles. (If Phelps wanted to host SNL again and SNL wanted him to, he would've in 2012.)
We all know she has the charisma, work ethic, willingness to take risks to give it a shot, but things got real this week when she tweeted she wanted the Final Five to do it, saying, "PLEASE! We have been dying to do it." She then deleted the tweet, which, if anything, means it's more likely to happen, as her team might've told her to play it cool. I am certain they will be on the episode, but hosts? The challenge is if its all five of them, what exactly do you have them do? Besides being a logistical nightmare of trying to move five people through the show, it would be difficult for the writers to figure out how to incorporate five non-comedians into sketches.
If I had to guess, the show would have them do the monologue together but spread them out during the show, with each appearing in one solo sketch. This would both allow for the sketches not to have to be about super in-shape friends, while also not putting too much pressure on inexperienced actors. Still, SNL is a show accustomed to jumping through production hoops, so maybe they were inspired this summer.
But what do I know? Maybe because of these expectations, the show will zag, not pick any of them, and lift Adrien Brody's ban out of respeck for his neck.
Who do you think it will be? Let us know in the poll below:
* Post originally stated that Murphy hasn't hosted since he was a cast member.