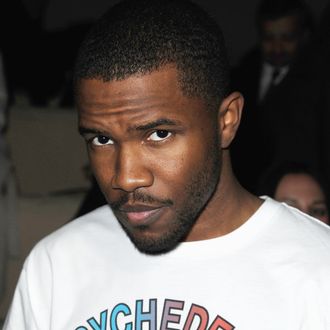 Not cool, Frank.
Photo: Pascal Le Segretain/Getty Images
If you've played Frank Ocean's visual album Endless all the way through, you probably noticed it's bookended by the same robotic, techno-y spoken-word pieces. They're the work of German visual artist Wolfgang Tillmans, who, as he explained on Instagram, originally thought Frank Ocean meant only to sample his song "Device Control" on the intro, but instead found out like everyone else last night that the full thing made the album on the outro, "Higgs." And while Tillmans isn't complaining about having his unreleased song used on one of the year's most anticipated projects (without proper credit on that outro), it turns out actually working with Ocean was exactly the headache you'd assume.
Speaking with Pitchfork, Tillmans says he first met Ocean on a photo shoot for men's fashion magazine Fantastic Man, which Ocean had bailed on last minute several times. Then, after Ocean finally showed up for the shoot in Berlin and the two went clubbing, he apparently pulled a 180 on everyone and decided to keep the photos for himself. "All seemed well, but a couple weeks later Fantastic Man got a letter from his lawyers in Los Angeles barring them for using the pictures," Tillmans said. "It was a huge disappointment and felt very unfair, but we stayed in touch and he later wanted to use images for his book to accompany a future album."
That drama aside, Tillmans says he still allowed Ocean to sample his song and is "thrilled" that the full version exists now on Ocean's album. Because at the end of the day, "the whole world has been at [Ocean's] mercy about information of any kind for the last 15 months," and Tillmans is just rocking in the same boat as the rest of us.
Update: Tillmans now tells The Fader that Ocean reached out to him on Friday about stealing "Device Control" and has apologized for the miscommunication. "He called me the day it [Endless] came out and said he didn't mean to cause any problems by not telling me [about using my track] and that the rights issues would be sorted out this week," he explains. Tillmans also confirms that the album's name change from Blonde to Blond was last-minute, like much of the release: "Later, he text messaged me the final choice of the Blond cover art, now with the dropped 'e' from an earlier version he had sent me a couple of weeks ago. It's been a crazy couple of days." Tell us about it.