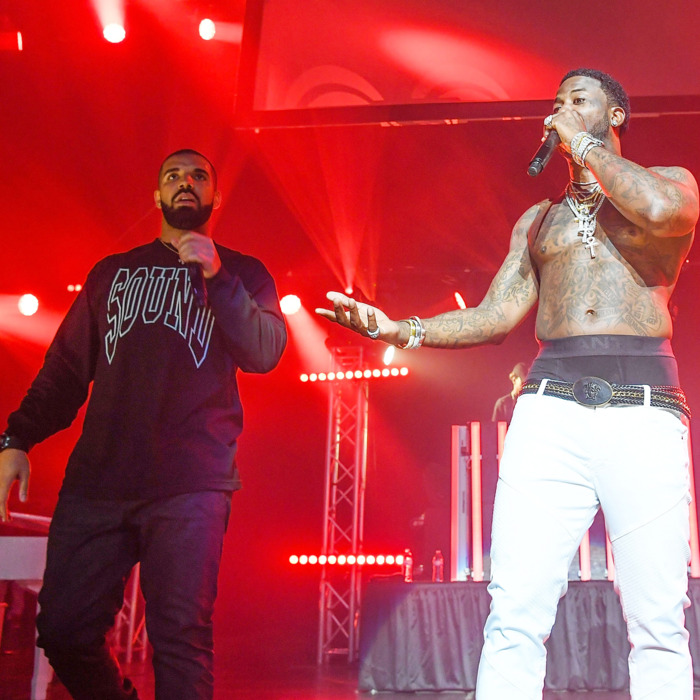 ATLANTA, GA - JULY 22: Drake and Gucci Mane perform on stage at Gucci and Friends Homecoming Concert at Fox Theatre on July 22, 2016 in Atlanta, Georgia. (Photo by Paras Griffin/Getty Images for Atlantic Records)
Drake and Gucci Mane can't be said to have much in common. Raised primarily in the Canadian middle-class, the former parlayed his status as a teen soap actor into an ever more successful career in music; the latter was raised in poverty in the American South and his career trajectory has been marked by almost as many valleys as peaks. Nonetheless, two stars of such stature are bound to have some measure of overlap: Both are known for their versatility and ferocious work ethic and they both dominate the respective music scenes of their hometowns.
And now it seems certain that the two will be sharing something more. Talk had already been swirling of a collaborative mixtape between Drake and Gucci: Drake traveled to Atlanta to pay homage to Gucci following Gucci's release from prison and the Trap God's core producers Mike Will Made It and Zaytoven, who witnessed the meeting, reported that the artists had discussed releasing a mixtape together. Even so, the project seemed nebulous at best; after all, the music business is littered with the wrecks of failed projects and especially failed collaborations. Now, though, it's fairly sure that there's fire behind all the smoke: When interviewed by VladTV, Zaytoven confirmed further details of the project, which looks to be an EP with the title of The Sixers. According to Zaytoven, the idea for the project came from Gucci, but the title came from Drake; since they both represent a region with the title of "the 6," after all (Drake rebranded Toronto as "the 6" and Gucci hails from the turbulent sector of Atlanta known as "Zone 6"), it makes sense. The title, probably not accidentally, can also be read as a jab at Meek Mill, whose hometown of Philadelphia hosts the NBA's abysmal 76ers. Work on The Sixers has already begun. To hear Zaytoven tell it, he and Mike Will began composing tracks on the same day of the summit between Drake and Gucci and two songs are already guaranteed to go on the EP. Both Drake and Gucci are coming off recent album launches, but neither appears to be done with new releases this year. Now that The Sixers is real, the coast is clear to hope that it's good.