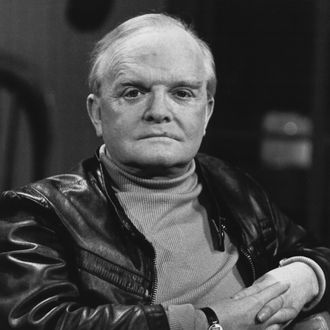 Photo: Time & Life Pictures/Getty Images
In the event you happen to be a massive Truman Capote enthusiast with an equally massive disposable bank account, allow us to present you with the strange deal of a lifetime. The famed author's cremains — which are stored in a Japanese wooden box and dated from August 28, 1984 — have been put on sale at the Los Angeles–based auction house Julien's Auctions. The cremains are expected to fetch between $4,000 and $6,000, but if you're looking for something a little more practical, other Capote items such as photographs, pill bottles, and a polo shirt are also being auctioned off. No signed In Cold Blood limited editions, unfortunately.
Update, September 25: We have a winning bidder! Capote's cremains have sold for $45,000, thousands and thousands of dollars above the original estimate. "I am sure people are going to think this is disrespectful," Julien's Auctions chief executive Darren Julien told Vanity Fair when the auction was announced. "But this is a fact: Truman Capote loved the element of shock. He loved publicity. And I'm sure he's looking down laughing, and saying, 'That's something I would have done.'"
He added to CNN when the auction ended: "We had people from Russia, Germany, China, South America, and here in the U.S. who had interest in them. I anticipated it could sell for over $10,000, but didn't anticipate it going to $45,000." Bequeathed to Capote's good friend Joanne Carson, the wife of Johnny Carson, Julien said the Carson estate "didn't know what to do" with the ashes after she passed away last year. (They, interestingly, were reportedly split between Carson and Jack Dunphy, who was Capote's companion of many years.) We hope you're happy with your purchase, mystery buyer.