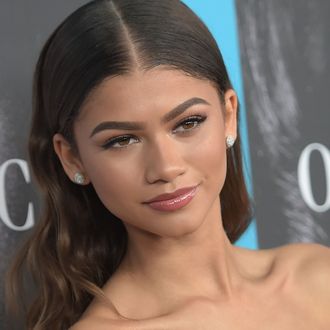 Photo: Jason Kempin/Getty Images
Comic-book castings are usually treated as a big deal, but when Zendaya inked a contract to star as the female lead in next summer's Spider-Man: Homecoming, Sony and Marvel Studios were unusually quiet about who she'd be playing. The film's splashy presentation at Comic-Con last month prompted new questions: In the trailer (which Marvel has not put online), she can be briefly seen interacting with Peter Parker (played by Captain America: Civil War's Tom Holland), but with her messy hair, sarcastic attitude, and thrift-store threads, Zendaya's character looked more like Linda Cardellini in Freaks and Geeks than any of Peter's famous comic-book love interests.
At a later Comic-Con press opportunity, Zendaya and Spider-Man: Homecoming director Jon Watts revealed that she would be playing someone named Michelle, but fans could still sense some obfuscation. Now, after a report from the Wrap, it appears that Zendaya's real role has come to light.
Warning: Spoilers follow, though they're likely unavoidable now.
As per the Wrap, Zendaya is actually playing Mary Jane Watson, Peter Parker's best-known love interest and one brought to the big screen by Kirsten Dunst in the first three Spider-Man films. According to Vulture's own sources, Michelle's real identity was a twist meant to be confirmed near the end of the film when she would finally invite Peter to call her "M.J.," but a character reveal of this magnitude is a tricky thing to keep secret these days. To cite one recent example, fans figured out early that Benedict Cumberbatch would be playing Khan in Star Trek Into Darkness, but the filmmakers' insistence on keeping his identity under wraps until halfway through the film did little but deprive them of a key marketing hook.
We'll see how Watts and Marvel Studios handle the early leak, but it's worth noting that this is perhaps the most iconic role yet that Marvel has race-bent for the big screen, and since Peter spends much of Spider-Man: Homecoming pining for popular girl Liz Allan (played by Laura Harrier), both of his potential love interests in the film will be played by actresses of color. While many had hoped that this third-movie iteration of Spider-Man would feature biracial hero Miles Morales, Marvel Studios is on a streak of casting black women as female leads, and Guardians of the Galaxy Vol. 2 (with Zoe Saldana), Spider-Man: Homecoming, Thor: Ragnarok (which adds Tessa Thompson as Thor's new love interest), and Black Panther (with Lupita Nyong'o) will all diversify the Marvel Cinematic Universe in a major way.