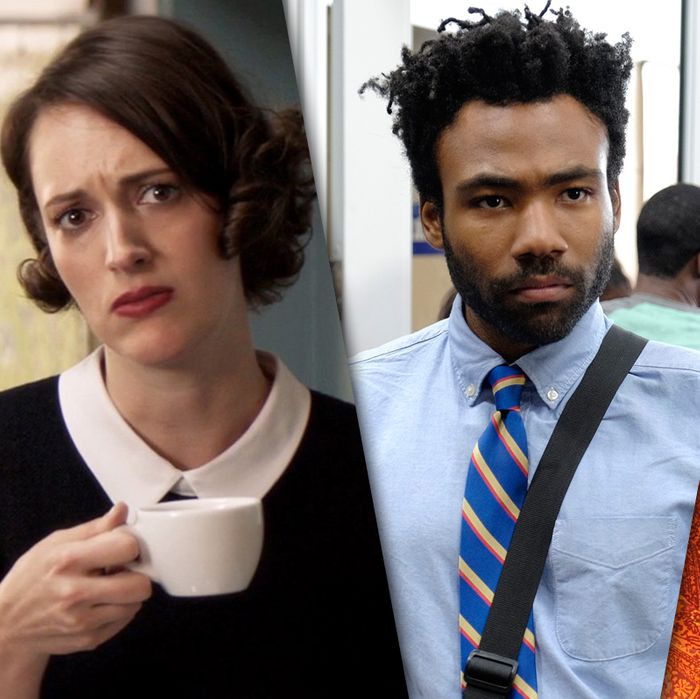 L-R: Fleabag, Atlanta, and Speechless
Photo: Amazon, FX, ABC
Are we currently experiencing the best fall TV season in several years?
Considering the reception that has greeted many of 2016's new network, cable, and streaming series, it certainly feels that way, which is a little unusual. Typically, as we inch toward the beginning of October, professional and nonprofessional TV viewers are more likely to be criticizing network executives' programming decisions and placing bets on how many heavily hyped fall shows will make it past Christmas, not drowning in more great comedies and dramas than they can handle.
That's not to say that bets about which fall show will be canceled first have stopped being placed. (For the record, my money is on Notorious, which got bad reviews and terrible ratings in its first week on the air.) But as a critic sifting through so many just-out-of-the-oven scripted episodes, I have, so far, seen a lot more that I liked, or even loved, than I hated. Is it because TV is, overall, better than it was two, three, or five years ago?
Well, yes and no. The reason this fall TV season may feel like the strongest in a long, long time has as much to do with issues of numbers and timing as it does quality, though quality is certainly a factor as well.
It's well-established that we are binge-watching in a time of maximum binge opportunities, and the amount of programming crowding our DVRs in September (and, soon, October) speaks to that. According to Vox's calculations, nearly 70 new series will compete for attention during 2016's autumnal months, as opposed to nearly 50 last year. (That latter number is based on a count of the new series mentioned in Variety's comprehensive 2015 fall TV schedule.) John Landgraf, the FX overseer whose attention to the ballooning quantity of television has made him the nation's Peak TV tracker-in-chief, pointed out at this summer's Television Critics Association press tour that 419 scripted series debuted in 2015, up from 389 in 2014. As of July of this year, 322 original scripted series had already arrived, suggesting that 2016 is well on track to hit yet another peak.
When you have more shows overall, the odds in favor of quality increase, although in the past, that still hasn't prevented a lot of what's been produced during this glut — a glut that gets, um, gluttier during the overwhelming fall months — from being mediocre. But some differences in terms of timing also have helped to lift the sails of this particular fall season.
Amazon — which, until two years ago, when it unveiled the first season of Transparent, had not been a major fall season player at all — teed up a new show for release every Friday in September. One of those was season three of Transparent, which, though enthusiastically received, doesn't count as a brand-new series. But Tig Notaro's One Mississippi and Phoebe Waller Bridge's Fleabag are new and have been widely praised by critics and audiences. (Woody Allen's Crisis in Six Scenes comes out on the forthcoming final Friday in September, and looks unlikely to bask in a similar glow.)
FX has generally targeted the non-fall months as the time to roll out its best shows (see: The Americans, Fargo, and The People v. O.J. Simpson, among others). American Horror Story has been a cornerstone of its third- and early fourth-quarter offerings since 2011, but, even though each season tells a different story, it hasn't qualified as a truly new show since "Murder House." Last fall, FX had The Bastard Executioner, which it swiftly canceled after a single season, but that was pretty much it. This year is different. Landgraf's network got a tiny jump on the mid-September crush by pushing out two universally embraced comedies — Atlanta and Better Things — right after Labor Day, effectively kicking off the fall season on two very high notes.
HBO is yet another network with a higher new-show profile this fall than it's had in a few years. In 2013, its only non-returning scripted series was Hello, Ladies, while in 2014 and 2015, its fresh scripted fare was reserved for winter, spring, and summer. This fall, however, HBO has already given us the cinematic short-story pleasure that is High Maintenance, while October brings the sci-fi tentpole-hopeful Westworld and a pair of half-hour dramedies that have already deserved the positive buzz around them: Divorce, starring Sarah Jessica Parker, and Issa Rae's Insecure.
Then, of course, there are the major networks, which are still providing awful yet reasonably well-rated fare — ladies and gentlemen, I give you, Kevin Can Wait — but also a lot of legitimately good stuff. To gauge just how good, I did an admittedly non-scientific comparison of the new shows from September and October of 2014 and 2015 with the shows that, so far, have come out in the fall of 2016, using the ultimate metric of quality: Rotten Tomatoes.
The critical-aggregator's list of the best shows of 2014 — all of which were certified fresh, meaning they earned scores of 75 percent positive or higher, after receiving a critical mass of reviews — included eight that premiered during September or October of that year: Gotham, Black-ish, How to Get Away With Murder, Transparent, The Flash, The Affair, Jane the Virgin, and Marry Me. Of those, six aired on a major network. The Rotten Tomatoes fall TV scorecard from last year also included eight September/October shows with the certified fresh marker: Red Oaks, Quantico, Casual, The Last Kingdom, The Grinder, Crazy Ex-Girlfriend, Supergirl, and Ash vs. Evil Dead.  (Some of the best shows of last fall, including Master of None, didn't show up until November.) Of those, four aired on major networks.
Now let's look at this year. Obviously, we're still early in the season, which means the assessments of these series are based, in many cases, on a small sampling of episodes. Also, some — like Netflix's Easy, which has a 91 percent positive Rotten Tomatoes score — still haven't been certified fresh because there aren't enough reviews associated with them yet to earn that designation. That being said, there are 11 certified fresh new shows — Queen Sugar, Atlanta, Better Things, One Mississippi, Fleabag, High Maintenance, The Good Place, This Is Us, Designated Survivor, Speechless, and Pitch — and five of them are on network television. Again: This is only September. With more series rolling out in the pre-Halloween weeks as well as November (including Netflix's highly anticipated Black Mirror and Gilmore Girls), that number seems likely to climb.
Is there still some trash of the four-alarm-junkyard-fire variety in the mix, too? Yes, and the heaviest, most pungent smoke seems to be emanating from CBS. But the bottom line, at least at this point in the fall TV season, is that this year's batch of new shows seems stronger than it has in recent years because it actually is stronger than it has been in recent years. So adjust your DVRs, as well as your plans for the next two months, accordingly.