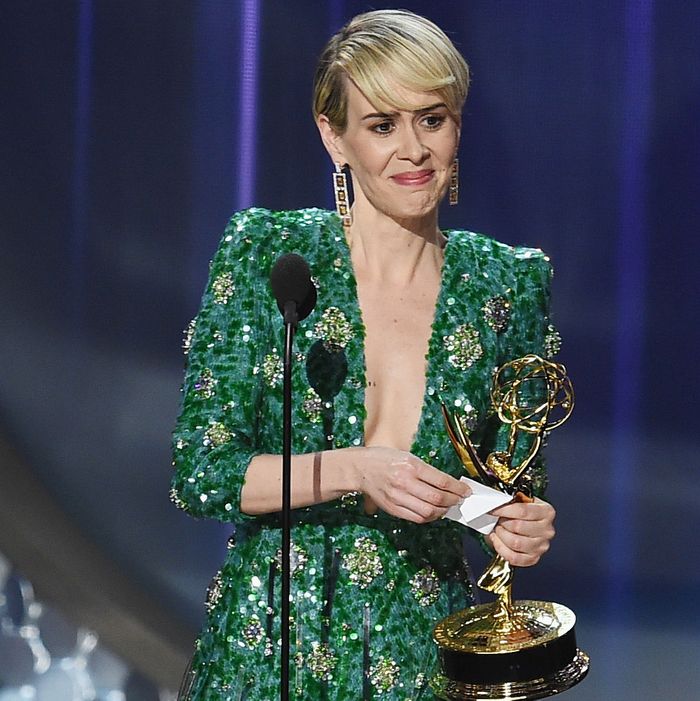 Sarah Paulson.
Photo: Kevin Winter/Getty Images
While the Emmy winners during Sunday night's 68th-annual ceremony vacillated between the totally expected (Game of Thrones again, Veep again, Maggie Smith again to the 18th power) and the surprisingly fresh (Kate McKinnon, Tatiana Maslany), the acceptance speeches stayed the course almost all night long. When it came time to accept their trophies, the big winners were consistently and refreshingly articulate, heartfelt, and to the point.
Some of them got political ("Obama out, Hillary in," Limited Series Lead Actor winner Courtney B. Vance said at the close of his remarks) and championed change ("Topple the patriarchy!" shouted Jill Soloway, referring to the mission of Topple, her production company, while winning her second directing Emmy for Transparent). Many made a point of acknowledging groups normally alienated from mainstream attention, from Veep showrunner David Mandel's shout-out to "chubby Jews from the Upper West Side or wherever you are," to Rami Malek's insistence on "honoring the Elliots," a reference to his marginalized Mr. Robot character, to Jeffrey Tambor's plea to see more transgender actors cast in Hollywood productions.
Several winners paid homage to loved ones lost, including Patton Oswalt, who dedicated his Outstanding Writing for a Variety Special Emmy to his late wife, Michelle McNamara, who died earlier this year, and Julia Louis-Dreyfus, who shakily acknowledged during her fifth acceptance speech for playing Selina Meyer on Veep that her father had passed away on Friday. It was notable that both comedy-actress winners — Louis-Dreyfus, who won for lead, and Kate McKinnon, who triumphed in the supporting category for Saturday Night Live — acknowledged their late fathers as well as the current presidential campaign, which, in different contexts, dovetails with the work both women have been doing on their respective shows.
In addition to the quality and recurring themes in these speeches, though, the most striking thing about some of them was how closely they reflected the spirit of the characters and shows on which they were focused.
Sterling K. Brown, who played attorney Christopher Darden on The People v. O.J. Simpson and demonstrated the perils of improvising in a courtroom, seemingly delivered his entire speech on the fly and was magnificent, dropping a hell of a tribute to his wife: "I got the hottest chick in the game rockin' my chain." That became the most quoted line of the night, with two white British dudes subsequently trying to replicate it while acknowledging their own whiteness, and Johnnie Cochran himself — Courtney B. Vance, who also won an Emmy for his portrayal of that flamboyant defense attorney from the O.J. case — repeating it as well. That's right: In a manner of speaking, Johnnie Cochran copied the rhetorical flourishes of Chris Darden. How great is that?
Vance delivered his speech using a repetitive structure that Cochran might have appreciated, while Sarah Paulson, who not surprisingly won for her People v. O.J. portrayal of prosecutor Marcia Clark, used part of her allotted time to be a voice for Marcia Clark, someone who often has not been given the chance to advocate effectively for herself.
The more I learned about the real Marcia — not the two-dimensional cardboard cut-out I saw on the news, but the complicated, whip-smart, giant-hearted mother of two who woke up every day, put both feet on the floor and dedicated herself to righting an unconscionable wrong, the loss of two innocents, Ron Goldman and Nicole Brown — the more I had to recognize that I and the rest of the world had been superficial and careless in my judgment. I am glad to be able to stand here today in front of everyone and tell you, I'm sorry.
It was a generous speech that also attempted to right a wrong. Based on Paulson's description and portrayal of Marcia Clark, it was the most Marcia Clark thing the actress could have done for the woman she portrayed.
While accepting his second Emmy for playing Maura Pfefferman, Jeffrey Tambor spoke like a true Jew ("Sheket bevakasha," he told the band when they tried to play him off) and advocated firmly for the trans community ("I would not be unhappy were I the last cisgender male to play a female transgender on television"). He spoke with a gentle appreciativeness that, if not exactly like Maura, certainly felt aligned with the spirit of Transparent.
Upon winning his first-ever Emmy for tapping into the muddled brain waves of Elliot on Mr. Robot, Rami Malek opened his speech in the most perfect possible way, given his show's tendency to play tricks of perception on its audience. "Please tell me you're seeing this, too," he said.
And then there was Julia Louis-Dreyfus, who set a record for most wins in the Lead Actress in a Comedy category and proceeded to do what she did so well in the most recent season of Veep: make us laugh with biting commentary about our dysfunctional government  — "Our show started out as a political satire but it now feels like a sobering documentary," she said after offering a "personal apology for the current political climate" — and then unexpectedly make us cry as she struggled openly with the loss of a parent, as she did so memorably in "Mother."
A cynical person might consider all this and say, well, all this proves is that these people weren't really acting, they were just playing versions of themselves. That's not true. None of these Emmy winners actually are the characters they play. But in their speeches on Sunday night, it was clear how deeply they understand the people they brought to life and how grateful they were for the chance to do it. Their performances gave us great TV over the last year. On Emmy night, their speeches did the same thing.