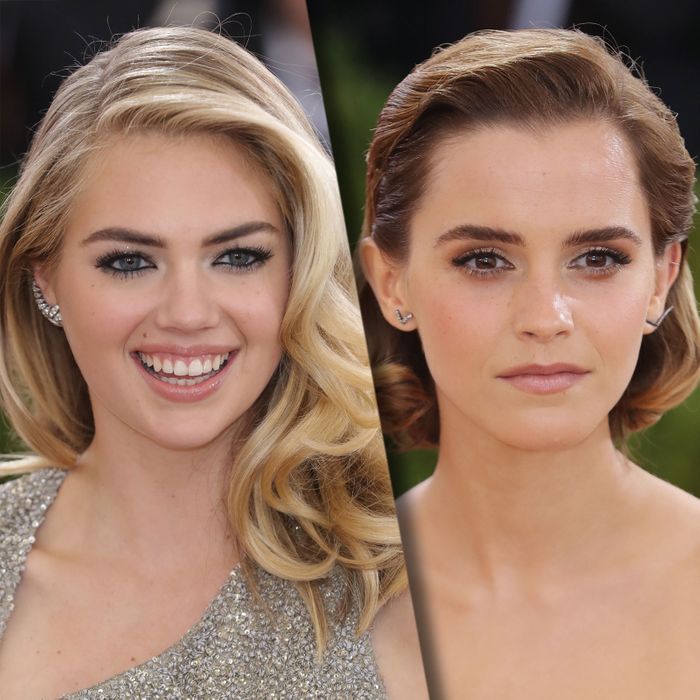 Photo: Neilson Barnard/Getty Images
In Damien Chazelle's new musical La La Land, which just earned rave reviews at the Venice Film Festival, Emma Stone and Ryan Gosling sing, dance, and fall in love. It's the actors' third film together, after Crazy Stupid Love and Gangster Squad, but when Chazelle first got the project off the ground, neither actor was involved: Instead, he'd cast his Whiplash star Miles Teller opposite Harry Potter actress Emma Watson. That Gosling and Stone came to lead the film feels preordained, but it's another example of the tenuous art of casting: Many movies almost get made with totally different actors starring, while sometimes the performers who nearly missed the cut for a big role present an intriguing notion of what might have been. How different could some of this year's most notable movies have looked with different faces?
Sometimes, an actor abruptly jumps ship on a project. Colin Farrell was long rumored to be playing the lead in Warcraft until a cast list was finally released with the far less famous Travis Fimmel in that role. Bruce Willis was originally cast as the Hollywood honcho in Woody Allen's Café Society and even spent a day on set filming, but he was fired from the project (it's rumored that he didn't know his lines) and was hastily replaced by Steve Carell. Gal Gadot was in negotiations to play the female lead in Ben-Hur until her Wonder Woman scheduling precluded her from the part, while Sean Combs was cast as a bottle of Courvoisier in Sausage Party but pulled out once he finally realized it was an animated film, according to co-writer Seth Rogen.

Emma Stone has said she was offered a role in Paul Feig's reboot of Ghostbusters, but the Amazing Spider-Man actress was gun-shy about taking on another big-budget series: "It just didn't feel like the right time for me … I think maybe I need a minute before I dive back into that water." And while Robin Williams was long attached to play the big friendly giant in Steven Spielberg's The BFG, the director wasn't willing to shoot the film until special-effects advances made it possible to take on last year with Mark Rylance in the title role.

Some actors are just a good fit for the superhero universe, and if one big role eludes them at first, another one is just around the corner. Take French actress Élodie Yung, who nearly snagged the Wonder Woman role in Batman v Superman that went to Gal Gadot, but shortly afterward was cast as Elektra for the second season of Marvel's Daredevil. Zendaya, too, was in the mix to play young Storm in X-Men: Apocalypse, but she eventually landed in the much more promising Spider-Man: Homecoming as M.J. opposite Tom Holland (who himself beat out actors like Nat Wolff, Asa Butterfield, and Timothee Chalamet to play the new MCU version of Peter Parker).

Then there are the white-whale actors who are constantly pursued for superhero roles but never deign to commit. The mercurial Joaquin Phoenix was wooed for Lex Luthor in Batman v Superman and the title role in Doctor Strange, but eventually turned down both. The parts went to Jesse Eisenberg and Benedict Cumberbatch, respectively, though the Strange role proved hard to cast: Marvel considered stars like Jared Leto, Ethan Hawke, Ewan McGregor, and Jake Gyllenhaal for it before finally settling on the Sherlock star. Gyllenhaal was also offered the part of Rick Flag in Suicide Squad (which went to Joel Kinnaman) after first-choice Tom Hardy pulled out, but here's a much more tantalizing casting notion from the same film: Oprah Winfrey was targeted for the cold-blooded Amanda Waller role that Viola Davis eventually got. (Both Winfrey and Davis were pursued for this winter's mathematician story Hidden Figures, too, in roles that went to Octavia Spencer and Taraji P. Henson.)

After two films where Renée Zellweger ping-ponged between Hugh Grant and Colin Firth, does it seem a bit unusual that in Bridget Jones's Baby, Patrick Dempsey has scrubbed in instead? That's because Hugh Grant begged off the film years ago as it languished in development hell (at one point, it was meant to shoot in 2011 as Paul Feig's follow-up to Bridesmaids). The Girl on the Train originally had a much more super-sized ensemble supporting Emily Blunt, as filmmaker Tate Taylor was in negotiations with Jared Leto and Chris Evans to play the biggest male roles in the film, but after their busy schedules couldn't be worked out, Luke Evans and Justin Theroux stepped in. And though Chris Pratt and Jennifer Lawrence seem ideally cast as the leads in the this winter's sci-fi drama Passengers — they're basically opposite-sex versions of each other, after all — the movie nearly got made two years ago with a very different pair, Keanu Reeves and Rachel McAdams.

Warren Beatty works at his own deliberate pace, so when he first put together his Howard Hughes comedy Rules Don't Apply, in 2011, Felicity Jones was cast as the female lead and Beatty met with actors like Shia LaBeouf and Andrew Garfield to play her paramour. After production delays and a studio shuffle, though, Beatty finally shot the film in 2014 with Lily Collins and Alden Ehrenreich (your new Han Solo) as the leads. Similarly, Matt Damon approached writer-director Kenneth Lonergan several years ago with the idea for a film that would become Manchester by the Sea, which he had planned to direct John Krasinski in. After reading Lonergan's first draft, Damon decided to star with Lonergan directing, but as the busy actor's dance card began filling up, he gave the sure-to-be-Oscar-nominated role to Casey Affleck so the movie could make its start date.

Still, the most mind-boggling casting that almost came to be involved a dougie-prone swimsuit model who nearly joined the Harry Potter universe. When filmmaker David Yates was looking for a female lead to play opposite Eddie Redmayne in Fantastic Beasts and Where to Find Them, he narrowed down his search for 1920s witch Porpentina to three actresses: Inherent Vice star Katherine Waterston (who eventually got the part), fierce Aussie Elizabeth Debicki, and … Kate Upton? Yes, somehow, the Sports Illustrated cover model found her way into final contention for the new J.K. Rowling movie, despite a meager cinematic resume best known for a slow-mo bikini saunter. Does this suggest that Kate Upton could be a better actress than we give her credit for? Perhaps that's the biggest magic trick the Potterverse has ever pulled off.