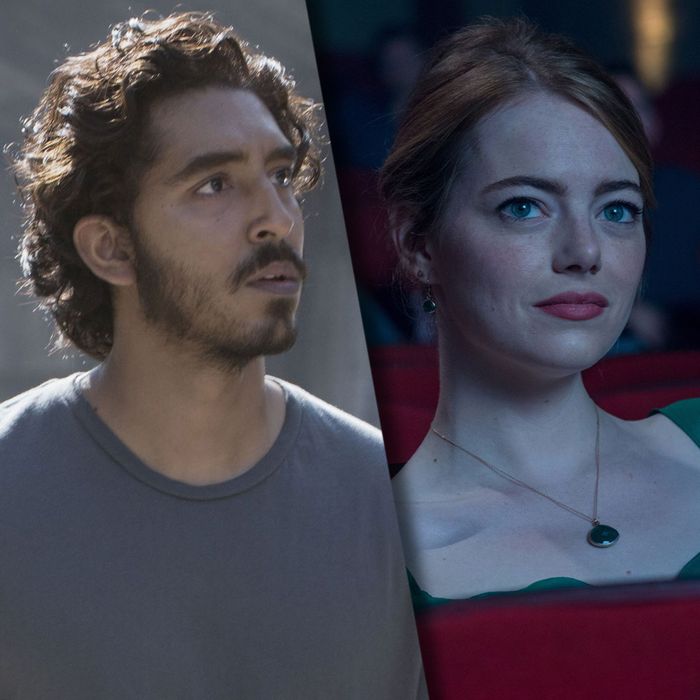 Photo: Long Way Home Productions, Black Label Media
Three weeks ago, I plumbed this year's unsettled Oscars race, but now that we have fall film festivals in Toronto, Telluride, and Venice behind us, many of the key pieces of awards season have begun falling into place. Which fortunes have changed since some of the year's biggest contenders have begun to screen? Here are six things we've recently learned about the likely Oscars lineup.
Best Actress will be a war zone
How stacked is this year's Best Actress lineup? So stacked that even five-time nominee Amy Adams, who delivers two strong performances this year, in the alien drama Arrival and Tom Ford's revenge thriller Nocturnal Animals, looks like an on-the-bubble pick for the final five. La La Land's Emma Stone and Jackie's Natalie Portman came out of the fall-festival circuit with turbocharged momentum and are guaranteed nominations, Florence Foster Jenkins star Meryl Streep has a movie that will play well with older Academy members all season, and we've still yet to see highly buzzed-about performances, from 20th Century Women's Annette Bening and Fences' Viola Davis, neither of whom have won an Oscar despite multiple nominations. I still think Stone has the makings of a front-runner: La La Land is nearly certain to score Oscar nominations for Best Picture and Best Director, and in recent years, whenever an ingenue has fronted a movie that could boast both nods, she has the edge in Best Actress (as winners like Silver Linings Playbook's Jennifer Lawrence, Room's Brie Larson, and, well, Black Swan's Natalie Portman can all attest). A lot will depend on the scope of Bening's role and which category Davis competes in — if either woman dropped down to Best Supporting, they'd likely swamp the whole field — but this looks to be the most competitive actress race in ages.

The male acting categories are penetrable
Most years, I can give you a set of five snubbed Best Actor contenders that's just as strong as the five ultimately selected by the Academy, but this year feels different. No male performance at Toronto had the heat of Portman or Stone, and the fest mostly provided another venue for actors who'd generated far more buzz earlier in the year, like Casey Affleck in Manchester by the Sea, Joel Edgerton in Loving, and Nate Parker in The Birth of a Nation. (Last year, two Best Actor nominees premiered at Toronto, The Martian's Matt Damon and Trumbo's Bryan Cranston, but this year's lineup offered no likely gate-crashers.) The fall-festival gauntlet has added a few more names to the Best Supporting Actor conversation, including Lion's Dev Patel, Michael Shannon in Nocturnal Animals, and many of the cast members of Moonlight, but both fields still feel ripe for a late-season shakeup.
La La Land is in pole position for Best Picture …
At this point in the year, we've usually seen the eventual Best Picture winner: The last several, including Spotlight, Birdman, 12 Years a Slave, and Argo, debuted on the fall-festival circuit. If history holds, then, Damien Chazelle's winsome modern musical La La Land is sitting prettiest. Not only did it win the Toronto Film Festival's Audience Award, which often presages Oscars glory, but it boasts a powerhouse contending performance by Emma Stone and is the most well-liked of the fall films by a far sight. (It's also about show business, which will register with the Academy members who once flipped for The Artist, Argo, and Birdman.) I'm not ready to call it the likely winner just yet — there are still enough films left to come that boast a comparatively strong profile on paper — but based on the rapturous reception the movie has gotten so far, Chazelle and company must be floating.

… and most of the Best Picture lineup has likely already screened
There are still some major contenders yet to screen this year … hell, there are still some major movies that haven't even confirmed a 2016 release date, though everyone in town expects Live by Night, Silence, and Hidden Figures to at least muster some sort of December qualifying run. Those films, as well as the Ang Lee–directed Billy Lynn's Long Halftime Walk and Denzel Washington's adaptation of Fences, still have time to transform the field as we know it. That being said, enough of the major movies have screened at this point that we could likely assemble at least half of the eventual Best Picture lineup from some combination of the following titles: The Birth of a Nation, Florence Foster Jenkins, Hell or High Water, La La Land, Lion, Loving, Manchester by the Sea, Moonlight, and Sully. Which of those talked-about films do you think will survive the season?

The Birth of a Nation's screenings still pack a punch
The slave-revolt drama The Birth of a Nation came out of Sundance white-hot, and after paying $17.5 million to acquire it, Fox Searchlight intended to let the film lie dormant over the summer before reactivating all that buzz with a splashy Toronto Film Festival bow in the fall. That PR plan failed to proceed as scheduled once a college rape charge against writer-director-actor Nate Parker started making headlines in August, but the studio pressed ahead regardless, and the screenings in Toronto actually went well, earning Parker a standing ovation. It's true that a later press conference found Parker on shakier ground, but if Searchlight limits his media appearances while continuing to screen the film for invested audiences, it's possible the studio can mitigate its tricky sell.

The Weinsteins can't be counted out
It doesn't feel right to have a Best Picture derby without Harvey Weinstein in it, but after several consecutive years of contending for Oscar's biggest trophy, the Weinstein Company couldn't manage a Best Picture nod last year. That rare slip, plus a public downsizing, had led many in the industry to start discounting the Weinsteins' Oscar chances … but the sensitive, crowd-pleasing adoption drama Lion will almost certainly score some major nods, including nominations for Best Picture, Best Supporting Actor (Dev Patel), and Best Supporting Actress (Nicole Kidman). The question is whether Weinstein will spend his resources on making that Toronto debut a hit, or save some for the flashy-looking Matthew McConaughey drama Gold and Michael Keaton's biopic of McDonald's Ray Kroc, The Founder, both due out later this year.