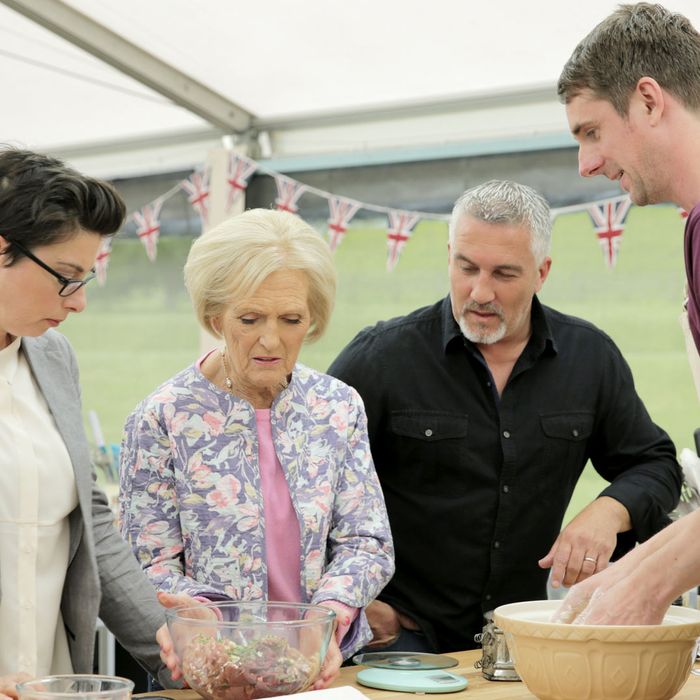 Mary Berry is not amused.
Photo: BBC
Britain has been through a lot this year — Brexit, that Gerard Butler movie where he saves London — but no news story has been more grievous than the news that The Great British Bake Off would depart the BBC for Channel 4, leaving behind both hosts Mel Giedroyc and Sue Perkins and one of its judges, the estimable Mary Berry. But before you shed a tear for bakes gone by, know that, according to reports from The Telegraph, the BBC is considering developing a rival baking show starring Mel and Sue and even Mary Berry. The sticking point, of course, would be intellectual property law, as anything too closely resembling Bake Off would be a no-go. So how do you replicate the sugary pleasures of GBBO without getting yourself into some great big trouble? Vulture has a thesaurus, and a few suggestions.
The Grand English Pastry Challenge
The likeliest version of this show to draw viewers and copyright lawyers alike. Mary Berry, Mel, and Sue all coach contestants in a yurt (not a tent!) in London (not the countryside!) with contestants who compete to be the best "number one pastry maker" (not "star baker!") each week. Berry is joined by Ron San Bernadino (not Paul Hollywood!), an equally grumpy co-host who rarely approves of anyone's "takes" (not "bakes!"). Later seasons provide Welsh, Scottish, Irish, and Manx pastry challenges, though never an American one. Not again.
The Colossal Commonwealth Sugar Spectacular
Modeled after The Voice, this take sorts amateur contestants into teams, all coached by different professional bakers. The general structure is the same — contestants must master a few different skills each week — but now there is more incentive for sabotage. Forget #bingate, season one of CCSS has Pamela (a mother of two from Manchester) cutting the wiring of Rooney's (an uppity public-school kid) crème brûlée torches, all under prompting from her coach, Matthew Rhys's character in Burnt.
The Huge Generational Cooking Battle
Modeled on this season of Survivor, contestants are divided into two categories: millennials and "those who remember the war" (the war in question is not specified). The millennials try to incorporate new spices and cooking techniques into their recipes. Those who remember the war only bake stale, rectangular biscuits. They also win.
The Immense Canadian Dough Experiment
Forgoing the literally insular nature of GBBO, this proposal brings baking to the commonwealth, in a format that has contestants from Winnepeg to Manitoba cooking up everything from maple cookies to the best possible poutine. (We spend three weeks on poutine, it's a complex art.) Justin Trudeau serves as a guest host alongside Mary Berry. The chemistry is palpable, though viewers complain that Trudeau's rating scheme — his three responses to bakes are "eh," "yassss," and "I support women, and you should, too" — is incomprehensible.
The Minute U.K. Baker Adventure
An across-the-pond take on Masterchef Junior, this show would combine all the charms of small children with all the intimidation of small children who speak with British accents. The pint-sized contestants are sorted into houses, which compete against each other Hogwarts-style. Eustace (9, with a slightly haunted look in his eyes) beats out Lucy ("11 and a half come Michaelmas") to win the first season, with a modern take on Turkish delights. As part of the prize, Tilda Swinton invites Eustace to come live in her castle. For some reason, nobody protests.
Bake Off's Baby
All the contestants are pregnant women in this rollicking show, which doubles as a primer on women's health. Judges Mary Berry and Renée Zellweger (constantly shouting "bollocks!") offer helpful pep talks to contestants and also promise to reveal who the father of each contestant's baby is at the end of the season. This is rather confusing, as none of the contestants have babies whose paternity is in doubt.
Bake Mirror
The show proceeds as usual, but once in a while, Mary Berry turns to address the camera. "The false prophets of technology and entertainment have made us complicit in the slaughterhouse of capitalism," she says. Her comments go unexplained.
The Big Britannica Boat Show
Aside from the cooking, the essence of GBBO lies in bad puns. This nautical version of GBBO has Mary Berry, Sue, and Mel hanging out in various marinas, where they evaluate the quality of various ships. Jokes about "soggy bottoms" still abound, alongside some knotty wordplay about contestants' buoys, solid timber, and block and tackle.
The Great British B-Roll
If the BBC can't afford Mary Berry, Sue, or Mel, they can surely afford B-roll from the original Bake Off. Please enjoy a few hours of footage of babbling streams, dewy flowers in the first light of morning, and occasionally, risqué footage of squirrels.