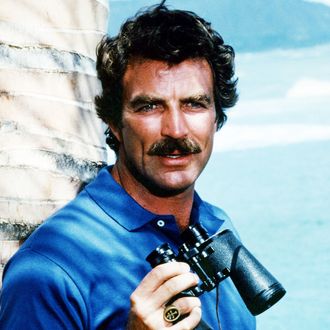 Please photoshop this mustache onto your actress of choice.
Photo: Silver Screen Collection/Getty Images
Hollywood is crazy these days: First they tell us a man can be a mermaid, now they want us to believe that a woman can be Tom Selleck('s fictional daughter). Per Deadline, ABC is developing a sequel to Magnum, P.I., which centers on Magnum's daughter Lily "Tommy" Magnum, who returns to Hawaii to take over her father's private-investigation firm. From there, "she and her tribe of friends mix tropical beaches with the seedy underbelly of international crime and modern espionage, even as she tries to unravel the mystery of the blown spy operation that ended her career in Navy Intelligence." Boy, next thing you know they're going to tell us that the star of Miami Vice had a daughter, too, and that she's famous in real life.