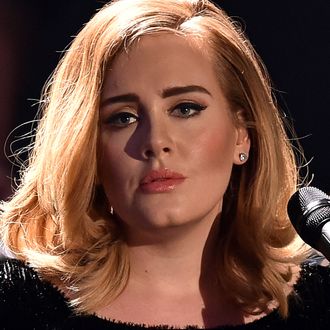 Adele.
Photo: Sascha Steinbach/Getty Images
Hello, it's Adele, modern pop anomaly, back with yet another monumental achievement. Adele's 25 has officially reached certified diamond (or 10x platinum) status as of September 20, signifying that the album has crossed the 10 million unit threshold in the U.S. less than a year since its release last November. (Nine million of which are reportedly in pure sales.) Adele previously went diamond with 2011's 21, but it took that album closer to two years to hit 10 million — 25 has done it in half the time. She becomes the first woman to reach two diamond albums in the U.S. since Britney Spears last did it with 1999's ... Baby One More Time and 2000's Oops I Did It Again; she's also the only artist this decade to have two diamond albums.
Adding to Adele's embarrassment of riches, 21 has now been certified 14x platinum; her debut, 19, is now 3x platinum; both "When We Were Young" and "Send My Love (to Your New Lover)" are platinum; and "Hello" is now 7x platinum. In under a year, 25 has now internationally sold just around 10 million units shy of 21's total global sales — and that's been out for five years — putting to rest any doubt whether Adele could make lightning strike twice.