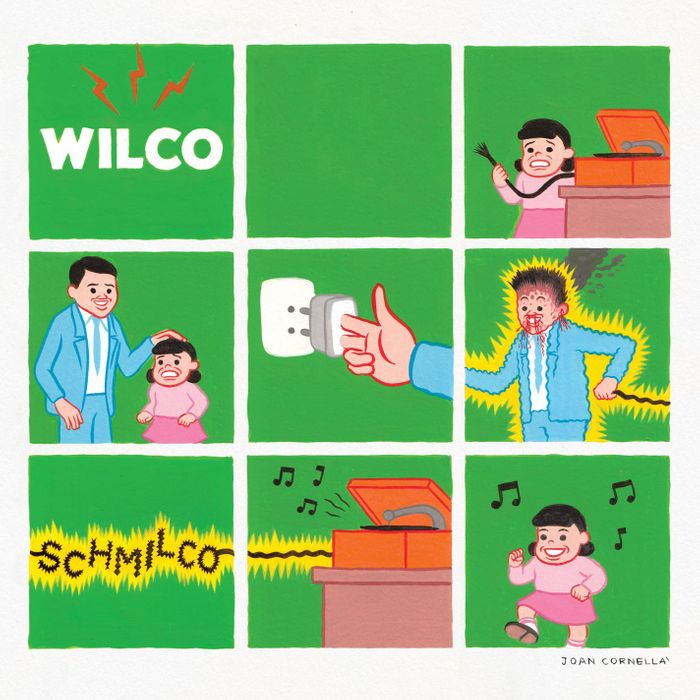 For over 20 years, Chicago Americana troupe Wilco has been a band of depth and intricacy. Singer-songwriter Jeff Tweedy served up skewering personal insights on the mic as a revolving backing band of ace multi-instrumentalists dressed them in the country repose of A.M. and Being There, the '70s pop sheen of Summerteeth, and the kitchen-sink symphonies of Yankee Hotel Foxtrot. By 2007's Sky Blue Sky, the band settled on what would be its first stable lineup: Tweedy and his Uncle Tupelo bassist buddy John Stirratt, experimental drummer and percussionist Glenn Kotche, guitar whiz Nels Cline, knob twiddler Mikael Jorgensen, and alt-country session hand Pat Sansone. The lineup honored Wilco's commitment both to country and to pushing the envelope, but 2009's Wilco (The Album) and 2011's The Whole Love, the pair of full lengths that followed Sky Blue Sky, fizzed when they ought to have popped.
Last summer's surprise free release Star Wars was an attempt to redirect the band's energy. At just over 33 minutes long, it's the shortest Wilco studio album by some distance. The songs were two- and three-minute pop-rock confections that pulled off the difficult feat of sounding both thoughtfully arranged and off the cuff. This month's Schmilco seeks to extend the streak, revisiting the wiry energy of Star Wars over a dozen quiet acoustic tunes. Most of the new album's songs were conceived around the same time as Star Wars, but Tweedy made the peculiar decision to split the fertile sessions in two: "The alternative to making two records would have been to spend another year really honing everything, all of it, getting it all right for that kind of release."
The irony of the Star Wars/Schmilco project is that the decision not to whittle everything down to a single body of work is a saving grace. Wilco (The Album) and The Whole Love grated in spots for trying too many divergent moods and styles. (This proved a winning strategy for records like 2004's A Ghost Is Born, which trekked through country, punk, and krautrock in 12 songs, but just the same, the streamlined country-rock jaunt Sky Blue Sky is every bit as great a work.) Piling the glam-rock stomps on top of each other for Star Wars and leaving the Schmilco cuts room to breathe and soak up strange textures and playful arrangements from Wilco's cadre of inventive players is the best editing decision this band has made in years. It's not exactly an acoustic yang to Star Wars' garage-rock yin, but it does often treasure open space where the other album opted for an unrefined racket.
If the major strength of Star Wars was getting Wilco, a band whose finest albums are also their busiest, to strip down, Schmilco's is figuring out how to stash six players into the quiet of a backyard jam. "Normal American Kids," introduced at a live show earlier this year as a solo Jeff cut, gets a studio version that sneaks sweet, meandering electric guitar from Nels into the background. A few songs later "Nope" crams stuttering bits of riffs into the margins, the lead guitar coughing and spitting over the tune like Blur ax-man Graham Coxon did on "Coffee & TV." "Nope" slowly unravels as it trips along, its personnel expanding to no less than three guitarists and two drummers. (Tweedy's son Spencer lends Kotche a hand on Schmilco's drums.) Between these extremes is a tapestry of shaggy guitar shuffles like the laconic "Happiness," the demented, atonal "Common Sense," and the muted punk blast of "Locator."
Schmilco's subtle intricacies provide cover for a series of vignettes of dreamers in various degrees of resignation. From the song titles — "Nope," "Cry All Day," "Someone to Lose," "Shrug and Destroy" — down to the lyrics, Schmilco bleeds sadness. The deceptively titled "Happiness" opens on a devastating observation: "My mother always says I'm great, and it always makes me sad / I don't think she's being nice, I really think she believes that." Album closer "We Aren't the World (Safety Girl)" devilishly subverts the chorus of the star-studded '80s charity single "We Are the World" into a dart about settling: "We aren't the world / We aren't the children / But you're my safety girl." As a lyricist, Tweedy loves his abstractions. ("I am an American aquarium drinker / I assassin down the avenue"?) So Schmilco's snap focus on dejected character studies, like the hopeless barfly of "Quarters," who sweeps the place for quarters to play music on the jukebox, is jarring, but like the elegant arrangements that swirl and sputter underfoot, it feels like the work of a tightly wound unit taking chances. Wilco's willingness to embrace risk and change at a point in its career where peers often retreat into comfort and self-parody suggests there could be another couple of decades of life left in this 22-year-old enterprise.