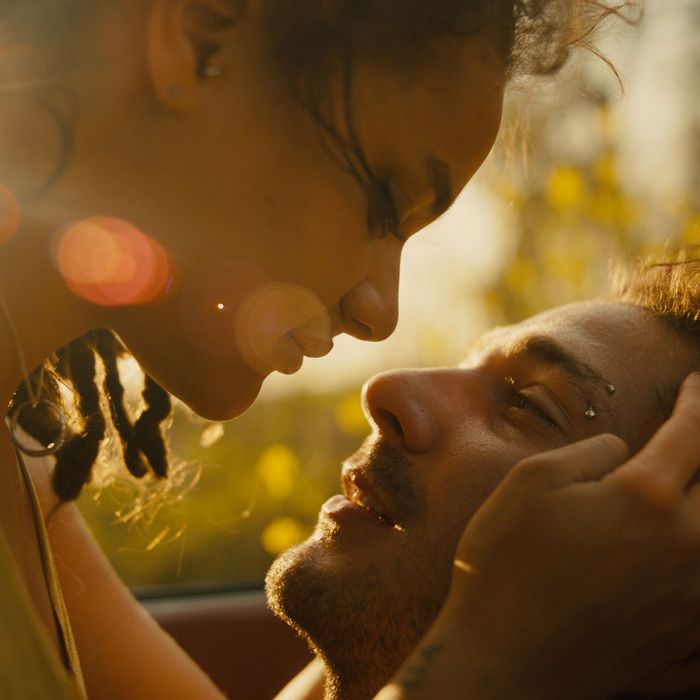 Early in Andrea Arnold's terrific new road movie, American Honey, the film's protagonist, Star, walks into a Kmart, two young half-siblings in tow. Across the checkout aisles, she spies a group of teens goofing around, locking eyes with the rattailed boy who leads them, played by Shia LaBeouf. In a moment of cinematic serendipity, as these two kids connect inside a sanctum of Midwestern capitalism, Calvin Harris's ecstatic synths bubble up on the soundtrack, and Rihanna belts an ode to the promise they see in each other: "We found love in a hopeless place."
On the nose? Sure. But the mix of emotional intensity and unshowy naturalism serves as a perfect example of Arnold's approach to music. Rather than add music in postproduction, she plays songs within her scenes. The road-tripping teens in American Honey don't just see their emotional states reflected on the soundtrack; instead, they spend much of the film engaging with the music, rapping or singing along as their van travels through the American heartland. Arnold picked the songs with the setting in mind, and instead of the sense of timelessness evoked by so much film music, her soundtrack evokes a very specific place and time.
"The Rihanna song I wanted from a long time ago. Before I did the film, I took a load of road trips by myself to try and get to know America and make a connection with it, and that song was around a lot," Arnold told Vulture recently. "I love that song, and I love Rihanna generally, and it just felt right for where they were starting. I know it's from a few years ago, but I think it's a song really of its time, of this time. It feels like now." (She also says that any resemblance between the lyrics and the scene is a total accident: "I didn't really intend that, so I feel sorry for Kmart now.")
Arnold's cast of non-actors recommended much of the music she used, and the soundtrack seems to exist symbiotically with the characters and the landscape they're passing through. That means hits like "We Found Love," which reappears at a crucial juncture in Star's journey, where the meanings of both "love" and "hopeless" have shifted; mainstream rap like Big Sean's "I Don't Fuck With You" and Rae Sremmurd's "No Type"; regional hip-hop deep cuts like E-40's "Choices (Yup)" and Kevin Gates's "Out the Mud"; viral rap like OG Maco's "U Guessed It" and ILoveMakonnen's "I Like Tuh"; and country songs like Steve Earle's "Copperhead Road" and Lee Brice's "I Don't Dance." There are even a few tracks that deliberately knock you out the film's rhythm. Bruce Springsteen's cover of "Dream Baby Dream" comes on during a depressing encounter with a horny trucker; Bonnie "Prince" Billy's "Careless Love" backdrops one of the film's most intense moments. Ciara's "Ride" accompanies a watery dance routine by a group of suburban tweens.
"If you haven't learned how to communicate difficult feelings, and some people at that age have not, or maybe they don't come from families where anyone's learned to communicate, then how do you express yourself?" Arnold said. "I feel like music's a go-to for when you feel all kinds of things, and definitely it is for me still, and I think for a lot of people that's what it's about. It's about finding an expression for something that maybe you can't find words for, or don't know how to say."
You can tell Arnold means it. Just look at the name of her movie.