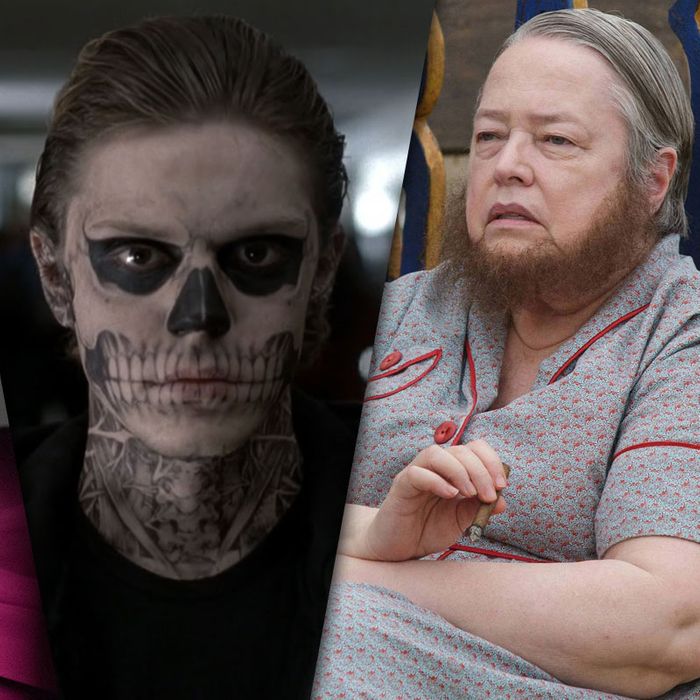 Lady Gaga, Evan Peters, Kathy Bates.
Photo: Courtesy of FX
This Wednesday, American Horror Story will kick off its sixth season of thrills, chills, aging actresses chewing scenery, and Lady Gaga trying desperately to get herself one step closer to an EGOT. The biggest mystery, however, is the theme Ryan Murphy and Brad Falchuk chose for this year's edition of their horror anthology. What will the season actually be about?
Starting with the second season, the show has offered at least a keyword as guidance, so we knew that American Horror Story: Asylum would be about an asylum, American Horror Story: Coven would be about witches, and American Horror Story: Freak Show would be about trying to shoehorn as many possible guest stars into 13 episodes as humanly possible and letting that dictate the story rather than conventional standards of solid plotting.
This year we have … zilch. Well, we got a whole ton of deliberately opaque trailers, but FX chief John Landgraf said that only one of them is real. The rest are fakes. Right now, the sixth season is being billed as if the idea of a void is frightening enough. However, the print version of TV Guide might have given away the title — if print wasn't dead before, I bet Ryan Murphy is going to go and kill it himself.
Reports from TMZ say it will be based on the lost colony of Roanoke, which seems intriguing and would fall into the patter of every other season of the show exploring past timelines. We've gotten some other teasers and hints, too — Decider did a great roundup — but why wait to find out what the season is all about when we can come up with some ideas of our own?
American Horror Story: Tinder
Concept: A year after her fiancé died unexpectedly, a young woman is given a very special telephone by a recluse tech genius, who tells her that if she uses the phone wisely, it will make all of her dreams come true. Lonely and looking for connection in New Orleans, she downloads Tinder and gets to swiping. What she doesn't realize is that every time she rejects someone by swiping left, he's murdered by a malevolent spirit. When she does swipe right and eventually meets the guys, they turn out to be trolls, ogres, and other assorted monsters who expect her to put out on the first date because she ordered an appetizer and a main course. Eventually she meets the worst monster of all: A Best Buy employee named Barry, who lives in his mother's basement and refuses to leave her alone and sends her unsolicited pictures of his genitals at all hours.
Cast: Lily Rabe as the young woman, Kathy Bates as the tech guru (who ever said a tech guru has to be a man?), Shia LaBeouf trying to rehab his image as Barry, and Tinder starring as itself.
Connection to previous seasons: The woman is a descendant of the Montgomery family, who started Murder House.
American Horror Story: Intergalactic
Concept: Each of the previous seasons has dug into the past, so what if we go to the future? Specifically, a future where a massive space colony orbits the Earth because the planet has become too contaminated by our abuse of the environment. Everyone on the colony has stopped responding under mysterious circumstances, so the president sends a team of scientists and soldiers to discover what happened. Will this crew survive in their new home? Probably not, but they'll try really hard.  
Cast: Sarah Paulson as the president, Finn Wittrock as a cyborg soldier, Angela Bassett as the head scientist, Lady Gaga as the one remaining survivor onboard, Björk as Lady Gaga's mother, Matt Bomer as a botanist with a secret.
Connection to previous seasons: It was the aliens from Asylum. They killed everyone. Also, demon baby Michael from season one is one of the scientists. And the space station is named the Elsa Mars.
American Horror Story: Scientology
Concept: A woman who was forced into marrying Scientology's most famous practitioner wants to break away from the cult so that she can escape from her notoriously controlling husband. She figures the best way to do this is by debunking his claims that humans descended from aliens and that each of us is being attacked by soul-sucking demons at any given time. Instead, she proves that it's all real — and now the aliens, the demons, and her husband are all after her.
Cast: Katie Holmes as the wife trying to flee Scientology, Evan Peters as her famous husband, Wes Bentley as the charismatic head of the religious group, Denis O'Hare as Xenu, Sarah Paulson reprising her role as psychic (and Scientologist!) Billie Dean Howard. Emma Roberts will reprise her role as Madison Montgomery, who helps Katie Holmes fight the demons with magic.  
Connection to previous seasons: Billie Dean and Madison are a good start. This season will also be set in modern Los Angeles, so Katie Holmes can hide out either in Murder House or the Hotel Cortez.
American Horror Story: IKEA
Concept: A couple goes to IKEA and gets lost in a black hole of inexpensive and poorly made furniture. While looking for a Balkarp sofa bed, they speak to three different salespeople about finding it and they keep getting sent in the wrong direction. They wander aimlessly, taunted by past trips with ex-lovers and bad advice given to them by their parents. Eventually, a vicious fight will leave both of their bloody corpses in the parking lot by the day's end. Also, the meatballs are made of horse.
Cast: Sarah Paulson and Wes Bentley as the couple, Denis O'Hare as the scary store manager, Matt Bomer as a snooty decorator who refuses to go inside, Kathy Bates as the Balkarp sofa bed, Angela Bassett as the woman who makes the meatballs.
Connection to previous seasons: The only song that plays in the store is "The Name Game."
American Horror Story: Glee
Concept: It is the scariest time in the history of modern humankind: the second season of Glee. Except this time, when the plots run off the rails, characters start acting inexplicably, and when Rachel Berry opens her mouth to deliver some forgotten Broadway gem, people start dying.
Cast: Lady Gaga as herself, Gabourey Sidibe as Rachel Berry, Lea Michele as Mercedes, Finn Wittrock's merkin as Will Schuester, Chord Overstreet as absolutely anything (please, he needs a job or they're going to repossess his pickup truck), Evan Peters as Ryan Murphy.
Connection to previous seasons: When the kids die in Glee Club they are stuck there forever, just like in the Hotel Cortez. It is a fate worse than hell itself.