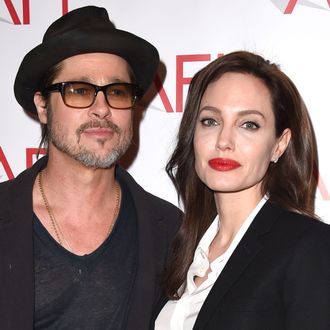 Pitt and Jolie in happier times.
Photo: Steve Granitz/Getty Images
After dozens of false alarms from Star magazine, the couple formerly known as Brangelina are indeed no more: TMZ reports that Angelina Jolie has filed for divorce from Brad Pitt, citing irreconcilable differences. According to the filing, Jolie is seeking physical custody of the couple's six children instead of joint custody, and TMZ's sources say the divorce stems from a dispute about Pitt's parenting methods; they claim Jolie was "fed up" with Pitt's alcohol and marijuana consumption, as well as what she believed was "an anger problem." In a statement to People, Pitt says, "I am very saddened by this, but what matters most now is the well being of our kids. I kindly ask the press to give them the space they deserve during this challenging time."
Sources told Page Six a different story of the breakup, claiming Jolie hired a private investigator who caught Pitt having an affair with Marion Cotillard, his co-star in the upcoming spy drama Allied, as well as in liaisons with Russian prostitutes — a detail that is perhaps too juicy to be believed. Regardless, Page Six also notes that "Pitt is closer to Jolie's famous actor dad, Jon Voight," so spare a thought for Jon Voight during this difficult time.
Jolie and Pitt famously met in 2003 on the set of Mr. and Mrs. Smith, though they both maintained they did not begin dating until Pitt separated from Jennifer Aniston in 2005. The couple initially swore they would not get married until everyone in America enjoyed that same legal right, only to change their minds after reportedly being pressured by their children. They became engaged in 2012 and married in 2014, during filming of Jolie's By the Sea, which starred Pitt and Jolie as an unhappily married couple on vacation in 1970s France. The marriage was Pitt's second and Jolie's third.