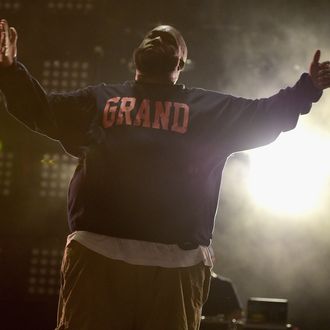 Photo: Jason Kempin/Getty Images
If you thought the greatest gift of life is friendship or love, you're wrong. It's actually having a tunnel-boring machine named in your honor. According to Pitchfork, earlier this year, Atlanta's Department of Watershed Management asked the city's residents to pick a name for the new $11.6 million tunnel-boring machine the city was constructing so that they could turn a local quarry into an emergency drinking-water reservoir. The competition was stiff, and narrowed down to three finalists: "Driller Mike," "Peach Beast," and "Scarlett." But today was a glorious day, and it was announced that "Driller Mike" won the contest. Of the honor, Killer Mike said:
It was the funniest thing in the world to me. I didn't take it seriously, because I'm a rapper. Cities don't associate themselves with rappers. But I'm a business owner, a dad, an active member of politics in Atlanta, so I was honestly honored that people in Atlanta saw fit to name something after me.
Find images of Killer Mike and his beloved drill below.