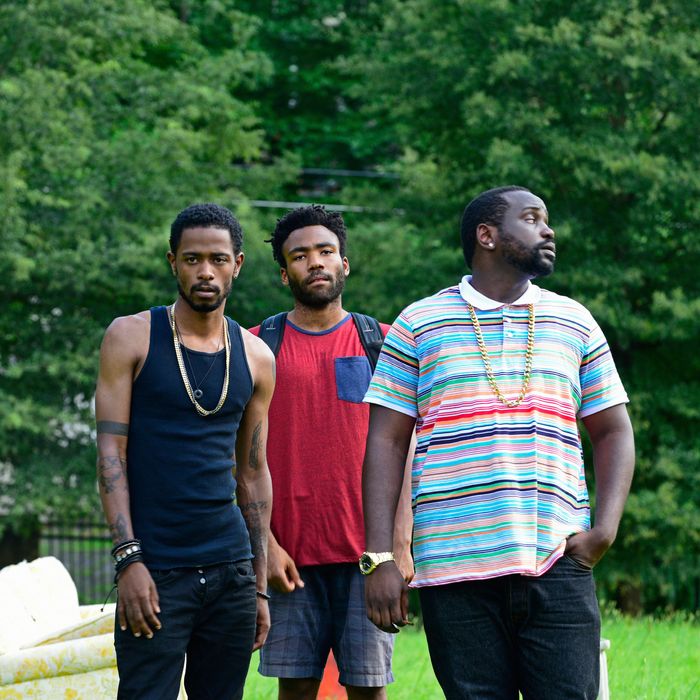 Keith Stanfield as Darius, Donald Glover as Earn, Brian Tyree Henry as Alfred.
Photo: Guy D'Alema/FX
When I first heard Donald Glover was making a show called Atlanta, my initial response lingered on, "Uh, I don't know about all that." I know Glover was raised in Stone Mountain, Georgia, but as much as I've respected his career path, I've never been quite sure what to make of him. I don't believe in measuring anyone's blackness; it's stupid, sophomoric, and, forever and always, incredibly boring.
Still, I've taken issue with previous comments he's made about black culture, most notably how he's referred to it as a "fight." It's fine to talk about hypermasculinity and homophobia within our community, but it's just as important to properly contextualize those issues — that is, considering their roots and the outside forces at play in keeping them alive. Also, whenever I hear black people opine about liking both rap acts and emo bands, my eyes roll into the back of my head. You're not the only one, beloveds, and plenty of us can relate to mixed tastes. Being well-spoken, being educated, and not being thuggish or "hard" does not automatically make you disconnected from the black community at large. But for whatever disconnect that's been mentioned in the past, Glover didn't help his case with comedy sketches like "bro rape" or the fetishizing of Asian women under his rap moniker Childish Gambino.
That is to say, past skepticism of Glover is not unwarranted. I have a few friends from Atlanta that feel a way about Glover being the person afforded the chance to make a show about their city. Such is their right, but to Glover's credit, he certainly seized the opportunity. Atlanta is fantastic work, no matter the weariness I felt prior to viewing. Although this may be the first time I've seen Glover in a majorly black story, I'm happy to call a very good thing exactly what it is.
It's impossible for me to not enjoy a show that includes the shouting of "Worldstar!" in its first 30 seconds. I became even more excited 90 seconds later, after hearing the voice of rapper OJ Da Juiceman. It's those sort of specific references — black, and in other cases, southern and black — that make Atlanta's first episode function so well.
"The Big Bang" opens with a confrontation in a convenience-store parking lot — a setting for many a black man's incarceration tale — where Earnest "Earn" Marks (Glover) tries to calm down Alfred "Paper Boi" Miles (Brian Tyree Henry), his drug-dealer-slash-aspiring-rapper cousin, as he confronts a man who tore off his rearview mirror. But once we hear the sound of a gunshot, we're quickly taken back to the previous morning, when Earn wakes up next to Van (Zazie Beetz), the mother of his daughter, Lottie.
Theirs is a peculiar relationship. Earn and Van are intimate enough that he can joke about her curry-flavored morning breath, but she soon tells him to kick in rent money and watch their daughter that night because she has a date. When Earn hears this, he looks at his adorable daughter and says, "No, this is a great environment for you." Fair assessment, though, once you learn more about Earn, you can see why Van is exploring her options.
As "The Big Bang" reveals, Earn is a young dad and Princeton dropout presently making $5.15 an hour at an airport kiosk, where he tries to sign up people for credit cards they likely do not need. When he cuts out of work to stop by his parents' house, he's not allowed inside because (1) they're tired of giving him money, and (2) he can't even be bothered to flush the toilet. And according to his mom, who examined what should have been flushed, he needs to start consuming actual food as opposed to candy. That's disgusting, but also, very motherly.
Back at the airport, Earn is alerted to Paper Boi by his co-worker Swiff — who some may recognize as that guy from VH1's Single Ladies who was convicted of molestation charges — and after realizing that the rapper is his cousin, Earn quickly tries to latch onto his rising success by offering to become his manager. Paper Boi ultimately listens to Earn's proposal, though he doesn't waste time reminding him, "Nigga, I ain't seen or heard from you since my mom's funeral, and the first thing I hear out your mouth is 'Let's get rich.'" By the way, upon reading select reviews of Atlanta elsewhere, here's a quick PSA: White people, he's not calling Earn "nigger." There is a subtle yet substantial difference. You're welcome.
Paper Boi's eponymous first single, which Earn manages to get on the radio, is apparently not even liked by Paper Boi himself. It's a well-drawn detail, and it suggests that Atlanta will treat his character with nuance in coming episodes. That would be a welcome addition to television because for all the melodrama on Empire, there's not exactly much in terms of depth to the singers and rappers featured on it. (Granted, that is not Empire's aim.) Even so, if I heard Paper Boi at the club, I'd bop to it.
As we see throughout "The Big Bang," a bit of separation exists between the folks who surround Earn and Earn himself. It's certainly there in the scene between Earn and Dave, the white radio-station employee he knows, who feels comfortable enough to use "nigga" around him — something he dares not do around other black people. I look forward to learning more about why that is, 'cause I'll be damned if a white person ever feels comfortable enough to say that around me.
Glover recently explained that he "wanted to show white people, you don't know everything about black culture." The scene between Earn and Dave may not have been the best example of that, but to Atlanta's credit, the episode doesn't go out of its way to explain black people to anyone. These characters are simply just being themselves.
With Atlanta, Glover has created a series in which black folks get to be as idiosyncratic as everyone else on television. Sadly, although Glover has repeatedly said that he isn't trying to make a statement with the show, others will certainly try to identify one. It's already been called a "black Master of None," a series that will "fill a void left by The Wire," and it's been hailed for showing "everyday blackness." One critic claimed that Atlanta "offers a view of city life in neighborhoods that television rarely explores, places that aren't glitzy or safe." I've previously written about television's problems with shows centering on working-class black people, but when I think of past sitcoms like Roc and the brilliant Everybody Hates Chris, I often ask myself, where were these critics back then?
Perhaps Glover, a smart, black man who knows how to navigate mainstream spaces, can score much-needed success for a show about the complexities of black people and black culture. However, Glover's intentions are clear: He's not trying to make the grandiose statements that others have ascribed to his work. So, let's just enjoy Atlanta for what it is: a funny, well-done show.