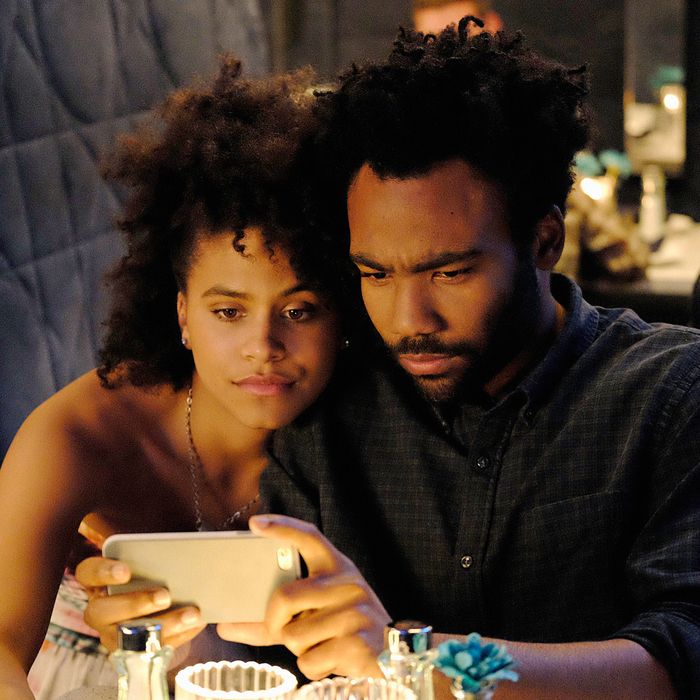 Zazie Beetz as Van, Donald Glover as Earn.
Photo: Guy D'Alema/FX
Very few people are more frustrating than fast-food employees who take their jobs too seriously. "Go for Broke" begins with this truth as Earn is shut down for trying to buy a kid's meal. Why? Because he is not under the age of 14. Earn argues the politics of this silly rule, but the woman at the register doesn't give the slightest damn: "I just made day manager and I didn't get that title by handing out discounted meals," she explains.
Fine, she has a job to do, but it shouldn't be that big of a deal to let an adult — notably one hard up for cash — purchase a meal he can afford. Maybe if Earn thought on his feet and lied about having an imaginary cousin waiting for him outside, he would've been able to snag that kid's meal. You know, 'cause I assume this chain didn't have a 99-cent menu with a chicken sandwich made up of ankle meat.
Nevertheless, it's a fitting opener to "Go for Broke." Atlanta uses its third episode to chronicle how Earn and Alfred each make a living (or in Earn's case, not much of one) and the respective costs of their decisions. For Alfred, it's drug dealing, which his cousin only now discovers. After Earn says he'll be getting paid that day, Alfred responds, "You only get paid on commission, though, right? Might as well sell drugs." Earn then asks Alfred how he makes money. "Drug dealing."
I assumed this was already known, owing to obvious optics, like his clothes, his food, and his friend Darius being taken care of all without any mention of gainful employment. It reminds me of my uncle once asking me, "When you gon' work in a building?" There's no laptop around, so Al ain't freelance writing. That said, I like that Earn never made assumptions about his cousin. After Alfred tells him about his line of work, and how he's planning a bit of a work meeting later that day, Earn offers the following advice: "Just try not to die."
It turned out to be good counsel. When Alfred and Darius hit a parking lot for the meeting, they wind up dealing with a sudden change in venue — somewhere in the middle of what looks like the forest, near an RV filled with a bunch of dope boys. Mere moments after making their way to the meetup, Alfred and Darius witness some poor, unfortunate soul being let out of the RV. He's in his draws. The man in charge presents him the chance to run (with his clothes back on), so off he goes into the woods, racing to get out of there before he's fatally shot.
He doesn't make it. R.I.P., he'll never make the club.
The lead dealer then turns his sights to Alfred: Why does he suddenly want a huge order? He's aware that Al was just arrested, but he's suspicious now that he's out and requesting more than he typically wants. Thankfully, Earn calls while all of this is happening and while on speaker, asks his cousin to put $20 into his account to pay for a pricey date with Van that he cannot afford. Alfred makes it out of the meeting alive, but the entire ordeal is yet another confirmation that despite initial perceptions about a rapper named Paper Boi, Alfred doesn't seem as confident in his role as some would expect him to. That's a testament to Brian Tyree Henry's performance. The Book of Mormon alum is so adept at conveying cool and wit, but in those moments when Paper Boi feels dragged by the life he's leading, he's just as sharp at expressing weariness and disbelief.
Alfred's trip into the forest was funny to watch, but I'll be honest: I was drawn more to Earn and how complicated it is to pursue a dream when the responsibilities of adulthood begin steering you in another direction. We still don't know why Earn and Princeton didn't work out, but we're witnessing how a bit of aimlessness consumes him. And in some cases, a certain lack of awareness about anything beyond his own immediate life.
Take Van entering the apartment with his daughter. He just sits there, on his MacBook Pro, not offering to help. He could've gotten the baby out of her arms, but he just sits there. She points this out, then proceeds to let him know that when she shares things about herself, he dismisses her. Earn in turn admits that he can be inconsiderate, apologizes for treating Van that way, and offers to take her to dinner to make up for it.
I can see exactly why Earn and Van are no longer an official couple, even though they share a deep intimacy that makes you want them to work out. Van may not be exactly where she wants to be, but as the mother of a young child, she's working and doing what she needs to do to get ahead. Someone making do doesn't always have time to deal with aimlessness, and as noted, lack of consideration. While in bed at one point, Van asks, "Why are you always turning me into the angry black woman?" He answers, "'Cause you are."
Van responds by calling him out on how he's more or less a jobless black man lodged deep in a pool of laziness, and Earn owns the criticism, even joking that he enjoys his current life as a stereotype. It gave me pause because that's the kind of shit I actively discuss with my friends, and in some cases, dates. What stereotype am I today? The angry black man? The bitchy gay dude? The country bumpkin? All of the above after that last drink? It doesn't make me more sympathetic to Earn, but it does make me value Donald Glover's vision for showing life I've yet to see in this manner onscreen.
As for this dinner date, well, things get messy. Earn only got paid $96, and he's left with $62 to take Van out. He calls a friend that recommends he take her to a happy-hour spot that has specials after 7 p.m. — a magical place indeed — except once they get there, that special has been axed.
Earn is now left staring at a menu that charges $28 for seafood soup. Making matters even worse, a very excited waitress suggests that the night is special for the not-couple, and starts recommending all kinds of thing he cannot afford. At one point, after Earn rushes to the bartender to ring up his order that includes a market-price item, the man says, "Wow, you broke as fuck my nigga."
Certain factions of society will debate the merits of $200 dates, but when you look at real numbers about how young Americans live, you know how much of a farce that is. Although most people don't pull in a lot of money, very few of us talk about money in any meaningful way. And most shows that depict any aspect of the black experience typically center on black people of means. Earn is not one of the folks on Black-ish or Empire or even one of the VH1 reality shows where cast members front about having lots of money around. Earn's ass is broke. His troubles are shared by many in his age group, but as it stands now, Atlanta's commitment to that financial reality is a rarity.
As for dinner conversation, Earn turns toward his life philosophy: "I just think we need a chance as humans to fail in order to discover what actually works, you know? People don't think there's a process to being happy." When Van asks what he wants, he says, "I don't know. I mean, I guess I just want a chance to find out. Who doesn't?" She is quick with the reality check: "I get the whole follow-your-dreams thing, but our daughter needs all the tools to survive and that includes you."
When they get back home, Van mentions a security job at her office for Earn. His response? "I'm gonna become a guy I hate at a job like that." She quips back, "You're doing that already." When she slams his plan to manage Paper Boi and take them all to the promised land, he digs back at her for wanting to open a fashion boutique. Door slammed.
And then Earn goes: "I know I have a daughter and I know she deserves the best, but I don't think I have to compromise what I want out of life to do that. Especially if I think it's gonna provide for her. You know me, Van. I can do this. I just gotta do it my way. And if you can't do this out of love for me, do this out of love for her."
Many of us can attest to this dilemma, but with a child in the equation, a more selfless person would understand he has to make changes. Van seems to agree with that stance because she opens the door and says, "That's some dumb-ass shit, Earn."
At the very end of the episode, Earn calls the bank to report his debit card has been stolen. He doesn't need to compromise his life just yet, but as far as child-rearing goes, he has to figure things out very soon. He can't even buy a kid's meal, and babies can't eat off "stolen" debit cards every night.