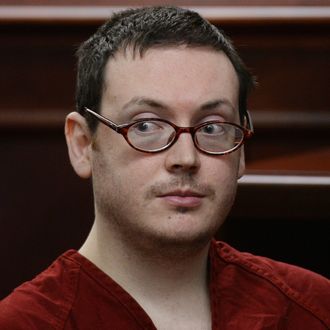 James Holmes.
Photo: RJ Sangostini/Denver Post via Getty Images
A little over four years ago, gunman James Holmes opened fire during a crowded opening-night showing of The Dark Knight Rises in an Aurora, Colorado, Cinemark theater, killing 12 and injuring 70. Now, after years of legal wrangling, there's a strange new status quo: Four of the shooting's survivors have been ordered to collectively pay at least $700,000 to Cinemark. The details are a bit wonky, but, essentially, those four people were the last ones left suing the chain for not effectively preventing the shooting, and, having lost the suit, they're on the hook for Cinemark's legal costs. 
Initially, a group of 41 plaintiffs were looking at a meager settlement of $150,000, split between all of them. The settlement fell apart, and all but four of the plaintiffs left the case. A judge found Cinemark not liable for damages, and Colorado law puts the burden on the losers to pay for the victor's fees, which added up to nearly $700,000. Though the four plan to appeal, a federal case isn't looking good for them, either, so that could mean even more cash on their tab in the future.