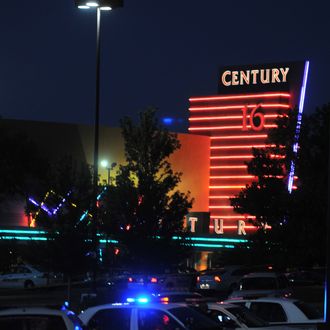 Photo: Thomas Cooper/Getty Images
In a bizarre turn of events, survivors of the 2012 mass shooting at a Dark Night Rises midnight screening in Aurora, Colorado, were recently ordered by a Colorado court to pay the theater chain $700,000 in legal fees. The four survivors facing the large payment were part of a bigger suit that once included 41 plaintiffs suing Cinemark Theaters, the owner of the Century Aurora 16 Theater where the shooting took place, for not providing adequate security and preventative measures to stop the attack, which left 12 dead and 70 wounded. They were seeking $150,000 to be shared among the plaintiffs. After the state court ruled that the theater was not responsible for the shooter's actions under Colorado law, the remaining four were liable for Cinemark's legal fees, which the chain claimed amounted to $700,000 (that's $550,000 more than what the plaintiffs were asking for). The Denver Post reports, however, that Cinemark has dropped its claim, provided the four drop their appeal, which they agreed to. "Defendants' goal has always been to resolve this matter fully and completely without an award of costs of any kind to any party," Cinemark's lawyer wrote in his filing with the state court on Tuesday.
Cinemark is not completely out of the woods yet, on the legal front. There are still two victims, both of whom were paralyzed in the attack, who are still appealing a federal court's decision, which also sided in the favor of Cinemark. Cinemark has until September 20 to say whether it wants those two remaining plaintiffs, which were originally part of a larger suit as well, to pay its legal costs.