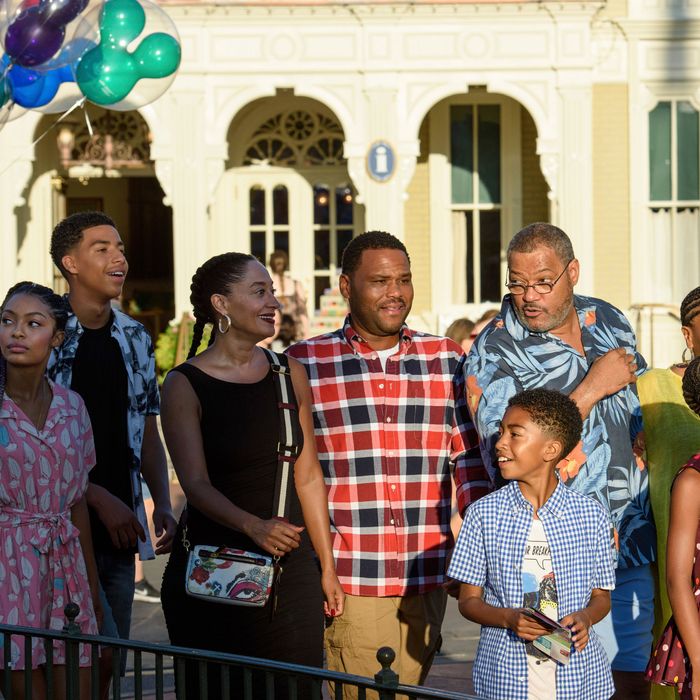 Yara Shahidi as Zoey, Marcus Scribner as Junior, Tracee Ellis Ross as Bow, Anthony Anderson as Dre, Laurence Fishburne as Pops, Miles Brown as Jack, Marsai Martin as Diane, Jenifer Lewis as Ruby.
Photo: Todd Anderson/ABC
It can be difficult for a hit show like Black-ish to maintain its momentum, especially as it comes off an Emmy-nominated season, not to mention a looming lawsuit. And honestly, this first episode feels like the show has begun to buckle a bit. "VIP" is essentially a long commercial for Disney World, which is nothing new for an ABC sitcom. It's so focused on mentioning every amusement-park ride that there's barely enough room for a family lesson at the end.
As we all know, Dre loves getting special treatment. It helps him think he's better than everyone else, a dream that's as American as pie (and pre-steroids, post–Jackie Robinson baseball). Because his childhood experience at Disneyland with Pops and Ruby was a cheap excursion with homemade tuna sandwiches, Dre wants to ball out and treat his family to a lavish vacation to Disney World.
Between the Louis Vuitton luggage, an airport ride in a stretch Rolls-Royce, and first-class plane tickets for everyone, I couldn't help but wonder about Dre's financial concerns that drove the last few episodes of season two. His job was still laying people off, and with Bow's new pregnancy, Dre worried about making sure he could provide for the family. It doesn't seem wise to blow so much money on this vacation.
Dre even goes so far as to get VIP access for the family, which includes Pops and Ruby. They all get wristbands that automatically bill any purchase to Dre's credit card on file, and they're led through the park by Cody (Jim Rash), a tour guide who helps the family to the front of every line. At first, the kids are self-conscious about skipping lines, but soon enough they are really into it, telling the "gen pop" (a.k.a. general population) not to make eye contact with them. Dre is pretty excited about having bought Cody, who takes umbrage to the idea he could be bought, but his excitement turns sour when Cody's seven hours of VIP duty are up. Dre and the kids become a part of gen pop and it's like their lives are over.
As usual, the kids act ungrateful and Dre yells at them for being so unappreciative. It's a very familiar routine at this point. The first time they have to wait in line for a ride, Junior throws his drink against the wall. Jack has a tantrum. Diane can't see anything — she lost her glasses as karmic retribution for teasing Jack about his height — but she knows the fall from VIP is Earth-shattering. Dre leaves to go pout, wondering why his kids are such brats, but that's not what's really making him sad. He misses being able to lord his VIP status over everyone. He wants the world to recognize that he's special. It's clearly a mystery how the kids turned out to be so spoiled and entitled.
From the very first episode, Black-ish has aimed to show how parents try to make up for the shortcomings of their own childhoods. Dre's upward mobility allows him to give his family more than he had, but he's always focused on material goods. The Johnson vacation at Disney World isn't special because of preferential treatment; it's special because it's an opportunity for the family to share an experience. Of course, Dre doesn't consider that until Bow saves the day by delivering this week's Johnson family lesson.
Once Dre leaves the kids, they turn to each other for amusement and still manage to have a good time, even without VIP status. Bow tells Dre that without him pressuring them to show off, the kids had the space to enjoy each other. It's a very sweet lesson and one Dre should've had at the forefront of his mind. Family vacations should be about exposing each other to new adventures, not broadcasting how much of a baller you are.
Nevertheless, Bow, Ruby, and Pops manage to make the most of their experience at Disney World, charging all kinds of souvenirs to their wristbands while complaining the whole time, just in case anyone thought they were having fun together. Back home, Charlie — sweet, wonderful Charlie — is stuck handling the Microsoft contract, even though he has no idea who or what Microsoft is. As he's about to make a presentation to Microsoft representatives, he says, "Talk to me like I'm a man who's laid everything on the line for a job he's unqualified for," and it seems inconsistent with what we've been able to glean about Charlie's professional skills.
Charlie often forgets he has a son. He's superstitious, as is illustrated by his house currently being tented for ghosts. He carries a weapon and can't shake his hustler past, but when he quit last season and was quickly picked up by a rival firm, Black-ish seemed to indicate he was good at his job. Dre proved as much to Daphne when she was ready to fire him. Charlie not knowing Microsoft is a computer company is odd. He never struck me as stupid; he just doesn't conform to ideals of workplace professionalism.
And with that, the third season of Black-ish is off to an uneasy start. Let's hope the next few episodes circle back to Dre's financial and job worries — it would be an interesting direction for the show, considering the way he equates material goods to personal worth. Every time it seems like Dre has learned his lesson about money issues, he takes a step back as if previous episodes never happened. Dre may be living a Groundhog Day, but the audience isn't. His emotional growth regresses for the sake of comedy, but if he could mature just a little bit, it would go a long way in keeping the audience engaged and willing to stick around for the next Johnson family adventure.