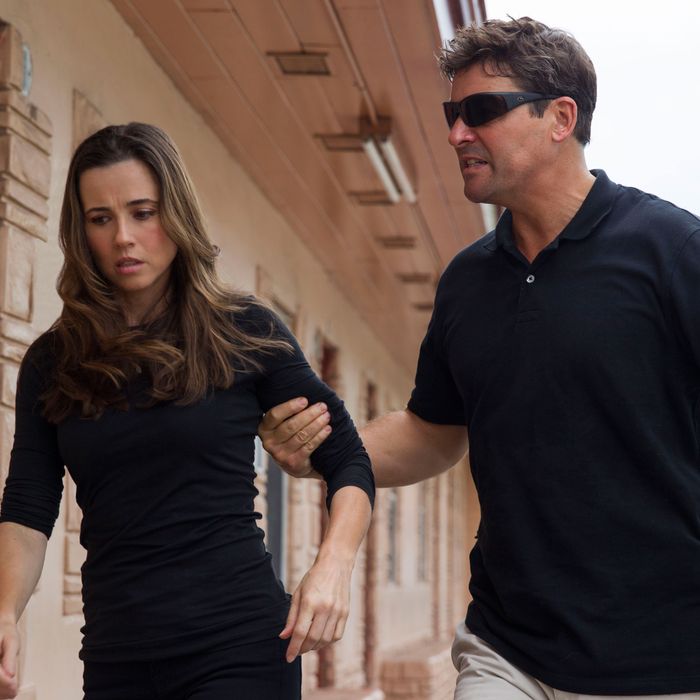 RIP.
Photo: Saeed Adyani/Netflix
Netflix did something it's rarely done in its four-year history of original programming Wednesday: It canceled a show. Bloodline, the Emmy-nominated thriller starring Kyle Chandler, will wrap up its run on the service following next May's launch of season three. While not exactly shocking news — there'd been speculation the show's future might be shaky for months — the demise of Bloodline is still a pretty big deal. Of Netflix's dozens of original series, only two have previously seen their runs end prematurely, and neither of those programs (Hemlock Grove and Lilyhammer) was nearly as high profile. Ending an Emmy-nominated series with such prestigious auspices represents a turning point for a company whose story has, until now, been almost exclusively about adding things: subscribers, shows, awards. So why did Netflix, with its hundreds of millions in annual revenue, decide to pull the plug? Other than a statement praising the show's cast and creators, the company isn't talking. So Vulture decided to check in with some of our best industry sources to get a better sense of what might have happened, and what it could mean for Netflix. Here are four reasonable conclusions to be drawn from this week's news:
Bloodline's audience probably wasn't big enough to justify its cost.
Netflix famously refuses to release viewership statistics for its series, making it impossible to do anything but speculate about how many of its subscribers have watched the first two seasons of Bloodline. There is no reliable data on how its audience size compares to, say, House of Cards or Unbreakable Kimmy Schmidt. And yet, we do know Netflix has been paying producer Sony Pictures Television a substantial sum of money for the series. As it does with many of its originals, the streaming giant covers the full cost to produce a show, then tacks on a substantial upfront premium — anywhere from 30 to 60 percent — to make up for the fact the studio can't sell reruns to another network. The model means a studio such as Sony is guaranteed a profit in advance, but it also results in shows being much more expensive for Netflix compared to what an FX or HBO would pay. In the case of Bloodline, multiple sources tell Vulture Netflix was paying Sony somewhere between $7 million and $8.5 million per hour — or $70 million to $85 million for a ten-episode season. Spread out over the course of what will now be Bloodline's 33-episode run, Netflix could end up investing in the neighborhood of a quarter-billion dollars on a show which, despite solid reviews and some Emmy nominations, never attracted the sort of buzz that a Stranger Things or Master of None achieved with just one season. This doesn't mean plenty of Netflix subscribers didn't watch and enjoy the show. (It also doesn't mean they did; we just don't have data.) But Netflix's decision to end Bloodline next spring strongly suggests the streamer simply wasn't seeing the sort of viewer engagement and enjoyment which would justify further investment in the asset, at least not at the price tag attached to the show.  
Accolades (and buzz) matter.
In addition to cost and audience size, it's worth noting that Bloodline never generated the sort of rapturous response you'd expect for a series with its, well, bloodline. Created by the producers behind FX's acclaimed Damages and featuring a cast of acclaimed actors such as Chandler, Ben Mendelsohn, and Sissy Spacek, expectations ahead of its 2015 premiere were extraordinarily high. But while reviews for the first season were generally good, the show never broke though in a big way with Emmy or Golden Globes voters. And because the series is, by design, more of a slow-burn than an over-the-top soap (see: House of Cards), it didn't lend itself to saturation coverage by entertainment news outlets (including Vulture). Nor, for that matter, was it the sort of meme magnet that so many Netflix shows are. This left Bloodline in something of a Netflix purgatory: not good enough to earn a place among TV's best prestige dramas, not juicy enough to be a pop-culture hit. Had the show scored higher on either one of those fronts — and had it be a bit less expensive to make — we might not be talking about its shorter-than-expected lifespan.
It would be wrong to call Bloodline a failure.
The show's producers made it clear in past interviews that they were hoping to spend multiple seasons with the Rayburns, so ending after just three is obviously not what was planned. And yet, Netflix didn't just pull the plug on the show without warning: The decision was made far enough in advance for season three to be constructed as a last chapter, assuming that's what the producers want. (There's been no indication producer Sony will try to keep Bloodline alive at another network, or that such a move is even possible, but the studio does have a history of not accepting cancellations, and a Sony spokesperson did not respond to multiple requests for comment.) Thirty-three hours of TV is still a significant accomplishment, particularly for a show which, at its heart, is a non-flashy family drama. Unlike recently canceled shows, like HBO's Vinyl and FX's The Bastard Executioner, viewers won't be left hanging mid-story. And in weird way, because Bloodline's final episode tally will be a relatively trim 33 hours, Netflix subscribers who've thus far avoided checking out the show might be more willing to commit to a Bloodline binge-watch over the next few years. Remember, Netflix monetizes shows over a period of years, not months. Its much-hyped algorithm will continue to suggest the series to subscribers well into the next decade. Bloodline will keep finding an audience — and continue to be an asset for Netflix — long after its official run ends.
Netflix has entered a new phase in its history.
Over the past half-decade, Netflix has embarked on an almost unprecedented programming ramp-up, surging from just a couple of originals shows to literally dozens. There's no indication the streamer is slowing down its green-lighting of new content, given the sometimes weekly announcements of new projects. But the Bloodline cancellation is the surest sign yet the company has started balancing its big spending with some strategic retreats. From 2013 to 2015, Netflix was still in the process of scaling up its originals library, and seemed reluctant to part ways with anything. The main goal was to simply get bigger, to see what kinds of shows clicked with subscribers, and to ensure there was something new arriving every week. But in recent months, industry insiders have sensed a disturbance in the streaming force. As one studio executive told Vulture last spring, "We're having conversations now where Netflix is saying, 'Wow, we really love that show. It feels too expensive.'" Those sorts of talks didn't happen a year ago, and the move to cut bait with Bloodline indicates execs at the Los Gatos, California–based company have decided not every programming journey can have a happy ending.
This really isn't all that surprising, particularly given another recent trend at Netflix: a slowdown in subscriber growth. During the second quarter of 2016, Netflix signed up 1.7 million new users — about half the number who joined during the similar time frame a year ago. Those results aren't disastrous, and the company is still bringing in plenty of money (thanks in part to a hike in its monthly subscription fee). But with fewer people signing up, it seems entirely logical for Netflix to start tapping the brakes a bit on its previously unchecked program costs. Don't be surprised if a couple other Netflix originals end their runs prematurely over the next six months.