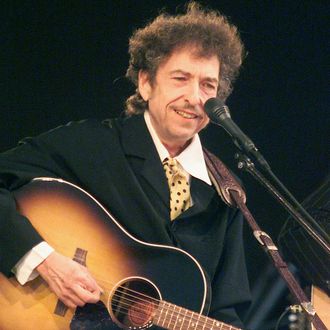 It's a must-have.
Photo: Bernd Mueller/Redferns/Getty Images
Attention, music completists: Bob Dylan is about to gift you 36 albums' worth of rare live recordings from 1966 like he's a regular old Kris Kringle. Under your Christmas tree this year will more than likely be The 1966 Live Recordings, a 36-disc box set all taken from shows during Dylan's tour-heavy Blonde on Blonde year. The collection, which arrives November 11, includes shows in Australia, Europe, and America — the highlights being his infamous "Judas" concert in Manchester, England (which was previously released), and his Royal Albert Hall shows, the first night of which will get a standalone release on November 25.
One song performed at the latter, "Tell Me, Momma" was never released on a studio album, but it'll now exist on wax as part of these live recordings. (All of which were gathered from soundboards, CBS Records mobile recordings, and audience tapes, and sourced during the making of last year's The Cutting Edge 1965-1966: The Bootleg Series Vol. 12.) So while you start your preliminary Christmas list scheming, take a listen to that song now and consider it an early present.