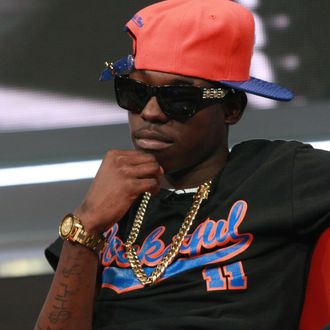 Shmurda.
Photo: Bennett Raglin/BET/Getty Images
After spending nearly two years in jail, TMZ reports that Bobby Shmurda has accepted a plea deal in his murder-conspiracy case. Shmurda had been charged with murder, attempted murder, and drug possession — among other crimes — in December 2014, and has repeatedly been denied bail. (He also rejected a previous plea deal.) While awaiting trial at Rikers, he was accused last July of possessing prison contraband, perjury, and criminal possession of a weapon. It now appears he'll accept a sentence of seven years in prison and five years on probation, but will receive credit for time served. In a statement, his lawyers say Shmurda could be released in three and a half years. For more on Shmurda's case, read New York's extensive look into the downfall of the "Hot Nigga" rapper.
Update, October 19: Shmurda has officially been sentenced to seven years in prison. The rapper reportedly told the Manhattan Supreme Court on Wednesday that striking a plea deal wasn't his choice: "I was forced to take this sentence, I did not want to take this sentence. I was forced by my attorney to take this plea." Accounting for time served, Shmurda could be released as early as 2021.