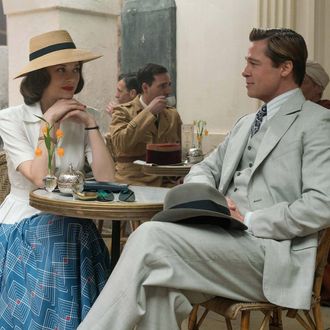 Hmmmmm…….
Photo: Daniel Smith/Paramount Pictures
Why did Angelina Jolie file for divorce from Brad Pitt? Right now, no one's really sure, but there's a whole lot of speculation. Jolie was fed up with his "consumption of weed" and "an anger problem" that "became dangerous to their children," alleges TMZ. If you believe tabloids like Star magazine (please don't believe tabloids like Star magazine), the fault lies in everything from an open marriage to the couple's innumerable health crises. Then there's "Page Six," shooting for the moon with one rumor: Pitt cheated on Angelina Jolie with his Allied co-star Marion Cotillard "but also with Russian hookers while boozing it up with coworkers" (a source has denied this rumor to People.) Allied, by the way, is an upcoming Robert Zemeckis film about two spies who fall in love (and seem to have a baby, per shots from the set), but soon discover that they may be double-crossing each other. That sounds an awful lot like the plot of Mr. and Mrs. Smith, the spy movie that infamously brought together Pitt and Jolie in 2004, stoking rumors of an on-set romance despite Pitt's marriage to Jennifer Aniston (Pitt and Aniston later separated and then divorced in 2005, after filming for Mr. and Mrs. Smith wrapped but before the film's premiere; by mid-2005, magazines were aglow with rumors — and photo shoots — of Brangelina).
Just as the coverage of Pitt's divorce from Aniston and subsequent relationship with Jolie turned Mr. and Mrs. Smith — a relatively small spy thriller — into the tenth-highest-grossing movie in the U.S. in 2005, the coverage of the Pitt-Jolie breakup will surely change how we all think about Allied, which hits theaters November 23. While audiences mostly ignored the Jolie-directed, Pitt-and-Jolie-starring melodrama By the Sea, a moody, mysterious film that's a whole lot more fascinating in retrospect, they'll likely be more interested in the second spy love-story that allegedly features co-star chemistry intoxicating enough to lead Brad Pitt astray. Here's the trailer for Allied. Get excited to hear every single rumor about the shooting of this film from now until they stop printing OK magazine:
The question now is how Paramount, which is distributing the film, will go about promoting the movie. Earlier this month saw the release of a T magazine profile on Pitt by recent Man Booker winner Marlon James, dubbed "Five or Six Things I Didn't Know About Brad Pitt" (tabloid rumors are, of course, not among those six things). Will the studio be able to push Pitt for more press appearances? Or will his co-star Marion Cotillard, who has a son with her longtime partner, French actor-director Guillaume Canet, have to make the press rounds? This seems even less likely, as Cotillard is a significantly less prominent figure in the U.S., and she's also known to have some unconventional opinions about everything from space exploration to the 9/11 attacks. Allied also stars Lizzy Caplan, Ed Harris, and Matthew Goode, who'll likely be on hand to deliver charming anecdotes about shooting in London and the Canary Islands.
In a world where an entire industry has been built around speculating on the intimate details of celebrities' personal lives, it seems unlikely now that people will brush off Allied given the rumors. Perhaps the film should just lean in to the coming tabloid storm: The tabloids may not be true, the posters (and now tweets) might say, but here's your chance to speculate.