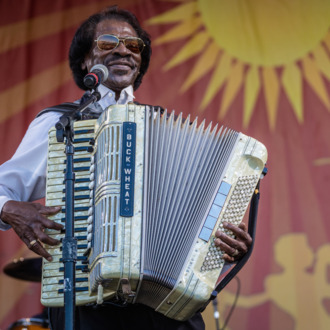 Stanley Dural Jr., known by his stage name Buckwheat, died on Saturday in his hometown of Lafayette, Louisiana. He was 68. Since 1979, his band, Buckwheat Zydeco, brought zydeco — a style of music that combines traditional Creole instruments and sounds with R&B and rock  — to the world outside the Gulf Coast region. The popularity of the band's live concerts led to Island Records signing Buckwheat Zydeco in 1987, making the group the first zydeco act to release an LP with a major record label. Buckwheat's popularity continued to grow with collaborations with various rock and pop superstars like Paul Simon, U2, Willie Nelson, Robert Plant, and Keith Richards, and with high-energy covers of songs like "Beast of Burden," "Tutti Frutti," and "Hey Joe."
Though he became famous as an accordionist, Buckwheat began his career playing organ in his 15-piece soul group Buckwheat and the Hitchhikers in the early '70s. As an organist he joined the band of his father's best friend, Clifton Chenier, who happened to be the undisputed former King of Zydeco. It was under Chenier's guidance that Buckwheat picked up the accordion.
Buckwheat would go on to win an Emmy (2002) and a Grammy (2010). The New York Times reports that he died of lung cancer. He is survived by his son, Buckwheat Zydeco's rubboard and keyboards player Sir Reginald M. Dural, and his other children Stanley Paul Dural III, April Germain Dural, Stacie Durham, and Tomorrow Lynn Dural.