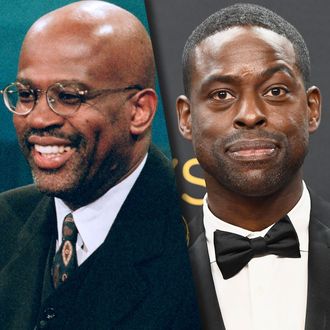 Christopher Darden and Sterling K. Brown.
Sterling K. Brown and Christopher Darden aren't exactly BFFs in the way that Sarah Paulson is with Marcia Clark. And that's okay! On Sunday night, Brown won the Emmy for Outstanding Supporting Actor in a Limited Series for his portrayal of Los Angeles prosecutor Christopher Darden in The People v. O.J. Simpson. Backstage after his win, Brown discussed his many attempts to contact his real-life counterpart. "I reached out on a couple of occasions, but I got no response," Brown said backstage. "I think I lamely tried to Facebook friend request him once. That was lame. That didn't work out." But he put on his detective hat and tracked down his phone number via Yelp:
And then I was trying to find him, I thought he was teaching law but I realized he was practicing. I found the phone number for his practice on Yelp, and I called him, and it was abundantly clear to me that it wasn't a landline when I called, it was his cell phone. So I hung up because it was 10:30 at night, and I was checking to see if the line was alive. He texted me back saying, What's up? Who's this? like eight minutes later when I was asleep. So when I woke up in the morning, I saw that I got a text from Christopher Darden. I sent him this whole text, Hi, I'm Sterling Brown, I'm tasked with portraying you in this new FX series. I'd love to break bread. I didn't get any response. And that's okay. He's a grown man, doing his own thing, living his life. Clearly he tried to stay as far away as possible from the show, from the documentary. So, c'est la vie.
Ah, yes, the classic: New phone, who dis?
Additional reporting by Lisa Butterworth.