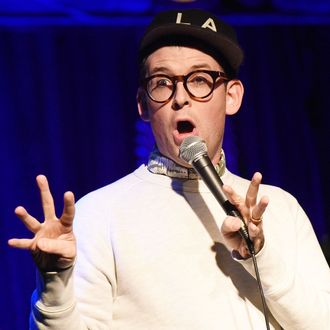 Please wear this hat during the show.
Photo: Chris McKay/Getty Images
How do you do, fellow kids? Your pal Comedy Central knows that it can be hard to make sense of this crazy political world, and they are here to help. The network has ordered comedian Moshe Kasher's (of the underrated Another Period) weekly talk show Problematic With Moshe Kasher to series. The show, which joins Not Safe With Nikki Glaser and Tosh.0 among the network's weekly talk offerings, will have Kasher take on "polarizing topics." "I see myself as the Phil Donahue of the Internet Age except not as funny or dialed into millennial culture," Kasher said in a statement. "This show will create a safe space for offensive comedy and more importantly engender conversations that will completely end all acrimony, racism, sexism, trolling and whatever else you find offensive online once and for all. I promise." When reached for comment, online trolls merely growled and said unprintable things about the presidential election.