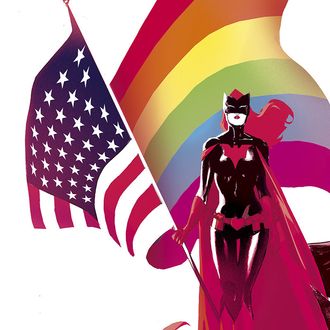 Art from Love Is Love.
Photo: DC Entertainment and Rafael Albuquerque
It's been more than three months since the horrific mass shooting at Orlando's Pulse nightclub, but its shadow still looms in popular culture — including in the world of comic books. Publishers DC and IDW just revealed, via an article in the New York Times, that they're collaborating on "Love Is Love," a 144-page anthology whose proceeds will go toward Equality Florida and its efforts to aid victims and their families. The project was helmed by writer Marc Andreyko and although the precise list of talent hasn't been revealed yet, the ones we do know about are a venerable bunch. The announcement mentions the involvement of people from outside the comics world, including Patton Oswalt and Damon Lindelof; comics creators who have taken to Twitter to cite their participation include such modern luminaries as Kieron Gillen, Jason Latour, and Brad Meltzer. It comes out in December, so expect this to show up on a lot of Christmas lists.