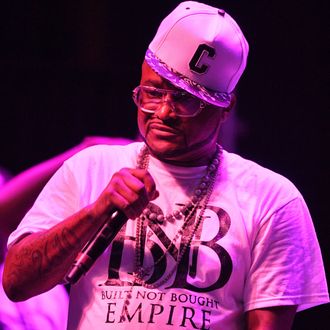 R.I.P.
Photo: Prince Williams/Getty Images
Shawty Lo, founding member of Atlanta hip-hop group D4L, was killed in a car accident in South Fulton County, Georgia, early Wednesday morning. The rapper, whose real name is Carlos Walker, was 40 years old. Initial reports and a statement by his brother posted to Shawty Lo's Twitter suggested it was a hit-and-run; however, local police have confirmed it was a "single car accident" involving Shawty Lo's Audi going over a guardrail, hitting several trees, and catching fire. Two other passengers in the car were reportedly injured and taken to a hospital. Shawty Lo was best known for scoring a No. 1 hit in 2006 with D4L's "Laffy Taffy." Following the group's disbandment, Lo released one solo album, 2008's Units in the City, which earned him another hit in "Dey Know." In 2011, he signed a deal with 50 Cent's G-Unit Records. Lo is survived by 11 children.
Below, see how 50 Cent and other members of the rap community are mourning Shawty Lo.