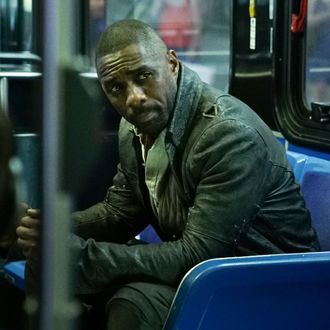 Idris Elba in The Dark Tower movie.
Photo: Sony Pictures Entertainment
When the plan to adapt Stephen King's Dark Tower series to the screen was announced back in 2010, it included an ambitious film-TV partnership: The adaptation would consist of a trilogy of films with two seasons of TV in between them. Now, after the project has been abandoned, revived, and scaled back numerous times, the film version of The Dark Tower is somehow only months away from release, which means producers are finally ready to talk about the TV part of the equation. Sources inside production company MRC tell Entertainment Weekly they're committed to making an entire season of the show, even though no network or streaming service has picked it up yet. The series will reportedly be a prequel, based on King's Wizard and Glass, following the younger version of Idris Elba's character as he trains to become a gunslinger. Elba will appear in a framing device, while Matthew McConaughey's shape-shifting Man in Black may show up played by another actor — unless the Oscar winner decides he wants to do the show, too. That's what we love about the fantasy genre: Idris Elba gets younger, while evil Matthew McConaughey stays the same age.