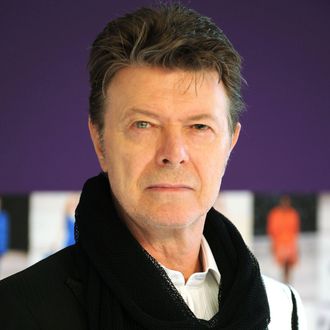 Prolific even in death.
Photo: Andrew H. Walker/Getty Images
David Bowie may have released his final album days prior to his death, in January, but those were not the last songs he ever recorded. The rock legend also performed versions of songs from his Lazarus musical — which opened in New York last December and is now headed to London — that will be released on the cast album on October 21. Along with the previously heard title track are his takes on "No Plan," "Killing a Little Time," and "When I Met You," all recorded with his longtime producer Tony Visconti and the band Bowie performed with on Blackstar. Keep in mind that "final recordings" means these are the last songs he put on wax, but not the only unreleased Bowie music in existence; his never-before-heard The Gouster album will finally be released on September 23 as part of a new box set with more remastered Bowie albums. Michael C. Hall, who stars in the show, will perform "Lazarus" at this Friday's Mercury Prize awards show, where Bowie is a nominee. Meanwhile, Bowie's son has denied a report that some of Bowie's ashes were scattered at this year's Burning Man.