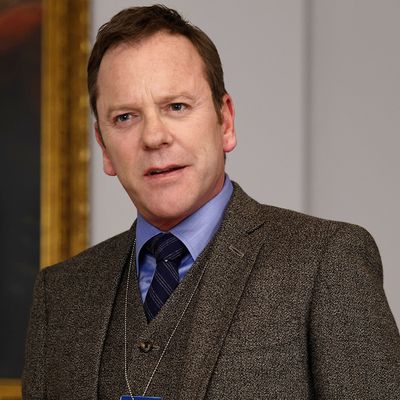 Kiefer Sutherland stars as Tom Kirkman.
Photo: Ben Mark Holzberg/ABC
In many ways, Kiefer Sutherland is the perfect person to star in Designated Survivor. He's a great, charismatic actor who can convey unease and total competence all at once. Given that he's playing Tom Kirkman, a cabinet secretary thrust into the role of president after a terrorist attack on the Capitol during a State of the Union address, those qualities are crucial.
In the pilot, which airs tonight at ten on ABC, it's also clear that determining how America should respond post-attack will be a key part of his new job in the Oval Office. And who is better equipped to go after terrorists than the man who spent nine seasons and a TV movie as Jack Bauer, the 24 CTU agent who knows exactly how to track down terrorists when he's on a hard deadline?
In some ways, though, that 24 baggage detracts a tad from the character Sutherland needs to establish in Designated Survivor. Here, at least in the first episode, he's a more mild-mannered, unimpeachably good husband and father who reacts to his sudden, immense responsibility by running into a bathroom and upchucking. Kirkman has a spine, one that stiffens considerably as the hour progresses. But the tension in this series, especially early on, stems from the idea that Kirkman is a political nobody who has become the leader of the free world and may not be able to handle it. As convincing and grounded as Sutherland is, it's sometimes hard to look at him and think anything other than: "Nah, everything'll be okay. He's got this."
Series creator David Guggenheim, who also wrote the pilot, and director Paul McGuigan do everything they can to establish the gravity of the situation, holding on shots of smoke billowing out of a partially destroyed Capitol dome, establishing an adversarial relationship between Kirkman and a military commander, and ensuring that at least one member of Kirkman's family — his teenage son Leo (Tanner Buchanan), the older of his two children — is unaccounted for in the immediate aftermath of the attack.
Given its quick, plot-focused pacing and visual gloss, Designated Survivor is one of those shows that could immediately be identified as a broadcast network series even if you didn't know it airs on ABC. It's smartly made, but it also doesn't linger terribly long on details, including character development. Natasha McElhone plays Tom's wife, Alex, but, at least in the first episode, all we know about her are the usual things we know about TV wives: She's a hard-working attorney, a caring mother, and a gorgeous, gloriously cheek-boned romantic partner for our leading man. Hopefully, as more episodes unfold and she, too, grapples with being shoved into the job of First Lady, some of her more unexpected qualities will be revealed.
The premise of Designated Survivor is a really intriguing one, especially because it's based in reality. No one has had to take over the Oval Office chair under the same circumstances, but such a thing could happen. When a Secret Service Agent delivers the news to Tom — "The Eagle is gone. Congress, the Cabinet, didn't make it. Sir, you are now the president of the United States" — it's chilling. You want to see what happens next.
Even though this first episode feels more like a sanitized TV version of that scenario, it draws you in enough to make you continue wanting to see what happens next. If nothing else, there is something satisfying about seeing Sutherland as our president. Even though neither he nor the politicos around him are confident in his abilities yet, you know he's going to be good at this job. During this particular election cycle, watching him prove that may turn out to be as comforting as it is dramatic.