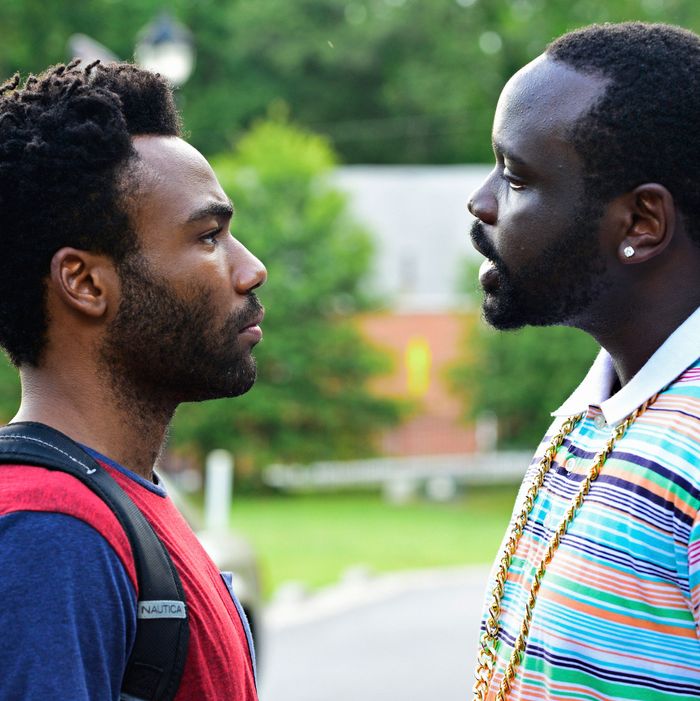 Take a deep dive into Atlanta's soundtrack.
Photo: Guy D'Alema/FX
Light spoilers ahead for the first four episodes of Atlanta.
The first song you hear on Donald Glover's new FX show Atlanta plays faintly over the speaker of a car that's about to get vandalized, setting in motion a series of mishaps for the two cousins central to the narrative. It's the opening scene, and it's Migos's "One Time" playing, one of the many deceptively infectious hits from the Atlanta-affiliated trio, until it fades further into the background. "Smoke one one time," the group's unofficial leader, Quavo, emphatically raps, while Donald Glover, Keith Stanfield, and Brian Tyree Henry's characters hotbox. Glover stars as Earn, an aspiring music manager; Henry is Earn's cousin, Paper Boi, an aspiring rapper; and Stanfield plays Paper Boi's aspiring hype man, Darius. They're each trying to get a foot in the door of the current thriving network of Atlanta hip-hop, home to some of the industry's biggest and brightest — Young Thug, 2 Chainz, Lil Yachty, Killer Mike, Gucci Mane, to name a few — plenty of whom set the backdrop for Glover's bird's-eye view into that world.
In Atlanta, which was filmed on location in the titular city, its streets aren't the only nameless character: The music that pulsates through them — in ATLiens' cars, inside the clubs, and at the radio station Earn pays to play Paper Boi's self-titled mixtape single — is its own invisible star. Below, we break down the music of Atlanta through the first four episodes.
Episode 1
You might've noticed Atlanta doesn't have a theme song so much as it has title cards with interchangeable music. The next song heard after Migos is the bass-rattling "No Hook" from another Atlanta native, OJ Da Juiceman. Indeed, it has no hook, but the show expertly uses it to reel in the viewer over a montage of aerial shots above the city. It's loud and direct in its swagger, though, like the show, never obnoxiously so.
A subplot of the pilot involves Earn scheming to get Paper Boi's single on the radio to prove his worth as a manager. The station he ultimately succeeds in finessing is the fictional 106.5 The Jam, seemingly the premier place to hear hip-hop. The song, "Paper Boi," sounds like a trap remix of a Childish Gambino (Glover's rap name) song, which makes sense: FX confirmed to Vulture that Glover co-wrote "Paper Boi" with his brother, Stephen, who's the one actually performing the song, rather than Henry. (Stephen is also a member of Atlanta's all-black writer's room.)
Straight away, the racial politics of the music business present themselves when Earn bumps into Dave, an old acquaintance who works at the station. The guy is white, casually drops "nigga" in certain black company, and represents the many white gatekeepers at hip-hop radio across the country. "The music business is gross," he tells Earn, just after advising him to cough up $500 to bribe the station's music director — another common practice the industry prefers swept under the rug. The show further skewers Dave's code-switching when he retells a story about dissing a DJ for playing Flo Rida back-to-back at an event, this time sans the N-word, assuming Earn's friends will also consider Flo Rida not "real" rap. "Moms need to enjoy rap, too," Darius clowns him. Needless to say, Dave is left out going forward.
Episode 2
The second episode in the two-part premiere opens with a snippet of Yo Gotti's "Law" (they're in jail, after all), the first of a select few songs featured in the show not from an Atlanta artist. Still, Yo Gotti hails from the South. ("Running Threw It" from Atlanta's Rich the Kid, and Bill Withers's "Grandma's Hands" are also heard in the episode.) As Paper Boi gets bailed out of jail, we see an officer stop him for a photo op. Paper Boi's been on the radio now, and in small pockets of communities even as sprawling as Atlanta, that's a measure of fame. "I locked that nigga up," the cop brags to Paper Boi about his small role in Atlanta rap overlord Gucci Mane's past legal woes. It's the first instance in a series of deft references made throughout the show, but particularly in this episode, to the culture of rap that coexists with Atlanta.
Later, at a rib joint, Paper Boi has another encounter with small-time fame when his server praises him for being "one of the last real rappers." He's impressed that Paper Boi's been accused of murder and mesmerized by the possibility of its truth. "It's good to see a rapper that'll just blow a nigga's brains out in the streets," he says, calling the rise of "singing-ass niggas" like Fetty Wap "weak." And though he considers himself a disciple of '90s rap, he probably idolizes certain stars of the next generation, like Gucci Mane or T.I.,  for also doing time. "If you let me down, I don't know what I'd do," he warns Paper Boi, an ominous threat that his street cred better have a good score.
That brief aside couldn't be more timely as hip-hop finds itself embroiled in yet another debate over old-school vs. new-school rap. Currently on trial for concerns about his authenticity is Lil Yachty, a 19-year-old out of Atlanta (notice a pattern) who recently confessed that he can't name five songs by either Biggie or Tupac. Questions of whether a rapper who rejects even being called a rapper — and doesn't know his rap history  — should be taken seriously subsequently arose, fueled by legendary producer Pete Rock sharing a meme that insulted Yachty's freestyle. "At the end of the day, what we doin over here not gone stop growing because a old head don't like it. The world will continue to spin," Yachty said, shrugging off the complaints.
Both sides are valid, and it's an argument that Glover's own strange rap career has endured. Pitchfork all but called him a "comedy rapper" in their eviscerating review of his first album, skeptics questioned his own self-doubting motives for briefly leaving acting for rap, and his second album's Grammy nomination was perceived as validating suspicions about his cred. "I think that I can grow into this realness," Glover told Hot 97 in 2014, alluding to the standards older rappers expect of their successors. In Atlanta, that rib-joint server isn't just a server preaching solely to Paper Boi; he's the old guard projecting onto a generation they simply can't make sense of and don't trust, Childish Gambino included.

Episode 3
The season's third episode is its most musically diverse (so far): It opens with Florida's Kodak Black and his breakthrough hit "SKRT"; Boston's Cousin Stizz's "Shoutout" blares from Earn's headphones; Lloyd's "Get It Shawty" plays during a date scene; Darius and Paper Boi sing Cheryl Lynn's "Encore" before a drug deal; Seattle's genre-defying Shabazz Palaces' "An Echo From the Hosts That Profess Infinitum" soundtracks a foreboding drive into danger; and Max P's menacing viral banger "Gang" comes on during a tense rendezvous in the woods.
This is also the episode where Migos, the same trio that opens the show, makes a cameo. They essentially play themselves, only they're the muscle for a Mexican cartel ("The Four Migos," natch) that Paper Boi and Darius do drug business with. Quavo, especially, is the kind of "real" rapper the guy at the rib joint would respect, considering he shoots a man after letting him go. (Quavo's also amused at Paper Boi's rap sheet.) They serve little purpose in the grander scheme of the narrative, but it's yet another way for Glover and Atlanta's homegrown team to give national attention to and write a check for the city's newest stars. The episode ends with Earn scamming his bank while sipping "the worst" champagne, not that the taste keeps him from wasting a drop. The song that plays him out: Migos's "Spray the Champagne," because there's not a scene that isn't scored to perfection.
Episode 4
Atlanta offers some truly brilliant music moments, but one of its best comes midway through the fourth episode. It's bookended by Xavier Wulf's "Philosopher's Throne" and Michael Kiwanuka's "Home Again," but the song worth paying careful attention to occurs when Earn and Darius embark on a moneymaking scheme that takes them to a warehouse run by some sort of Asian mafia. That's Keith Ape, a South Korean rapper, blaring from the speakers while the deal goes down. The show chose last year's remix to Ape's "It G Ma," featuring Atlanta's Waka Flocka Flame and Father, plus A$AP Ferg and Dumbfounded.
A running gag in the episode involves Earn, Darius, and Paper Boi puzzled by the racial ambiguity of a social-media troll who's heckling Paper Boi. Is he Dominican? Asian? Both? They can't decide. The song, a cultural rap fusion, is an expert wink at the ridiculousness of their confusion.
Episode 5
Let's just cut to the chase: Yes, that is indeed Donald Glover singing a fake Justin Bieber song over the end credits. FX has confirmed it's called "Just Forget About It," written specially for this episode, much like "Paper Boi." Now let's back up: "Nobody Beats the Biebs" opens with a funkadelic instrumental from Billy Paul's "Am I Black Enough for You?," a song that could conceivably be the entire show's theme, but it's particularly on the nose for this episode. Every other song featured this half hour is background noise, all muffled over the speakers at a charity basketball game. But music is still at the episode's heart: In it, we meet "Justin Bieber," only, now he's black and played by Atlanta singer Austin Crute. It's an extended parody of the Biebs that slyly lampoons his exploitation of black culture, while also poking fun at his music and antics — of course, "Sorry" is referenced — and culminates in a Bieber redemption song that's so spot-on it could be on a Purpose reissue and no one would know the difference.
But as we've come to expect from this show, that bit represents something larger. It further posits Paper Boi as a pariah in the music business beyond hip-hop, a villain who'd be one even if he were only just a rapper. But because he's also a rapper with a rap sheet, he can consider himself blacklisted. As one up-front journalist so bluntly tells him: "People don't want Justin to be the asshole. … You're a rapper, that's your job." It's yet another instance of Atlanta masterfully winking at the unsubtle racist narratives at play in the music industry that then bleed into media coverage. (Though, as a journalist, I can confirm wow, yes, that is definitely how small-time rappers hit on female reporters.)
Also in this episode are cameos from Atlanta's own Lloyd — whose music previously showed up on Earn and Van's date — Jaleel White, and Atlanta rapper Lil Zane. Because what is this show if not art mirroring life?