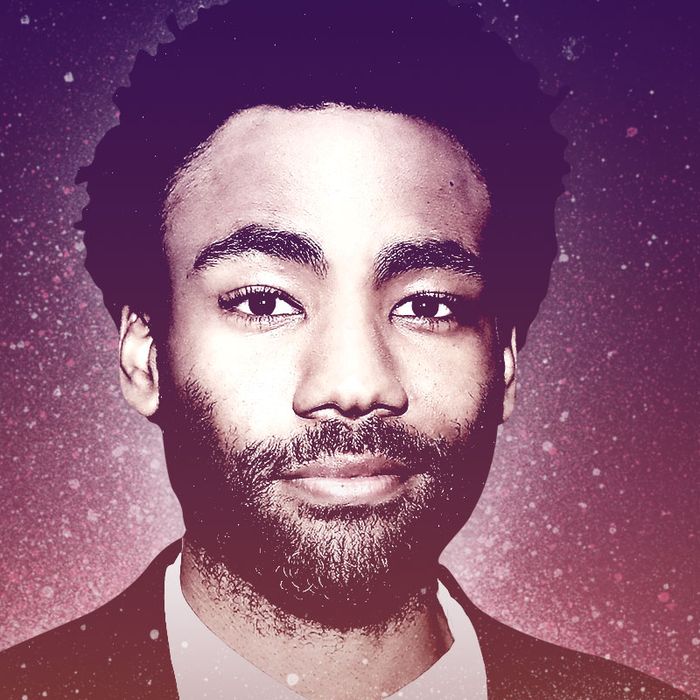 Photo-Illustration: Kelly Chiello and Photo by Getty Images
Whatever your opinion of Donald Glover, one thing is he'll never be is predictable. The comedian/writer/actor/musician/almost-was-maybe-Spider-Man has made a career out of redefining expectations, and trying to guess his next move has never been easy. As Glover prepares to premiere his semi-autobiographical series — and most ambitious project yet — tonight on FX, we took a look back at his unique journey to Atlanta.
**
Glover was born in California, but raised in Stone Mountain, Georgia, a suburb of Atlanta best known for its massive stone carving of Confederate president Jefferson Davis and generals Robert E. Lee and Stonewall Jackson. There's also this very strange laser show there, which Glover remembers attending as a kid. In 2015 he told Vice:
"It's a Confederate thing, and we were the only black family. So at the end when the South 'gives up,' the people who were sitting around us started throwing beer cans at us. And I remember one of my first thoughts being, 'How do I make them like me?' "
Over the years, his parents welcomed multiple foster kids into the Glover home, which further fueled Glover's desire to stand out.
1998–2002
In high school, Glover acted in plays and musicals. He also maintained an obsession with The Simpsons. Since he was raised in a strict Jehovah's Witness household, he wasn't allowed to watch the show growing up, so he'd record episodes and listen to the audio in bed before going to sleep. Clearly, the tracks were influential; his high-school yearbook voted him "Most Likely to Write for The Simpsons."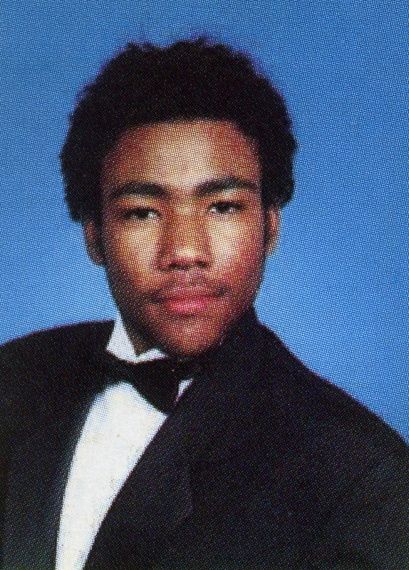 2002–2006
Glover attends NYU with a dramatic-writing major. In his stand-up, he mentions how shocked he was to find he was once again in a sea of white people. "NYU is like a Jurassic 5 concert — there are supposed to be black people there, but there aren't." Initially studying to be a playwright, he soon falls in with NYU's sketch-comedy group, the Hammerkatz, where he meets DC Pierson and Dominic Dierkes, with whom he'd form Derrick Comedy. Derrick would become one of the foremost sketch video groups on YouTube, finding tremendous success with videos like "Bro Rape":
And "Jerry," a true star turn for Glover, about a guy who poops his pants in class and is very torn up about it:
Derrick performs at UCB and around New York City, and continues to make viral videos.
2006–2008
While still working as an R.A at an NYU dorm, Glover gets a call from a producer at 30 Rock, who had heard his name through the UCB grapevine, and asked Glover to send over a few samples. He secured a job as a writer for the show. "I literally had my NYU pager go off my first day of work," he recalled to New York Magazine in 2009. He would go on to make a few cameos on the show as a "young P.A."
2008-2009
A busy few years for Glover. He releases an early rap mixtape, Sick Boi, auditions for SNL during their infamous search for a Barack Obama (they ended up using Fred Armisen, for the time being), and starts doing a lot more stand-up comedy:
With Glover's career beginning to take off, he makes the risky move of telling Tina Fey he wants to slip out of his job at 30 Rock. She obliges, telling the New York Times in 2010 that "usually, when writers tell you they want to pursue performing, you want to tell them to keep their day jobs. But with Donald, I had to agree that his talent, youth, and handsomeness were not to be wasted sitting on my living room floor." Glover and his Derrick Comedy cohorts move to L.A and set the table for their feature-film debut, Mystery Team, which premiered at Sundance in 2009:
2009
His first month on the West Coast, Glover books the role of Troy on Community, which was originally written for a white actor. Though the part was certainly a major milestone in his career, he often worried about the part defining it, and says he would sometimes "wake up screaming."
He would continue to play Troy through five more years of the show's celebrated and bumpy run, before eventually leaving after its 2014 season to pursue other projects.
2010
Someone suggests that Glover might make a fine choice for Peter Parker in the newest Spider-Man reboot and the internet blows up. The hashtag #donald4spiderman becomes a thing, and Stan Lee even joins the fray, calling Glover a "great actor" and suggesting he get a shot to audition. But he never got that shot. Sony never even called him in, because Hollywood. The part goes to white guy, Andrew Garfield.
2011
After years of releasing mixtapes and online tracks, Glover signs to Glassnote Records as Childish Gambino and releases Camp, his first studio album, which receives largely favorable reviews, aside from its infamous "1.6" rating from Pitchfork. NME calls it the hip-hop album of the year.
2013
Childish Gambino releases his second studio album, Because the Internet. The album earns Glover two Grammy nominations and was certified Gold.
This same year, Glover releases a super-artsy short film, starring himself, Flying Lotus, and, natch, Danielle Fishel, a.k.a. Topanga from Boy/Girl Meets World.
2014–2015
After a few years spent focusing primarily on music, Glover appears in a few choice supporting roles in major films, including Alexander and the No Good, Very Bad Day, Magic Mike XXL, and The Martian, where he played a young genius who wears a scarf.
Glover told Conan that he took a bit of a fall while Martian-ing, but Ridley Scott was cool with it, even including Glover's slip in the final cut.
2016
It is announced that Glover will finally appear in a live-action Spider-Man film, Spider-Man: Homecoming. Who he'll be playing has so far been kept a secret.  His new FX show, Atlanta, which was originally announced back in 2013, will at last premiere on September 6. Early reviews are hugely positive, calling it "shockingly self-assured" and a "deeply specific portrait of a certain way of life."