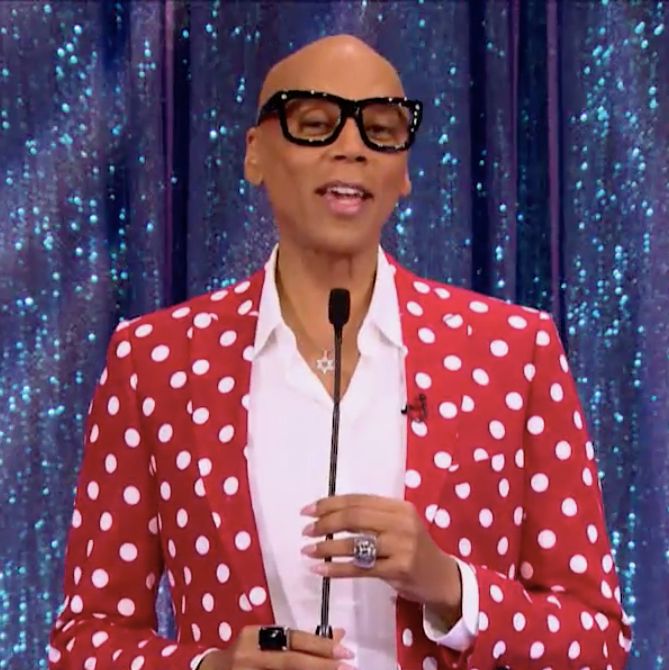 Wow, it's hard to believe a full week has passed since RuPaul's Drag Race All Stars changed the course of television forever! With a new elimination format, a lineup of capital-D dynamite queens to drool over, and, I don't know, Todrick Hall, I guess, the new season is a recipe for success, honey.
Tonight's hyperemotional episode illustrates the drastic difference between green and seasoned queens. All Stars is about ego and reputation above all else, but the competition is also an opportunity to push and diversify the queens' skills and style while strengthening their brands. Of course, that seems antithetical to Adore, who is relatively uncompromising in her drag aesthetic. While sharing no fewer than four times how she's inspired by '90s grunge, Adore flaunts a casual look that's apparently been a source of contention with Michelle Visage in the past. It was a recipe for some brutal judging last week, and ultimately, it leads to Adore's departure. It's shocking that she went through with it, especially given the lengths Ru went to convince her to stay.
The Adore ordeal brings to mind a sometimes forgotten detail: Although each round of Drag Race is referred to as a separate week, in truth, the episodes are filmed consecutively. For the queens, that means their days alternate between challenges and eliminations with few breaks. It's no surprise that Adore was still feeling emotionally run-down and upset — chances are, she got her critique hours earlier and was running on just a few hours of sleep.
I'm a big fan of Adore, especially her humor in the confessionals, so I'm interested in this #drama and I'm obviously eager to see Ru's response. This certainly isn't the first time a queen has suffered a crisis of faith on the show and spilled her guts to Ru during a walk-through. Like usual, this one starts with a shout-out to the Inner Saboteur, a staple in RuPaul Philosophy 101. That's usually enough to get a queen to snap out of whatever she's going through, but this time, it's clear that Adore is in true distress.
These types of interactions reveal why people are willing to go to the ends of the Earth for Ru, who responds with intense compassion and genuine love. Ru also facilitates a détente between Michelle and Adore, which we, unbelievably, get to witness. And then, even though Michelle apologizes, Adore decides to leave anyway. What can I say? The bitch wants out!
After such an emotional start, the rest of the episode is a goddamn romp. The week is, blessedly, Snatch Game (featuring Jujubee and Raven!), a gift from Mama Ru for those of us who want to see as many celebrity impressions as possible. In a regular season of Drag Race, Snatch Game marks a pseudo-halfway point and highlights the true contenders for crown. In this season of All Stars, it's a crucial challenge for each queen to cement her reputation as a superstar. Those who did poorly on Snatch Game in their initial season (Phi Phi O'Hara, Alyssa Edwards, Detox) need a solid win to bolster their reputations. Those who previously excelled (Ginger Minj, Alaska, Tatianna) want to defend their claims. Unlike a normal season in which queens have no idea what they're doing, everyone seems to make pretty good character choices here. Nevertheless, Phi Phi seems to be on edge.
Oh, Phi Phi. Last week, she seemed to be on the road to RuDemption™ by talking a big game about how much she's grown since her petty and cruel turn on season four — an effort that went entirely down the toilet tonight. While discussing philosophies about elimination, Phi Phi rudely cuts other girls off with a curt "CAN I FINISH?" before explaining that she's still perplexed by sending home a sister. Maybe not the most effective tactic, but feel your fantasy, honey. And then, Phi Phi corners both Roxxxy and Alyssa before Snatch Game to give "honest" notes about their performances. Her note to Roxxxy — some bullshit about her accent not being strong enough — is clearly designed to psych her out and force a tragic last-minute change to Alaska, of all people. So much for Phi Phi's transformation into a nice girl. A small dose of insecurity was all it took to send her spiraling right back into dirty games.
Imitating your competitor can be brilliant, but unfortunately for Roxxxy, it bombs. Like Phi Phi, Roxxxy has a mean streak that earned her a reputation as a bully. On her season, she played mind games, though she has disavowed them for All Stars. And yet, in moments of panic, she seems to indulge her natural instinct for humorless nastiness — something we saw in last week's Reading mini-challenge and this week's Snatch Game. Seriously, Roxxxy: Quit clinging to baseless insults about Alaska's makeup skills.
The clear winners of Snatch Game are Alyssa's devastatingly hilarious portrayal of Joan Crawford, Alaska as a sultry, witty, zippy Mae West, and Katya as an eccentric, gurgling, paper-eating Björk. It's a terrific victory for all of them, particularly for Alyssa. Lest we forget, she once did a Katy Perry impression that was so atrocious, Ru demanded she apologize to Perry herself. Alyssa's Joan Crawford shows a level of self-awareness she didn't quite possess back in season five, and in addition to making every other contestant break with laughter, she inspires Ru to mint a slogan that captures her very essence: "That don't make no kind of sense, but it sure is entertaining."
As for the rest: Tatianna, one of the only contestants who won Snatch Game in her season, has a disappointingly bland Ariana Grande (though the look was gag-worthy), while Ginger Minj, Detox, and Phi Phi fade into the background.
The runway theme is Latex Eleganza, and most everyone slays. (But none more than Ru, whose all-pink look is LEGENDARY.) The weakest look by far is Phi Phi's, a basic leotard with cheap rubber-duck jewelry and a harsh contour that should have landed her in the bottom three. Detox should have been saved by her runway (get your life, "raccoon eleganza!"), but she finds herself stuck in the bottom with Roxxxy and Tatianna. It seems like a deliberately challenging trio to judge, since none of the three are the definitive worst.
And so, Katya and Alaska are the winners, having delivered truly sickening runway looks. Katya's seafoam-mermaid look is dazzling, and Alaska's latex fantasy with a sleek lob looks shocking, fishy, and dangerous. Alyssa maybe could have unseated Katya if her latex look was stronger, but Drag Race stops for no woman, and that massive yellow wig just doesn't cut it.
Yet again, the queens go backstage to deliberate in a reverse-Untucked setup. (The judges slurping down root-beer floats is a highlight, for sure.) This time, though, both Katya and Alaska meet with all three girls in the bottom. Katya continues to shine as an empathetic, funny, and genuine person, expressing her sincere apologies about the situation. Alaska is more diplomatic due to the fact that Detox and Roxxxy — her two best friends from the season they did together — are in the bottom. Tatianna assumes that Alaska will choose her friends over Tati, but Alaska has always been wary about binding herself to Rolaskatox. She tells all three girls that her final decision has nothing to do with favoritism, but understandably, no one believes her. The only one who is definitely safe is Detox, who clearly did not deserve to be in the bottom.
That leaves Tati and Roxxxy. Tatianna was last week's runner-up and feels very alone without any other season-two sisters to have her back. Roxxxy's case is more puzzling, and a bit surprising, to be honest. Who knows how she would have done as Sofia Vergara? And you've gotta wonder: If Roxxxy can let someone like Phi Phi get to her, is she even a fit for this intense a competition?
Katya's lip-synch jumpsuit is a geometric wet dream (as are her nails!) and the lip sync on the whole is jovial, silly, and fun as hell. I guess this is what happens when people aren't lip-synching from a place of mortal terror. That $10,000 is a necessity, because otherwise, who would want the job of sending a friend home? Certainly not Alaska, though it is ultimately her job, less because she wins the lip synch and more because it's the most compelling TV choice.
In the end, Alaska sends home Tatianna. It is the safe decision, but let's be real: Any option would have been sad and disappointing. Since when did All Stars become such an emotional roller coaster every week? Because I'm not watching to openly weep on my couch, okay?
Before she leaves, Ru gives Tati the same cryptic message that Coco got. Between that and the extra absence caused by Adore's departure, I'm sure there's some fuckery on the horizon. Which queens will come back? And when? I think Tatianna deserves another chance, so I hope she returns. And if she does, she better follow Ru's advice: "Don't be sorry. Be fierce."
Correction: A previous version of this recap claimed that Tatianna won last week's lip synch. She was the runner-up; Roxxxy won.