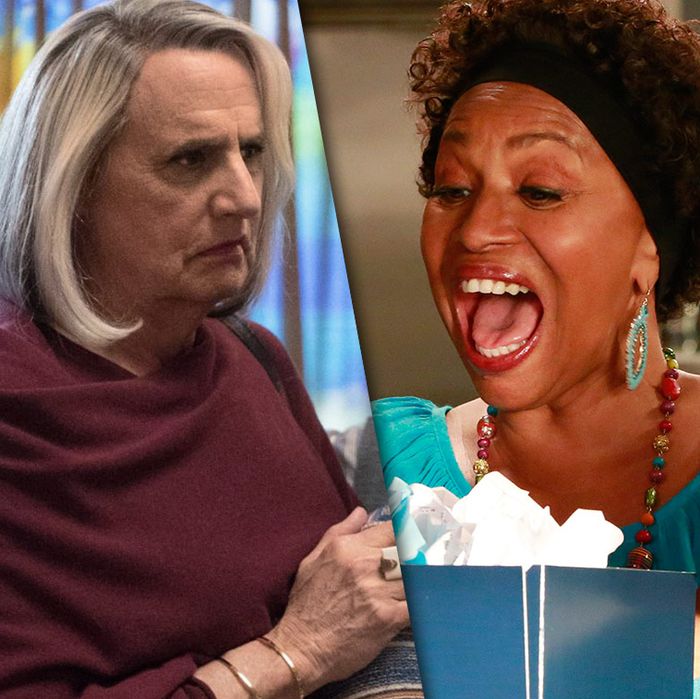 Photo: Amazon/ABC Press/HBO
The 68th Emmy Awards air Sunday, September 18, and all this week, Vulture TV columnist Jen Chaney and New York Magazine TV critic Matt Zoller Seitz are breaking down the major categories. What will win? What actually should win? That's what we're here to determine.
Today's focus: comedy. (Read our picks and predictions for variety series and limited series.)

Outstanding Comedy Series
Black-ish (ABC)
Master of None (Netflix)
Modern Family (ABC)
Silicon Valley (HBO)
Transparent (Amazon)
Unbreakable Kimmy Schmidt (Netflix)
Veep (HBO)
Stop and look at the wonderful mix that is this list of nominees. You've got a family sitcom that reinvigorates the genre by running everything through the complex filter that is the African-American experience; an indie rom-com infused with the perspective of a 30-something son of Indian immigrants; a sharp look at tech start-up culture and critique of corporate American absurdity; the story of a transgender woman's transition and its impact on one family, told with enormous humanity; an uproarious, joke-a-minute comedy about New York City oddballs that's also an insightful exploration of denial and post-traumatic stress syndrome; and a gloriously acidic political satire that also raises some valid, timely questions about the double standards faced by female leaders. Also, Modern Family is nominated.
You know what? I'm not going to bust on Modern Family. If you haven't watched it in a while — and if you haven't, brace yourself, because Luke is basically 32 now — I am here to tell you that, while it is not reinventing any wheels, it is still an often funny show that hits its marks as cleanly as an Olympic gymnast. The reason I don't think it needs a sixth Outstanding Comedy Emmy is because it doesn't feel like it's doing or saying anything fresh to the degree it was six years ago. Right now TV comedy is operating at such a high level that being reliably funny isn't enough. Being an Olympic gymnast is great. But to win the Emmy, you need to be Simone Biles.
Who comes closest to being a Biles? The Final Five, for me, are Transparent (which, more than the others, could credibly compete in the Outstanding Drama category); Unbreakable Kimmy Schmidt, which speeds through its verbal volleys at such high velocity, it demands immediate rewinding; Silicon Valley, which, while tech-focused, captures universal truths about corporate miscommunication; Black-ish, which tackled urgent social issues this season without sacrificing its heart or humor; and Veep, a series that rebounded from the departure of its creator, Armando Iannucci, with even more vim in its step and profanities on its tongue.
Transparent could sneak in there for the win, but I think the Emmy will most likely go to either Black-ish or Veep. For reasons outlined in this piece, I would love to see Black-ish win; it's a great show in a traditional genre that illustrates the degree to which diverse perspectives and a sense of daring can make a traditional genre seem radical. "Hope," the episode that deals directly with police brutality and Black Lives Matter, will probably be part of a Smithsonian exhibit someday.
But I come back to a key question — Which of these wowed me most consistently? — and there's only one answer that feels fully right: Veep. The all-around strength of the cast, the jaw-dropping ways in which story lines interconnect, Julia Louis-Dreyfus's performance, which, five seasons in, finds new ways to astonish me: It's an excellent comedy that still found ways to surprise this season. "Mother," the episode in which Selina Meyer confronts her mom's passing while dealing with the seesawing developments in the election recount, actually made me cry. There's lots of profanity and Jonah being a douchebag in Veep, but there is not supposed to be crying!
I hate when Emmy voters repeat themselves. But even though Veep won this last year, I still think it's the one that should have a gold medal placed around its neck.
The Emmy should go to: Veep.
The Emmy will go to: Veep.
Outstanding Lead Actor in a Comedy
Anthony Anderson, Black-ish
Aziz Ansari, Master of None
Will Forte, The Last Man on Earth
William H. Macy, Shameless
Thomas Middleditch, Silicon Valley
Jeffrey Tambor, Transparent
Ansari had to convince viewers to forget he was ever Tom Haverford and embrace him as Dev, and he did that impressively well. Both Forte and Macy play, in very different contexts, unlikable characters and manage to make them empathetic without softening their coarser, uglier tendencies. Middleditch is an awkward, stammering, often naïve mess of a tech geek, but every season he uncovers previously excavated evidence of Richard's intelligence and fortitude.
But, in the end, this comes down to two actors who, separately and together, represent the past and future of TV comedy acting: Jeffrey Tambor, a revered veteran who won last year and continues to do revelatory work on an unconventional streaming series, and Anthony Anderson, a longtime comic who anchors the antics on a show that takes one of the oldest genres in the medium to another level.
Tambor's role is the more "actorly" of the two, and one that he infuses with enormous nuance; the way he registers Maura's shock, fear, and resentment when she realizes trans women aren't welcome at the Idyllwild Wimmin's Festival in the episode "Man on Land" is just one example of Tambor knowing exactly how to calibrate his performance. Anderson also demonstrates great range and versatility in a way that looks deceptively easy. He digs unabashedly into broad, comedic moments — say, shouting "Save me, Black Jesus!" while nearly drowning in the neighbor's swimming pool — but is just as effective in the quieter ones. The "Hope" episode I mentioned earlier would not have worked nearly as well if Anderson had not understood just how to ground its key, bringing-the-family-together moment.
So who gets the Emmy? Since Tambor won last year and since, in some ways, Transparent felt more like an ensemble piece this season than last, I'm going to say …
The Emmy should go to: Anthony Anderson. In addition to all the other reasons I mentioned, a win for him would be the first one for an African-American in this category in more than 30 years. And that would be awesome to see, especially if Black-ish gets Veep-ed in its other major categories.
The Emmy will go to: I have a feeling Jeffrey Tambor will win again. And Emmy voters would not be wrong to go with him; his performance really is wonderful.
Outstanding Lead Actress in a Comedy
Tracee Ellis Ross, Black-ish
Ellie Kemper, Unbreakable Kimmy Schmidt
Julia Louis-Dreyfus, Veep
Laurie Metcalf, Getting On
Amy Schumer, Inside Amy Schumer
Lily Tomlin, Grace and Frankie
Can anyone beat Julia Louis-Dreyfus, who, with a sixth victory, will become the actress with the all-time most Emmy wins in this category? I'll save us a little time here and say: No. No one can.
Schumer is a gifted comedian, but she doesn't shine as much in this season of Inside Amy Schumer. She can't take down JLD. Lily Tomlin is a national treasure, but the sometimes formulaic nature of Grace and Frankie doesn't push her performance into terribly unexpected places. She, too, seems unlikely to beat JLD. Laurie Metcalf is sensational on Getting On, a show I am betting most Emmy voters never got around to watching, and Ellie Kemper uncovered new dimension in Kimmy this season, showing just how much her perkiness functions as a coping mechanism. I still don't think they have a shot against JLD.
If anyone does, it's probably Tracee Ellis Ross, who serves as the ideal foil for Anderson on Black-ish, proving that, unlike the usual practical sitcom moms who tut-tut at their husbands, Bow can crank up the crazy just as high as Dre can. She's great. I still don't think she can knock Louis-Dreyfus out of her Emmy-winning seat.
As Selina, Louis-Dreyfus is constantly vacillating between her public and personal faces to a degree that is dizzying. This season, particularly in the aforementioned "Mother" episode, she also slides up and down the emotional spectrum — from grief, to confusion over her grief, to elation over some positive professional news, then back to grief again — within mere seconds in a way that immediately made me go, "She just won another Emmy." Louis-Dreyfus has always been fabulous on Veep. This season featured the best work she's ever done. When you consider that she also was portraying the first female president against the real-world backdrop of Hillary Clinton's presidential run, you've also got a timeliness factor that surely will work in her favor.
The Emmy should go to: Julia Louis-Dreyfus.
The Emmy will go to: Julia Louis-Dreyfus.
Outstanding Supporting Actor in a Comedy
Louie Anderson, Baskets
Andre Braugher, Brooklyn Nine-Nine
Tituss Burgess, Unbreakable Kimmy Schmidt
Ty Burrell, Modern Family
Tony Hale, Veep
Keegan-Michael Key, Key and Peele
Mike Walsh, Veep
Man, this category is stacked. Burrell and Hale are still giving solid performances, but they've both won before, and the recent seasons of their respective shows weren't particular standouts for their characters. I continue to love Burgess's energetic performance on Kimmy Schmidt, though this was a series-best turn for Veep's Walsh, and I avow that Braugher is the best straight man/gay cop on television. Still, the strongest Emmy cases can be made for Anderson and Key.
As Christine Baskets, mother to not just one but two versions of Zach Galifianakis on Baskets, Anderson does something that sounds dicey on paper: He plays a woman, full stop. But there's nothing campy about this performance; within seconds, you forget you're watching a guy in drag. Then there's Key, who has been a dazzling sketch-comedy shapeshifter on Key and Peele for five seasons. On one hand, it feels wrong to recognize Key sans Peele here; on the other, he's been one of the most hilarious, magnetic dudes on TV for several years. So …
The Emmy should go to: Keegan-Michael Key. Just the way he says "terries" deserves a trophy. Plus, with Baskets getting a season two, Anderson should get another chance at victory next year while, at least for his Key and Peele work, this is Key's last chance.
The Emmy will go to: Louie Anderson. That he dares to take on this role, and does it so convincingly, will probably convince Emmy voters they simply can't wait a year to give him the award.
Outstanding Supporting Actress in a Comedy
Anna Chlumsky, Veep
Gaby Hoffmann, Transparent
Allison Janney, Mom
Judith Light, Transparent
Kate McKinnon, Saturday Night Live
Niecy Nash, Getting On
Janney has won this thing two years in a row, and there's a good chance she could win it a third. Which is fine; she's a great actress, and on Mom she takes a character in a Chuck Lorre sitcom and makes her a flawed, authentic human. In the interest of spreading the love around, though, it would be nice to see someone new win this. Both of the nominated ladies of Transparent are worthy; Hoffmann's character grappled with her sexuality this season with a curiosity and confusion that felt truthful, and Light's portrayal of Shelly is thoroughly lived-in and emotionally affecting. What mostly resonates in their performances are the dramatic elements, and that may steer Emmy voters toward acting that's more traditionally comedic. Same goes for Nash, whose work on Getting On shows just how versatile she is — I am not sure what the exact polar opposite of Nash's performance on Scream Queens is, but it may be what she did on Getting On — but is striking for being so different from her more overtly laugh-seeking work.
Personally, I'd like to see either four-time nominee Anna Chlumsky or three-time nominee Kate McKinnon win this. Chlumsky continues to let reserves of regret and vulnerability poke through Amy's sarcastic, cynical surface on Veep, while McKinnon is the SNL rock star who takes otherwise "eh" sketches and infuses them with unexpected life and lunacy.
The Emmy should go to: Either Anna Chlumsky or Kate McKinnon. I'm leaning a little more toward Chlumsky, but, honestly, both of them deserve it.
The Emmy will go to: Allison Janney.
Outstanding Writing
Catastrophe, "Episode One," Written by Rob Delaney and Sharon Horgan
Master of None, "Parents," Written by Aziz Ansari
Silicon Valley, "Founder Friendly," Written by Dan O'Keefe
Silicon Valley, "The Uptick," Written by Alec Berg
Veep, "Morning After," Written by David Mandel
Veep, "Mother," Written by Alex Gregory and Peter Huyck
I adore Catastrophe and thought "Parents" was a standout episode of Master of None. But the braiding of plotlines, past history, jokes, and varying emotions in Silicon Valley's "The Uptick," the third season finale, and Veep's "Mother" were too masterfully handled to ignore. I give "Mother" the edge since it was probably the most extraordinary half-hour of comedy I saw last year.
The Emmy should go to: Alex Gregory and Peter Huyck for Veep's "Mother."
The Emmy will go to: Alex Gregory and Peter Huyck for Veep's "Mother."
Outstanding Directing
Master of None, "Parents," Directed by Aziz Ansari
Silicon Valley, "Founder Friendly," Directed by Mike Judge
Silicon Valley, "Daily Active Users," Directed by Alec Berg
Transparent, "Man on the Land," Directed by Jill Soloway
Veep, "Morning After," Directed by Chris Addison
Veep, "Mother," Directed by Alex Gregory and Peter Huyck
All of these are great episodes of television. But the one I immediately remember from a visual standpoint — the one that evoked a setting so effectively it almost felt like I went to the Idyllwild Wimmin's Festival myself —  is the "Man on the Land" episode of Transparent.
The Emmy should go to: Jill Soloway for Transparent, "Man on the Land."
The Emmy will go to: Jill Soloway for Transparent, "Man on the Land." She won in this category last year, and I will not be shocked to see her do so again for a second.