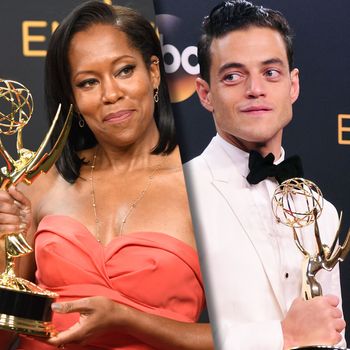 "Here in Hollywood, the only thing we value more than diversity is congratulating ourselves on how much we value diversity," Jimmy Kimmel said early in his hosting stint at the Emmy awards last night, a remark that nodded at the way television has been celebrated as a haven for people telling stories that aren't about sad white men, especially when compared to the film work Hollywood celebrates. Last night, as Rami Malek, Courtney B. Vance, Regina King, and Sterling K. Brown all won major acting awards, Alan Yang and Aziz Ansari picked up recognition for their writing, and Key & Peele won for Outstanding Variety Sketch Series, the inclusiveness of the ceremony really did seem worth celebrating. But how diverse were this year's winners, really? And how did they compare to years before?
1. The major acting categories have become significantly more diverse. Historically, only 5.61 percent of the major acting Emmys (for lead or supporting roles in dramas, miniseries, or comedies) have gone to people of color. Last night, Malek's, Vance's, King's, and Brown's wins meant that a full third of the major winners were people of color. That's up from last year, which was heralded as a turning point for the ceremony, when the trio of Regina King, Uzo Aduba, and Viola Davis took home a quarter of the acting Emmys.
2. Those seven wins are a recent trend. In the last two years, actors of color have won as many Emmys in major categories as they had won in the decade before. From 2005 to 2014, six non-white actors won only seven major awards: Archie Panjabi, Tony Shalhoub (twice), America Ferrera, Andre Braugher, S. Epatha Merkerson, and Shohreh Aghdashloo.
3. As usual, the miniseries category is the most diverse. Regina King is the first black actress to win an Emmy two years in a row in a major category (Uzo Aduba earned two Emmys for Orange Is the New Black as a guest actress, and then as a supporting actress in 2014 and 2015). Vance's and Brown's wins for The People v. O.J. Simpson are the first in their categories since 2006 and 2004, respectively, when Andre Braugher and Jeffrey Wright won trophies.
4. Rami Malek's win is pretty major. Malek, the first Egyptian-American actor to win a drama Emmy, or any major acting Emmy, broke an 18-year streak of (mostly sad, difficult) male leads when he won Outstanding Actor in a Drama. He's the fourth person of color to ever win the award, after Andre Braugher, James Earl Jones, and Bill Cosby.
5. While comedy remains exceedingly white in the major acting categories, it has diversified elsewhere. Aziz Ansari and Alan Yang's writing Emmy for Master of None's "Parents" broke an eight-year streak. The last two writers of color to win for Outstanding Comedy Writing were Greg García for My Name Is Earl in 2006 and Larry Wilmore for The Bernie Mac Show in 2002. Master of None is also the first comedy with Asian-American leads to win a writing Emmy, full stop.
6. Key & Peele won the second-ever Outstanding Variety Sketch Series Emmy. Previously, the Television Academy grouped sketch nominees together with talk shows under Outstanding Variety Series, and the last shows with predominantly nonwhite casts to score nominations were Chappelle's Show in 2004, and The Chris Rock Show in 2010. In Living Color was the last show with a predominantly nonwhite cast to win that category, back in 1990. At this point, a numerical analysis of the category would be pretty silly, but it does mean that half of the Variety Sketch awards have gone to shows with predominantly nonwhite casts.
7. Half the directing Emmys went to women this year. Making a Murderer's Laura Ricciardi and Moira Demos won for Outstanding Directing for a Nonfiction Program, Transparent's Jill Soloway for Outstanding Directing for a Comedy Series, and The Night Manager's Susanne Bier for Outstanding Directing for a Limited Series.
8. Openly queer women had a moment in the spotlight. Nina Jacobson won as a producer for The People v. O.J. Simpson, Kate McKinnon thanked Ellen DeGeneres, Sarah Paulson declared her love for Holland Taylor, and Jill Soloway encouraged everyone to "topple the patriarchy." Kate McKinnon, SNL's first openly lesbian castmember, is the second actress in her category to win the award while being openly gay, after Jane Lynch, who won in 2010, and the first female SNL castmember to win the award (Gilda Radner also won in 1978, but that was when SNL castmembers competed in a Variety category). Since sexuality is often a matter of personal privacy, data is hard to verify, but Cherry Jones's 2009 win for Outstanding Supporting Actress in a Drama seems to be the first acting award to go to a woman known to be openly gay at the time of her win. Paulson, who would rather not be defined by her sexuality, is certainly the first actress to declare her love for Holland Taylor (another Emmy winner, for The Practice in 1999) during a speech, which deserves some recognition on its own.