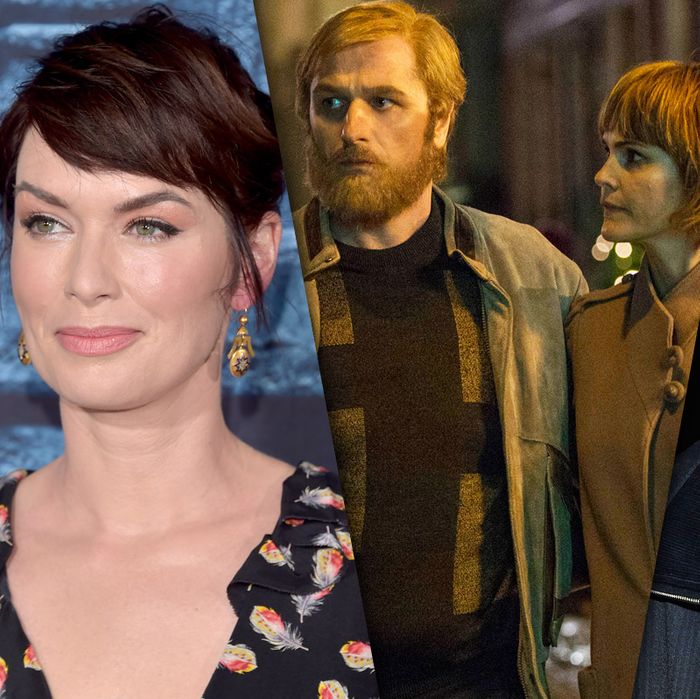 The 68th Emmy Awards air Sunday, September 18, and all this week, Vulture TV columnist Jen Chaney and New York Magazine TV critic Matt Zoller Seitz are breaking down the major categories. What will win? What actually should win? That's what we're here to determine.
Today's focus: drama. (Read our picks and predictions for variety series, limited series, and comedy series.)

Outstanding Drama Series
The Americans (FX)
Better Call Saul (AMC)
Downton Abbey (PBS)
Game of Thrones (HBO)
Homeland (Showtime)
House of Cards (Netflix)
Mr. Robot (USA)
The Emmy should go to: The Americans. Season four of Joel Fields and Joel Weisberg's spy thriller–domestic drama was pantheon-level great — a slow-motion tragedy that cranked up the tension and regret week after mortifying week, finally peaking with episode seven, "The Magic of David Copperfield V: The Statue of Liberty Disappears," one of their best hours. The last five minutes skipped ahead three months, in an elegantly directed montage backed by Roxy Music's "The End of the Line," and by the following week the storytellers were rebooting the story with five full episodes left to go, a magic trick worthy of the episode's namesake illusionist. Beyond its merits as a depiction of the difference between morals and ethics and a portrait of desperate characters in way over their heads, The Americans was a model of economical, precise storytelling, of a type that other shows, even great ones, could stand to emulate.
The Emmy will go to: The Americans. Why else would the show get a slew of nominations after being more or less shut out for three years running? The stars seem to have aligned. And if they haven't, Better Call Saul needs to win, because it's as just as thoughtful and absorbing as The Americans but less fully formed.
Outstanding Lead Actress in a Drama Series
Claire Danes, Homeland
Viola Davis, How to Get Away With Murder
Taraji P. Henson, Empire
Tatiana Maslany, Orphan Black
Robin Wright, House of Cards
Keri Russell, The Americans
The Emmy should go to: Tatiana Maslany, Orphan Black. Because it's ridiculous that she didn't win long ago for playing, it sometimes seems, half the cast of BBC America's sci-fi thriller. This is not just a series about clones, it's a continuous study in nature versus nurture that routinely puts Maslany in conversations with iterations of herself, and each iteration feels like a distinct human being rather than a sketch-comedy caricature. You're in a fun house hall of mirrors where the reflections can talk. This is acting sorcery. If you put Peter Sellers and Meryl Streep together, this is what you'd get.
The Emmy will go to: Keri Russell, The Americans, cosmos willing. And I'll be fine with that, because like The Americans, her consistent excellence is of a type that often gets taken for granted. Also because the show lets her craft nearly as many ancillary characters as Maslany; they're just never in the same room at the same time.
Outstanding Lead Actor in a Drama Series
Kevin Spacey, House of Cards
Bob Odenkirk, Better Call Saul
Kyle Chandler, Bloodline
Liev Schreiber, Ray Donovan
Rami Malek, Mr. Robot
Matthew Rhys, The Americans
The Emmy should go to: Rami Malek, Mr. Robot. There's not a nominee here that I wouldn't celebrate if they landed in the winner's circle, but Mr. Robot's Rami Malek is my favorite. His hacker-cult leader Elliot Alderson is a Rorschach of the tech-noir subconscious, as Zeitgeist-defining as Benjamin Braddock and as culturally resonant as Mr. Spock. But Elliot never seems abstract because Malek makes sure he makes sense as a person: a wounded soul you care about even though his actions have thrown the world into crisis. Whether the show itself is mesmerizing or merely indulgent, his performance is just right. He's always looking for the telling human details in a moment, making microscopic adjustments to put across the deepest truths of a scene.
The Emmy will go to: Malek. No other choice makes sense.
Outstanding Supporting Actor in a Drama Series
Jonathan Banks, Better Call Saul
Peter Dinklage, Game of Thrones
Michael Kelly, House of Cards
Ben Mendelsohn, Bloodline
Kit Harington, Game of Thrones
Jon Voight, Ray Donovan
The Emmy should go to: Jonathan Banks, Better Call Saul. Banks has a sandblasted face and a gravelly voice, which comes in handy when you're playing Mike Ehrmantraut, a rock that goons, upstarts, and idiots dash themselves against. He's a master of the slow burn, and great at dishing out punitive violence. But he can also crack you up with a gesture: an inclined head, a slow blink, a fed-up sigh. And when Mike's voice goes hoarse, you know that he knows he's been defeated, and it's hard to watch because it's so painful.  He should've won last year for his performance in "Five-O."
The Emmy will go to: Banks. Because justice.
Outstanding Supporting Actress in a Drama Series
Maggie Smith, Downton Abbey
Lena Headey, Game of Thrones
Emilia Clarke, Game of Thrones
Maisie Williams, Game of Thrones
Maura Tierney, The Affair
Constance Zimmer, UnREAL
The Emmy should go to: Constance Zimmer, UnREAL. Her Quinn King is a reality-TV veteran who has "executive producer" on her business cards, but she's much more than the boss. She's the Prospero of this island, deciding what sort of drama "the audience" wants to see and casting whatever mind-effing spells are required to make it happen. But she's also credible as a woman who's survived two decades in a business where men still call most of the shots and often wield their power in a much more preening, arbitrary way. And she's touching as a woman who knows what she knows about human nature yet still believes in love, hope, and redemption (which is why she never gives an inch in the control room but folds in the name of love).
The Emmy will go to: Lena Headey, Game of Thrones. Her performance could not transmit the shock of the new, as Zimmer's did, because we're used to Cersei by now; but the character still had a great story this year, one that let Headey play the character's fusion of resentment, desperation, pridefulness, and Old Testament vengefulness in fresh, at times revelatory, ways. Her nearly silent work in the first 15 minutes of the season finale is some Godfather-level badassery. It's hard to imagine voters being able to resist it.
Outstanding Writing for a Drama Series
Julian Fellowes, Downton Abbey, "Episode 8" 
David Benioff and D.B. Weiss, Game of Thrones, "Battle of the Bastards" 
Sam Esmail, Mr. Robot, "eps1.0_hellofriend.mov (Pilot)"
Joel Fields and Joe Weisberg, The Americans, "Persona Non Grata" 
Robert King and Michelle King, The Good Wife, "End" 
Marti Noxon and Sarah Gertrude Shapiro, UnREAL, "Return"
The Emmy should go to: Sam Esmail, Mr. Robot, "eps1.0_hellofriend.mov (Pilot)." This might seem a surprising pick, considering that I'm generally more apt to praise the direction on this series than the writing. But Esmail's script for the Mr. Robot pilot was structurally and tonally perfect as well as hypnotic, mysterious, and mordantly funny, often in a Holden Caulfield way: "Sometimes I dream of saving the world, saving everyone from the invisible hand; one that brands us with an employee badge; the one that forces us to work for them; the one that controls us every day without us knowing it."
The Emmy will go to: Probably Mr. Robot, though the merciless forward motion of David Benioff and D.B. Weiss's "Battle of the Bastards" illustrates the sorts of old-fashioned storytelling virtues that are rarely displayed in blockbuster movies, blood and fire and all.
Outstanding Directing for a Drama Series
Matthew Engler, Downton Abbey, "Episode 9"
Jack Bender, Game of Thrones, "The Door"
Miguel Sapochnik, Game of Thrones, "Battle of the Bastards"
Lesli Linka Glatter, Homeland, "The Tradition of Hospitality"
David Hollander, Ray Donovan, "Exsuscito"
Steven Soderbergh, The Knick, "This Is All We Are"
The Emmy should go to: Steven Soderbergh, The Knick, "This Is All We Are." The series finale as both horror story and tragedy of disillusionment, "This Is All We Are" was powerful stuff even by the standards of this often bloody hospital drama. But it was also the ultimate showcase for Soderbergh's athletic direction (and cinematography and editing), the likes of which may never be seen again on television, because nobody else in movies can do as many things as well as he can.
The Emmy will go to: Probably Soderbergh, because of the endurance-test aspect, even though he'll deserve it for his artistry, too.