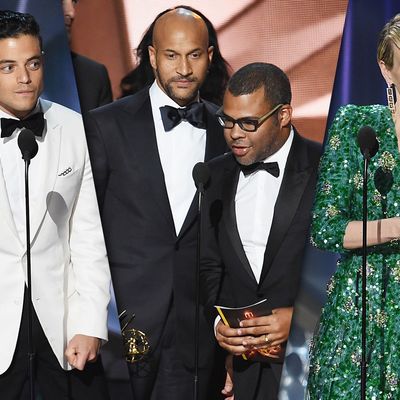 The Emmys pulled a major upset this year: They were surprisingly reflective of the TV landscape in 2016. Sure, Jimmy Kimmel's jokes occasionally missed the mark, but in a year of Peak TV, the awards felt perceptive, spotlighting talent across genres and platforms, from a win for Alan Yang and Aziz Ansari's ode to immigrant parents Master of None to long-overdue recognition for sci-fi gem Orphan Black. We haven't become total softies, but we were disarmed by a few gracious speeches, and also those cameos from the cast of Stranger Things. Ahead, we hand out awards for the ceremony — think of it as TV's big high school yearbook, or burn book, as the case may be.
Most Likely to Make Their Parents Proud: Alan Yang and Aziz Ansari
Master of None was nominated for four Emmy awards, taking one home for Best Writing in a Comedy Series. Show co-creators Alan Yang and Aziz Ansari accepted the award for the episode "Parents," based on their own parents' immigration experiences while also starring Ansari's parents Shoukath and Fatima Ansari. It just made it that much sweeter that they were in the audience to see their son win his first Emmy. You raised a good one, mom and dad.
Most Likely to Leave You in a Puddle on the Floor: Julia Louis-Dreyfus
Julia Louis-Dreyfus won her fifth consecutive Emmy for Best Actress in a Comedy for Veep, and this was an emotional one: Her father, William Louis-Dreyfus, died just a couple of days prior. She dedicated the win to him: "I'm so glad that he liked Veep, because his opinion was the one that really mattered."
Best Mid-Ceremony Wig Change: Taraji P. Henson
Yas, queen.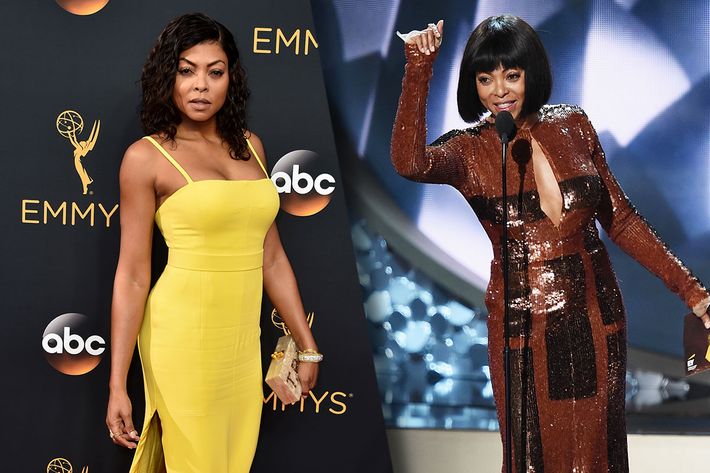 Most Likely to Lead the American Revolution Against Maggie Smith: Jimmy Kimmel
We will suffer under the shackles of Maggie Smith's genius no longer! Dame Maggie Smith won her fourth Emmy for her role on Downton Abbey, and like the other three times, she didn't show up. Jimmy Kimmel really greased the wheels for this one, dragging Dame Maggie during his opening monologue, suggesting we give the Emmy to the next person in case she won. She did! And well, Jimmy's putting it in the lost-and-found box for you.
Most Coveted Snack: PB&J Sandwiches
But only if the kids from Stranger Things deliver them to us on bicycles while wearing fancy dress clothes.
Best Consecutive Win: Regina King
Game of Thrones and Veep winning again in their respective categories? Yawn. Regina King going back-to-back and winning Outstanding Supporting Actress in a Limited Series or a Movie for American Crime a second year in row? Talk about a breath of fresh air — and worth it for all that Taraji P. Henson high-fiving alone.
Best Shout-out: Sarah Paulson to Marcia Clark
Thanks to Sarah Paulson's powerhouse, Emmy-winning performance, Marcia Clark is no longer the easy punch line she was years ago. But hindsight still didn't come quickly enough: During her speech accepting the award for Outstanding Actress in a Limited Series, Paulson graciously extended an apology from herself, and everyone else, to Clark, for all the years the media got her wrong.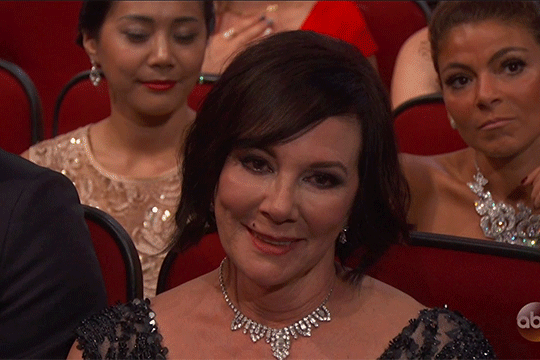 Most Likely to Keep the Seat Steaming-Hot Next to You: Kevin Spacey's mysterious man
Get. It. Frank. Underwood.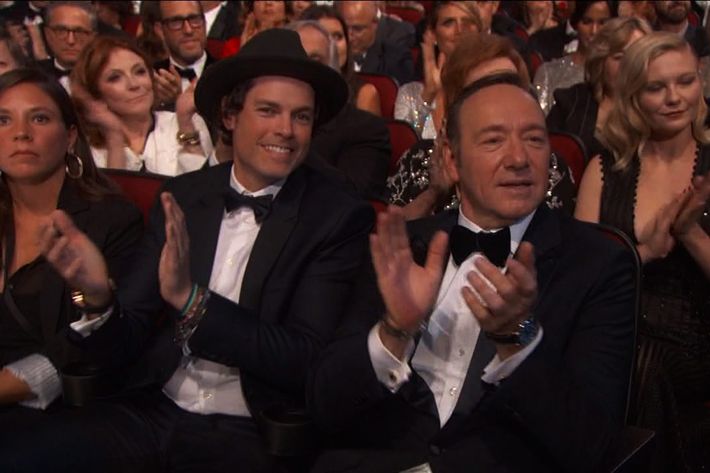 Best Twirl on Her Haters: Leslie Jones
Well, it wouldn't be Leslie Jones if she didn't get the last laugh at white men's expense. Leak her nudes? Tweet her nothing but racist filth? It's fine, she'll just show up to the Emmys unbothered as ever, tell off everyone in the room who didn't have her back, and save one of the show's most tired bits from flopping all with one strut and a glare.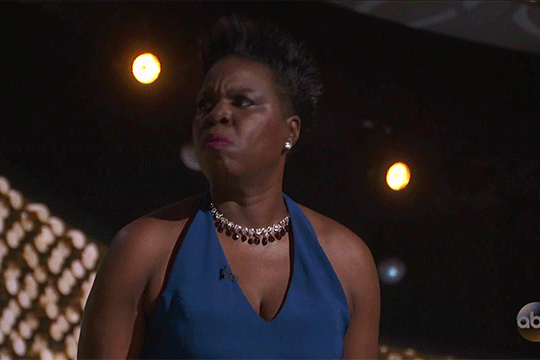 Best Catchphrase: "Topple the Patriarchy'
Any time Transparent is presented with an award it's an odds-on favorite to deliver the most poignant moment of any broadcast. This year, Jill Soloway also provided the night's best catchphrase — "Topple the patriarchy!" — before sticking her tongue out, jumping up and down, and waving her Emmy in the air. (Courtney B. Vance's "Obama out, Hillary in" was a close second.)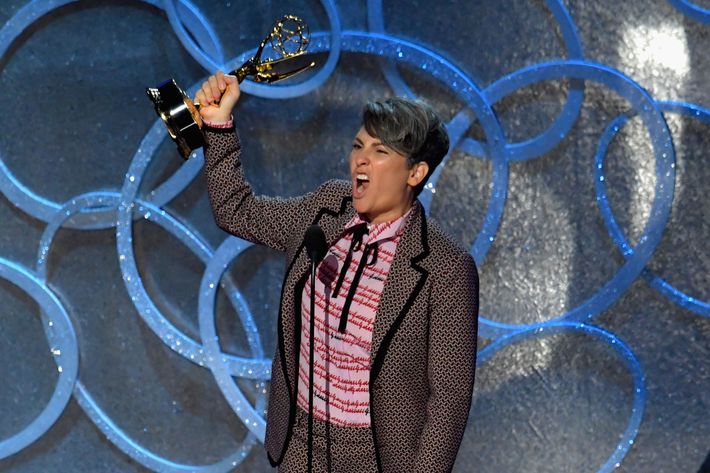 Most "Okay, We Get It': All the Trump Jokes
Television joking about the rise of Donald Trump feels a little like Frankenstein making fun of Frankenstein's monster. Yes, we get that you're all in a state of panic about this election and worried about whether you're complicit in creating a media culture that fostered it, but spending even more air time on Trump doesn't buy you a free pass. That applies to Jimmy Kimmel, too, even though that jab at Mark Burnett, the producer of The Apprentice, was pretty on point.
Thirstiest: Chris Harrison
The No. 1 enemy of UnREAL asked Constance Zimmer if he could do a cameo on her show on the red carpet. If you can't beat their brutal takedown of your TV show's moral failures, join it?
Most Deserved Win: Key & Peele for Outstanding Variety Sketch Series
Obviously.
Best Appearance by a Taylor Swift Ex Who Wasn't Tom Hiddleston: John Mayer
The musician had the distinction of playing the electric guitar alongside the excellent, live Emmys orchestra. Hey, he was pretty good!
Biggest Copy-Editing Snafu: Kit Harrington
Can't Ned Stark's bastard son get a little respect outside of Westeros?
Most Like Humphrey Bogart: Rami Malek
Malek accepted the award for Outstanding Actor in a Drama Series with a slight lisp reminiscent of Bogie's, wearing a white Casablanca-esque suit no less. Way to remind us of a legend on your way to being one, Rami, you clever boy.
Best Opening Line in an Acceptance Speech: Rami Malek and David Mandel
It's a tie between Mr. Robot's Rami Malek ("Please tell me you're seeing this too") and the Veep showrunner David Mandel ("Holy crap, I have a 9:30 a.m. library shift at my son's school tomorrow morning, if anyone is willing to trade with me, or at home, you can email me").
Most Likely to Be Stage-Crashed Next by Kanye West: Thomas Kail and Alex Rudzinski
Through no fault of their own — live TV is something to be rewarded for! — Grease: Live won Outstanding Directing for a Variety Special over Beyoncé, completing the dreaded Lemonade shutout. Hear that buzzing? That's the Beyhive swarming in formation behind their leader with the sharpest sting, Kanye West. Remember: When you play Bey, you only play yourself.
Biggest "Who?" Moment of the Night: Tori Kelly singing "Hallelujah"
More like "Who-llelujah."
Best Dad Moment: John Oliver
For telling his entire staff — or as he refers to them, "children" — who were seated on the balcony to "settle down" during his Last Week Tonight speech. Daaaaad! But you flew them in all the way from New York! Let them celebrate!
The Absolute Worst: The Americans losing Outstanding Drama to Game of Thrones
Okay, we know GOT was the favorite, but we wanted to believe.