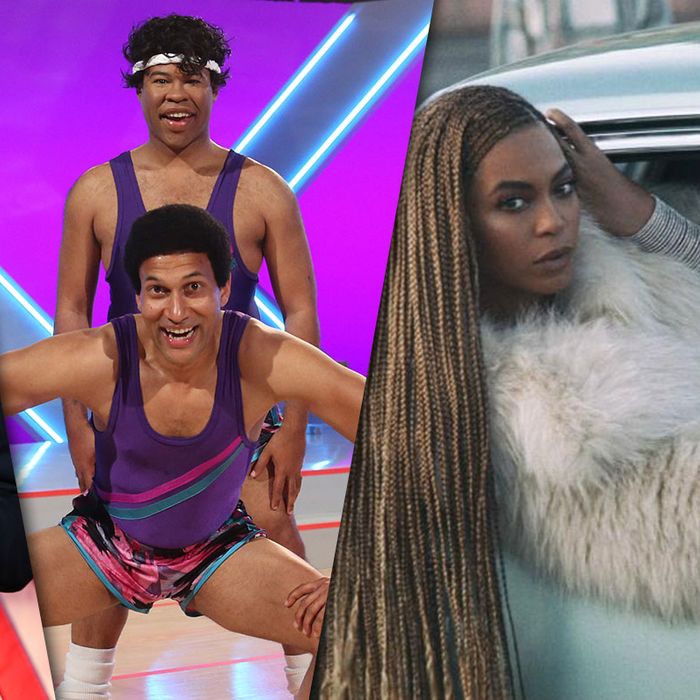 The 68th Emmy Awards air Sunday, September 18, and all this week, Vulture TV columnist Jen Chaney and New York Magazine TV critic Matt Zoller Seitz are breaking down the major categories. What will win? What actually should win? That's what we're here to determine.
Today's focus: Variety series.
Outstanding Variety Talk Series
Comedians in Cars Getting Coffee (Crackle)
Jimmy Kimmel Live (ABC)
Last Week Tonight With John Oliver (HBO)
Real Time With Bill Maher (HBO)
The Late Late Show With James Corden (CBS)
The Tonight Show With Jimmy Fallon (NBC)
This is the second year that Outstanding Variety Series has been broken into two separate categories: talk and sketch (more on the latter momentarily). Last year's Emmy in the talk category went to The Daily Show With Jon Stewart; this year, with the "Jon Stewart" in that title now replaced by "Trevor Noah," The Daily Show is not nominated, the first time it's been overlooked in variety talk — and before that, variety series — category in 15 years. That opens the door for the Emmy to go to another incisive show that tackles the important issues facing America. And I think we all know what that show is going to be … The Late Late Show With James Corden.
Kidding! Corden has his charms, but the interview part of his program is not its greatest asset. That goes double for The Tonight Show With Jimmy Fallon. If this category were called Outstanding Variety Series in Which Celebrities Sing While Driving and/or Play Beer Pong on National Television, Corden and Fallon would obviously be the front-runners. But that's not what this is: It's talk, and in my view, that's not their strong suit.
Jimmy Kimmel is more adept at conducting interviews than his other traditional late-night counterparts in this category, and Real Time With Bill Maher is always an interesting show to watch in the lead-up to an election; it also deserves kudos for booking such diverse, often unexpected guests. But for me this comes down to two shows that are doing something really different with this format: Comedians in Cars Getting Coffee and Last Week Tonight With John Oliver.
Comedians in Cars Getting Coffee is truly a talk show. It's the talking that really matters and propels the show forward. It also means that, depending on the guest and the direction the conversation takes, the episodes vary in terms of engagement. While the episode in which Seinfeld hangs out at the White House with President Obama is interesting, the ones that pair the host with comics who speak his same language are invariably more illuminating. There's an easy, breezy simplicity to this show that makes it fun. But it also doesn't look like it's that hard to pull off from episode to episode.
You know what does look hard to pull off, though? Last Week Tonight With John Oliver, which not only requires a host who radiates intelligence, can also tell a quality toilet joke with impeccable timing — Oliver does that and more — and also involves an enormous amount of research and planning. After leaving The Daily Show, Oliver went on to do what I think of as the Longreads version of that Comedy Central current-events riff. Oliver covers the people and issues that are making headlines — you know, like Donald Drumpf — but he and his staff also dig deeply into subjects that mainstream media isn't paying close attention to, like the lack of voting rights in Washington, D.C., or the unchecked financial corruption in certain churches and among televangelists. When presidential candidates are seriously talking about building a wall between the U.S. and Mexico, we don't just want to hear John Oliver crack some jokes about that wall. We need him on that wall.
The Emmy should go to: Last Week Tonight With John Oliver
The Emmy will go to: Last year, I think voters wanted to reward Stewart one last time. With that mission accomplished, I think they'll do the right thing and honor Last Week Tonight With John Oliver, especially in light of the fact that, during last weekend's Creative Arts Emmy ceremonies, they already recognized the show for its writing.
Outstanding Variety Sketch Series
Documentary Now! (IFC)
Drunk History (Comedy Central)
Inside Amy Schumer (Comedy Central)
Key & Peele (Comedy Central)
Portlandia (IFC)
Saturday Night Live (NBC)
The victor in this category last year was Inside Amy Schumer, which was deservedly rewarded for an inspired season filled with sketches that tackled the unfair expectations society places on women, in ways that were honest, edgy, and still hilarious. This season's Inside Amy Schumer was admittedly being held to a high standard because that third season was so strong, and it didn't match it. Even the sketches that went semi-viral — like Schumer's Betsy Ross–focused version of Hamilton — felt forced in a way that almost nothing from the third season did.
Portlandia is still great — let's all give it up for the Mayor's Kids! — and, like Portland itself, it continues to stay refreshingly weird. But it also doesn't stand out so much that I'm inclined to say "give it the Emmy this year." Documentary Now! is so audaciously niche that I am happily amazed it's on television, while Drunk History somehow continues to be semi-educational through its alcohol-induced haze. Saturday Night Live had some strong moments last season — I will never, ever tire of watching Kate McKinnon in the alien-abduction sketch — but it wasn't consistent enough to deserve an Emmy.
Basically, this is all a long way of saying that, while all the nominees are terrific, oh my God, if Key & Peele doesn't win this, I will spit hot fire. Keegan-Michael Key and Jordan Peele were Obama-anger-translating magic for five seasons and they deserve a trophy for their Comedy Central swan song.
The Emmy should go to: Key & Peele.
The Emmy will go to: This part's a little tricky. Inside Amy Schumer won an Emmy already for its directing and Emmy voters have a tendency to click the same spot on their ballots as they did the year before. I can definitely imagine a scenario where Inside Amy Schumer wins again. But I believe common comedy sense and universal admiration for Key & Peele will prevail.
Outstanding Directing for a Variety Special
58th Grammy Awards (CBS), directed by Louis J. Horvitz
Adele Live in New York City (NBC), directed by Beth McCarthy-Miller
Amy Schumer: Live at the Apollo (HBO), directed by Chris Rock
Grease: Live (Fox), directed by Thomas Kail; live television direction by Alex Rudzinski
Lemonade (HBO), directed by Kahlil Joseph and Beyoncé Knowles
The Kennedy Center Honors (CBS), directed by Glenn Weiss
If you were paying attention to the Emmy winners announced over the weekend, then you know the Emmy for overall best variety special went to The Late Late Show Carpool Karaoke Prime Time Special.  Not Adele Live in New York City, a special in which the star sings on the Radio Music City Hall stage as opposed to in a passenger seat, and, even more egregiously, not Lemonade.
In summary: the directing-of-a-variety-special category is the last opportunity Beyoncé has this year to win an Emmy, which would put her halfway on track to EGOT status. The question is, do she and Kahlil Joseph deserve the Emmy in this category?
In my view, the most worthy competitors here are Lemonade and Grease: Live because both pushed the variety special outside of its traditional boundaries. The camera work required to pull off Grease: Live was extraordinary; the "Born to Hand Jive" sequence alone was a jaw-dropper that certainly deserves a trophy of some kind. Lemonade is the opposite of a special done on the fly: It's a meticulously conceived film that explores betrayal, grief, black womanhood, and social justice, an extended concept music video that's both mesmerizing and meaningful and, I would argue, the most significant work of its kind since Michael Jackson's Thriller or Black or White. Even if you're on the fence about Beyoncé — which, as I understand it, is illegal in most of these United States — it's hard to watch Lemonade and not be impressed and dazzled by it.
With that said, I believe:
The Emmy should go to: Lemonade
The Emmy will go to: Grease: Live