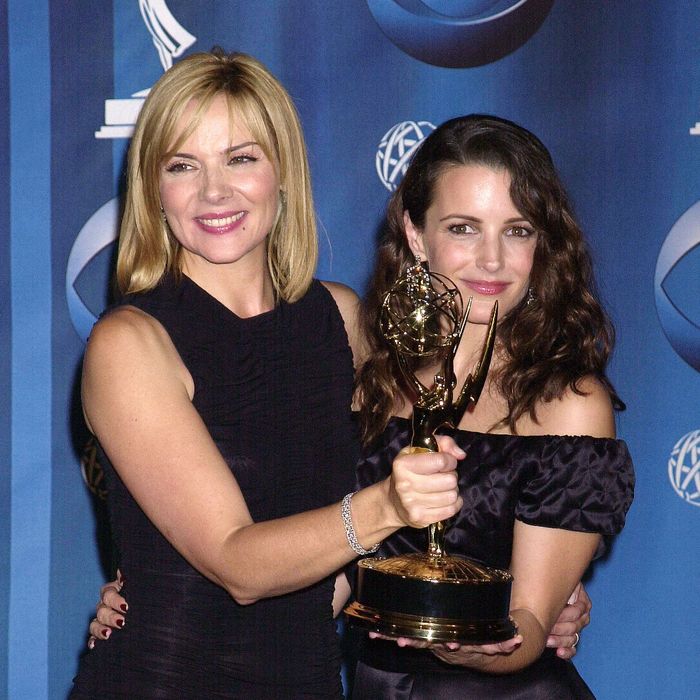 Kim Cattrall and Kristin Davis pose with an Emmy after Sex and the City wins for Outstanding Comedy Series at the 53rd Annual Primetime Emmy Awards.
Photo: Gregg DeGuire/WireImage
The conversation that initially preceded the 2001 Emmy Awards sounded a lot like most pre-Emmy conversations.
After the nominations were announced in July of that year, there was talk about which series would prevail in the ceremony's outstanding drama showdown: The West Wing, which had won its first outstanding drama Emmy the previous year, or The Sopranos, which, three seasons in, had yet to emerge triumphant. Emmy voters were criticized for delivering a slate of nominees that looked an awful lot like the previous year's nominees, and with that criticism came the usual frustration over snubbed shows and performances. Chicago Tribune writer Steve Johnson, among others, complained that Buffy the Vampire Slayer and Gilmore Girls, which aired on the young-skewing WB network, were not recognized.  He also said Sex and the City didn't deserve to be nominated for outstanding comedy, noting that even "South Park and That's My Bush are funnier." (Hey, give him credit for being partially on the right side of history.)
On the whole, it looked like the Emmy Awards, which were set to be held on September 16, 2001, were going to serve their standard TV awards function. And then, the Tuesday before the ceremony, 9/11 happened.
The 2001 Emmy ceremony was postponed twice, first because of the terrorist attacks in New York, D.C., and on United Flight 93, then a second time in October, when the launch of U.S. airstrikes against Afghanistan coincided with the ceremony too closely for comfort. Those delays give it a historical significance: No major awards show, before or since, has ever been postponed twice, nor subject to so much hand-wringing about whether it should even proceed at all. Never before had Emmy organizers been forced to so drastically adjust the show's timing and tone to fit the somber national mood. But looking back at that ceremony — ultimately hosted by Ellen DeGeneres on November 4, with some understandably jittery New York–based nominees opting not to attend — it remains notable for other reasons, too. The 2001 Emmys, held at a time when there was a palpable sense that America had forever changed, foreshadowed some of the ways in which TV was about to change as well, thanks largely to a landmark win for outstanding comedy.
2001 marked the first year that reality TV got its own Emmy categories — then called Nonfiction Program (Reality) and Nonfiction Program (Special Class), which focused on competition shows — signaling that the parameters around what constitutes quality television were widening. For the first time ever, The Daily Show With Jon Stewart competed in the outstanding variety series category and won an Emmy for its writing, validating its status as the new millennium's preeminent TV source for political satire and commentary. (It would win for outstanding variety series two years later, and keep on winning for nine more.) And most significantly of all, Sex and the City won the Emmy for outstanding comedy series, surprising Emmy observers — including, presumably, Steve Johnson — and marking the first cable network win in an outstanding series category.
The Sopranos is, rightly, given a lot of credit for raising HBO's episodic series standards to a higher level and transforming creators' and audience's expectations for what a scripted series can be. But Sex and the City notably kicked down HBO's episodic-series victory door first, accomplishing something that The Larry Sanders Show, the first non-network comedy to be nominated in the same category, had been unable to achieve despite six worthy attempts: to be deemed the best show over the ones that aired on network TV. That was a big deal.
While HBO was certainly a widely recognized and lauded provider of excellent programming at the time, in 2001, television was still mostly thought of as a broadcast-network game, especially within the context of the Emmys. Showtime had produced a few original, scripted series  — Queer as Folk had just ended its first season, while the African-American family drama Soul Food was in the midst of its second — but they were not part of the Emmy conversation. If you had suggested to a typical Emmy voter in 2001 that AMC or FX, then less than a year away from unveiling The Shield, might have something to offer in the outstanding comedy or drama department, you probably would have been laughed right out of Los Angeles. If you had said that Netflix, then still a DVD rental service, or Amazon, thought of primarily as a place to buy books, might someday produce Emmy-worthy series, it's quite possible you would have been involuntarily committed.
In short: It was a different, still more traditional world. By winning that Emmy over favorites like Everybody Loves Raymond, Frasier, family sitcom upstart Malcolm in the Middle, and the previous year's trophy claimer, Will & Grace, Sex and the City didn't immediately alter that world. (Proof of that point: The following year, two NBC shows — Friends and The West Wing — won the Emmy for outstanding comedy and drama, respectively.) Still, that victory for Carrie, Miranda, Charlotte, and Samantha both cemented the notion that female-focused TV has audience appeal and merit, and confirmed what was already apparent: that cable TV shows were becoming mainstream. That win, in retrospect, implied that we were heading toward a not-so-distant future where scripted-series viewing options would expand exponentially and, eventually, broadcast networks would have to invite more experimentation in order to keep up.
As Michael Patrick King told the New York Times in July of 2001, right after the Emmy nominations were announced: "I just think there's a pushing through from cable that's taking place. And we're being recognized for it." He was even righter about that than he probably knew at the time.
The 2001 Emmys may not have been the tipping point that sent us hurtling straight toward Peak TV. But in hindsight, the Emmys that year suggested we were starting on a path toward that tipping point.
Of course, the significance of all that was difficult to fathom at the time, at least without access to a flux capacitor. In November of 2001, the fog of war, the fear of anthrax attacks, and the still-thick post-9/11 grief  hung over everything. If you go back and look at highlights of DeGeneres on that Emmy night, when she delivered one of the rare, universally praised awards-show hosting performances, you can still palpably sense how much everyone needs permission to laugh and is so grateful when she grants it.
The deeper meaning of a Sex and the City win was not necessarily at the front of the minds of those who attended that ceremony and had to go through tons of security before such processes became the new normal. While the post-ceremony press coverage acknowledged that a cable show had won an outstanding series Emmy for the first time, the main focus was on the fact that the Emmys had finally taken place, without another delay or any major distractions.
In those first couple of months after 9/11, what most people were looking for, in life and on TV, was comfort. The Emmys provided it that year, by rewarding The West Wing, a drama that honored and celebrated American democracy, and Sex and the City, a comedy about a New York City pulsing, thriving, and not covered in ash. It's tempting to think, "Oh, the Emmy voters surely must have chosen those winners because of 9/11." But, as this L.A. Times piece notes, final votes were already in by the end of August, before the Twin Towers fell, planes crashed, and the Pentagon got hit. By pure coincidence, Emmy voters not only chose to honor two very good shows that year, including one whose win represented a milestone for HBO, cable TV, and TV in general. They also chose to honor a pair of shows that were specifically designed to help us heal.