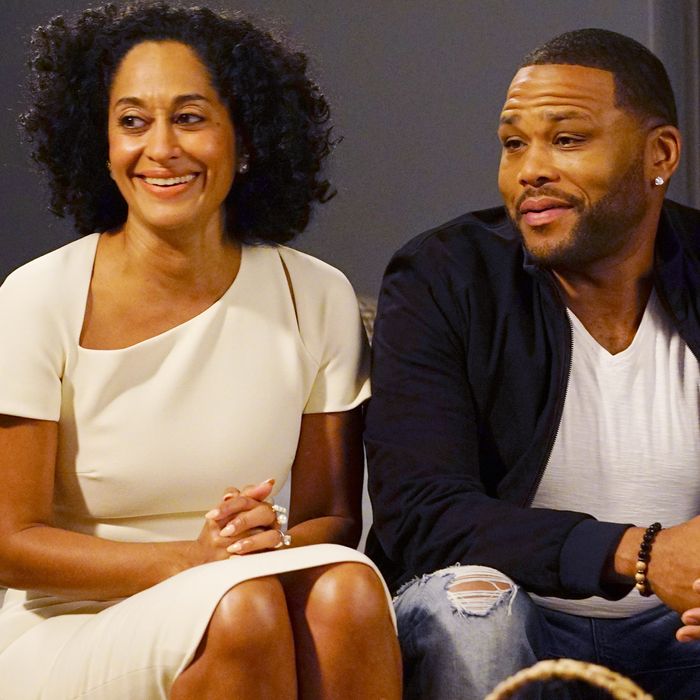 L-R: Tracee Ellis Ross and Anthony Anderson
Photo: Richard Cartwright/ABC
If Black-ish wins this year's Emmy Award for Outstanding Comedy Series, it would give creator Kenya Barris, the cast, and the crew a well-timed recognition boost ahead of the show's third season, which begins just three days after the September 18 ceremony. But a Black-ish victory also would mark something more significant: the first time in 31 years and only the second time ever that a show principally about African-Americans has won the outstanding comedy Emmy.
That number sounds ridiculously large — more than three decades?? — but isn't surprising at all when one considers the history of both the Emmys and television in general, both of which have skewed — I know, it's a real news flash — white.
The comedy with an all-black cast that won that aforementioned Emmy back in 1985 was, of course, The Cosby Show, the sitcom about an upper-middle-class Brooklyn brood that became the decade's defining family comedy. While the sexual-assault charges facing Cosby have cast a disturbing and unfortunate pall over that program's legacy, there is no denying it was a groundbreaking series. Yet what's fascinating about that win, the first in Emmy history for a show focused exclusively on the experiences of African-Americans, is that most of the print-media coverage at the time didn't even acknowledge the milestone. (The only reference to black in the L.A. Times' summary of the evening appears in the word "black-tie.")
One would think that 1985 Cosby Show victory, achieved in its debut season, would have been the first of many outstanding comedy Emmys for what was the most watched program in America during the entire latter half of the decade. But while it was nominated in the category twice more, it never won again. The only other comedy with a predominantly black cast that received a nomination in its wake was CBS's short-lived, New Orleans–set Frank's Place, starring Tim Reid.  It was nominated in 1988 and lost to The Wonder Years. That was the last time a show focused on black characters was nominated, until Black-ish got its outstanding comedy nod earlier this year.
Again, it is challenging to read that last sentence and not go: Wait, what? It's not as if there have been zero shows about the black experience on television since the 1980s, or before it for that matter. The 1970s gave us Good Times, which Black-ish paid homage to in its season-two finale; it was never nominated for best comedy. Same goes for The Jeffersons, though at least Weezy, Isabel Sanford, got an Emmy for outstanding lead actress in a comedy. (Like Robert Guillaume, who won for outstanding lead actor in a comedy in 1985 for Benson, she remains the only African-American winner in that category. Both of these facts could change if Anthony Anderson or Tracee Ellis Ross wins this year.)
While the disco decade is known for television shows that more frankly confronted racial issues, only two such comedies, The Bill Cosby Show and Sanford and Son, were nominated for best comedy during that ten-year period, and neither won. The late '80s and 1990s were filled with popular shows with predominantly black casts, no doubt because The Cosby Show's success paved the way for their existence. A Different World, Family Matters, The Fresh Prince of Bel-Air, Living Single, Martin, Hangin' With Mr. Cooper, and Malcolm and Eddie all found audiences, but no Emmy nominations. (The Keenen Ivory Wayans–created sketch-comedy hit In Living Color did win an Emmy in 1990, but in the Outstanding Variety Series category.)
The same can be said of the 2000s, when African-American-focused comedies that also enjoyed great critical acclaim — specifically, Everybody Hates Chris and The Bernie Mac Show — were still left off Emmy's outstanding comedy series list, even though they received other nominations. Of the two, The Bernie Mac Show fared better with Emmy voters; its star was nominated twice for lead actor, and the sitcom's writing also was nominated twice, winning in 2002 for its Larry Wilmore–scripted pilot.
Why have black shows been left out of this category for so long? Well, certainly some of the ones mentioned here, popular though they may have been, didn't rise to the outstanding comedy level. With all due respect to Steve Urkel, I am not going to sit here and make a case that Family Matters should have been nominated for an Emmy instead of Cheers or Seinfeld. But could or should The Bernie Mac Show have gotten one of the slots that went to, say, the ninth season of Friends or the fifth season of Will & Grace? Yes. I would say yes.
That gets to what has been a longtime issue for the Emmys, and not just in the comedy category: a tendency to stick with the status quo. In the '90s, Frasier won the outstanding series Emmy for five years in a row — half the decade. The '00s mixed things up a little more — Everybody Loves Raymond won twice and 30 Rock won, at decade's end, for three back-to-back years, but there was also room to give deserved Emmys to Arrested Development, Sex and the City, and The Office. In the current decade, the wins in this category were owned by a single show — ABC's Modern Family —  until Veep won last year.
In terms of what's nominated, the increase in the number of scripted comedies overall has yielded a bit more variety in the category, even if the winner has rarely changed. Shows like Girls, Transparent, Unbreakable Kimmy Schmidt, Master of None, and Orange Is the New Black (before it switched its genre of competitive choice to drama) have all managed to earn outstanding comedy nominee distinction, something that would have been harder to do in, say, the '90s, when a handful of comedies (Frasier, Seinfeld, The Larry Sanders Show, Murphy Brown, Mad About You) generally ran the table. But while some of these aforementioned shows featured prominent black characters — including Kimmy Schmidt, Orange Is the New Black, 30 Rock, and Master of None, which makes a point of reflecting New York's melting-pot makeup — none of them is a show specifically about African-Americans.
Which brings us to a broader industry issue, the same one raised by the #OscarsSoWhite controversy: that because of racism at worst or unconscious bias at best, TV's gatekeepers historically have been more welcoming to shows made by and about white people, and less so to those by and about African-Americans and other people of color. When it's time to cast Emmy ballots, voters have followed the same pattern set by the industry overall and tended to skew white. That industry tendency has been evolving a lot in recent years, and some of this fall's new offerings — Atlanta, Insecure, Loosely Exactly Nicole on MTV — in addition to already established TV phenomena — Empire, The Carmichael Show, pretty much everything Shonda Rhimes does — reflect that.
Black-ish was nominated this year, not because it's a show that, like The Cosby Show before it, is about an upper-middle-class African-American family. It was nominated because it's a good show, period, one whose episodes have specifically focused on race, but also about the plain old stuff of suburban family life. It faces incredibly tough competition from several terrific comedies, including a couple whose victories (Transparent, Master of None) would be culturally significant as well.
If it wins, the moment will stand as another Emmy milestone for African-Americans, one that I am pretty sure more media outlets will openly acknowledge this time. But as The Cosby Show victory three decades ago reminds us, that a single win would not, in and of itself, guarantee wider representation among future Emmy nominees. Progress, in TV and in general, is notoriously slow. But the fact that so-called Peak TV continues to allow us access to worlds and perspectives that television has previously ignored suggests that Black-ish, and shows like it, have a better chance of being recognized in the future. To borrow a word from the moving season-two episode of this outstanding comedy–worthy series, let's hope so.