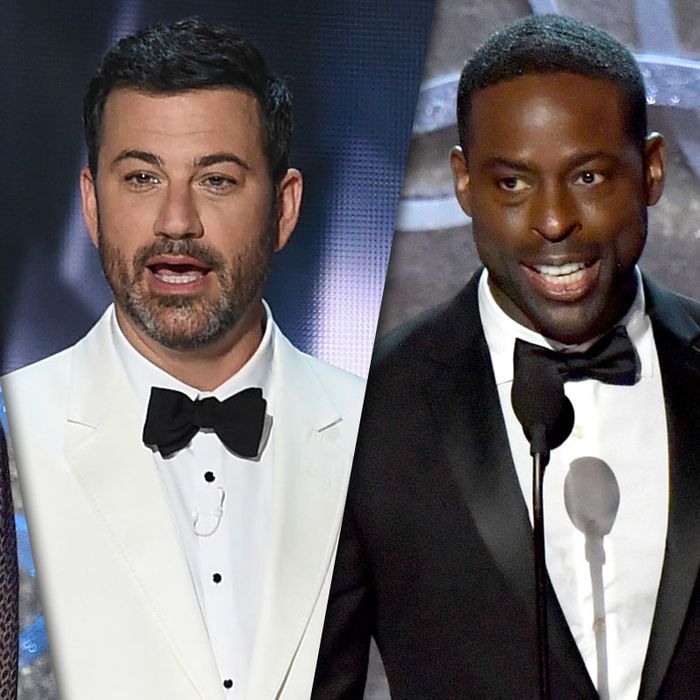 Awards shows are always walking a tricky line between celebrating the industry they're feting and mocking it so everyone doesn't seem like wealthy, entitled monsters. Ideally, the presenters and winners come off as glamorous celebrities who are also human and down-to-earth and genuine.
I am as surprised as anyone, but Jimmy Kimmel did a strong job of walking that line as last night's Emmy Awards host, deftly pivoting between congratulations and mockery. Perhaps most important, Kimmel managed to follow one of the most crucial rules of comedy in this circumstance — he punched up. And by punching up, he sometimes had to punch at himself.
Oh, sure, there were the usual cheesy awards-show jokes. The Stranger Things kids biked through the audience passing out PB&J sandwiches allegedly made by Kimmel's mother. This bit not only imitated Ellen's Oscars pizza-delivery bit; it also added that fun "hey, moms do so much unrewarded work!" element. There was an eye-roll-worthy line about the outgoing chairman of the TV Academy taking one final chance to ogle Sofia Vergara. And there was a lengthy segment about Kimmel's feud with Matt Damon, which only worked if you were already in on the joke.
But for much of the night, the show did an admirable job of creating a weird, unsettling sense of discomfort, oscillating between sincerity and pointed barbs. This was facilitated in part by what Kimmel noted from the jump was "the most diverse" group of Emmy nominees ever, which begat a litany of winners who used their acceptance speeches to forward agendas of change. Jeffrey Tambor hoped that he might be the last cisgender man cast in a trans role, a plea later echoed by Laverne Cox. Sarah Paulson apologized to Marcia Clark for her sexist treatment by the media. In his acceptance speech for comedy writing (for the "Parents" episode of Master of None), Alan Yang noted that though there are roughly similar numbers of Italian- and Asian-Americans, Italians have The Godfather and The Sopranos, and Asians have "Long Duk Dong."
The night's most pointed moment came early, during Jill Soloway's acceptance speech after she won for directing Transparent's "Man on the Land" episode. Soloway called for more casting of trans people, and thanked Amazon for promoting marginalized voices. Her speech ended with "Topple the patriarchy!"
Kimmel let that call bleed into his stewardship of the whole show. After Soloway's speech, he faux-uneasily wondered, "I'm trying to figure out if 'topple the patriarchy' is a good thing for me or not — I don't think it is."
It was an early and telling piece of Kimmel's whole stage persona, which seemed to suggest both a comfort in being the emcee, and an awareness of how odd it was for him to be the organizing face of an awards show that was doing its best to celebrate people who don't look like him. In fact, his best moments were when he leaned into the sense of unease — over his role as emcee, over the current political climate, over fallen Hollywood idols, and over the Emmys' smug self-congratulations for its own diversity.
Kimmel blamed Mark Burnett, creator of Celebrity Apprentice, for the rise of Donald Trump. That bit concerned building a wall Kimmel proposed as a means to kick Burnett out — of the country? Of the TV industry? Later, the orchestra piled on, swiftly playing off Burnett as he accepted the award for best reality competition show for The Voice. Kimmel mocked the continuing Hollywood disquiet over Bill Cosby, having the announcer introduce Cosby as a presenter before walking out himself. "He's not really here, I just wanted to see what you guys would do," he said as the room laughed nervously. And in his introduction to the Variety Comedy Series category, in which he himself was nominated, Kimmel pointed out that the eligible shows included "many wonderful programs, including six talk shows that are hosted exclusively by white men. This genre is the ironically titled 'Variety!'"
Not all of these were amazing, timeless jokes, and few were the sort of thing that breaks out into viral video-dom — the night's most viral moments were the moving acceptance speeches. But the total picture of the ceremony was nevertheless framed by this vague uneasiness, especially as it pertained to the systems of white privilege that are still so dominant in TV. It felt right, and like a relief, when both Jill Soloway and Susanne Bier won for directing Transparent and The Night Manager, both of them as the only women in their categories. It felt absolutely correct, and important, for both Sterling K. Brown and Courtney B. Vance to win for their roles in The People vs. O.J. Simpson.
And at the same time, it felt fitting for those moments to come in the same ceremony at which Kimmel told all the diverse nominees to take a moment and thank a white person for their bravery in being there that night. The message, for all its rueful chuckling awkwardness, walked a useful line. Celebrate the progress we've made, Kimmel's performance frequently suggested. But don't forget how much there is left to do.