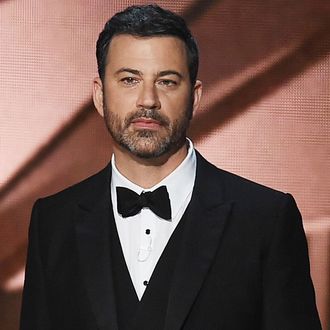 Poor Jimmy.
Photo: Kevin Winter/Getty Images
Sunday's 68th Annual Emmy Awards telecast boasted an eclectic, even surprising list of winners, as well as a highly praised performance by host Jimmy Kimmel. It was also the least-watched Emmys ever. Per preliminary national ratings data from Nielsen, the briskly paced three-hour show was seen by an average audience of 11.3 million viewers, a 5 percent decline from the show's previous low-water mark (11.9 million, achieved last year on Fox). More concerning for the TV Academy: Younger viewers fled. Among adults under 50, Sunday's broadcast scored a shockingly low 2.8 rating, a more than 20 percent drop from 2015's demo rating of 3.6. Worse, the Emmys were even outrated in the under-50 demo by ABC's May telecast of the Billboard Music Awards, which averaged a 3.1 rating opposite an episode of Game of Thrones, the season finale of Fear the Walking Dead, and game three of the NBA's Western Conference finals. And yet, as disappointing as the Emmys ratings were, the numbers aren't actually that much of a surprise.
For one thing, the Emmys air on a different broadcast network every four years, and those airing on ABC are very much at a disadvantage. The Alphabet network doesn't have a Sunday-afternoon football package, which means that, unlike CBS or Fox, there's no halo effect from afternoon games funneling eyeballs to the Emmys. Instead, Emmys on ABC have to be a self-starter and compete with NBC's highly rated Sunday-night football package. (When NBC airs the Emmys, it has tended to shift the show to Monday nights, often in August, meaning there's no in-season NFL competition.) While Sunday is seen as a marquee night for television, and the reduced automobile traffic on the night makes it easier for in-person attendees to get to the show, perhaps it's time for the network and the TV Academy to consider moving the show to a night without NFL disruptions, or even a late August berth when there's less competition in general.
Of course, part of the problem for the Emmys has nothing to do with what night the show airs. While Game of Thrones and The People v. O.J. Simpson were both big ratings hits, many of the other shows nominated (and which won) have relatively small audiences, at least as measured (or in the case of Netflix and Amazon, not measured) by Nielsen. The big broadcast networks, which still draw more overall viewers, were largely a non-factor on Sunday. This is not to suggest the TV Academy errs by nominating and awarding shows such as Orphan Black or Transparent. But it might help explain why ratings for Emmys continue to decline even as overall interest in all things television has exploded over the last decade. What's also likely: Younger viewers continue to exit the linear TV ecosystem in favor of streaming or watching on demand. MTV saw disastrous declines in the linear ratings for last month's VMAs, despite the lure of mini-concerts from Beyoncé and Rihanna. It shouldn't be at all shocking that, even as overall viewership of the Emmys held relatively steady, younger viewers simply yawned.