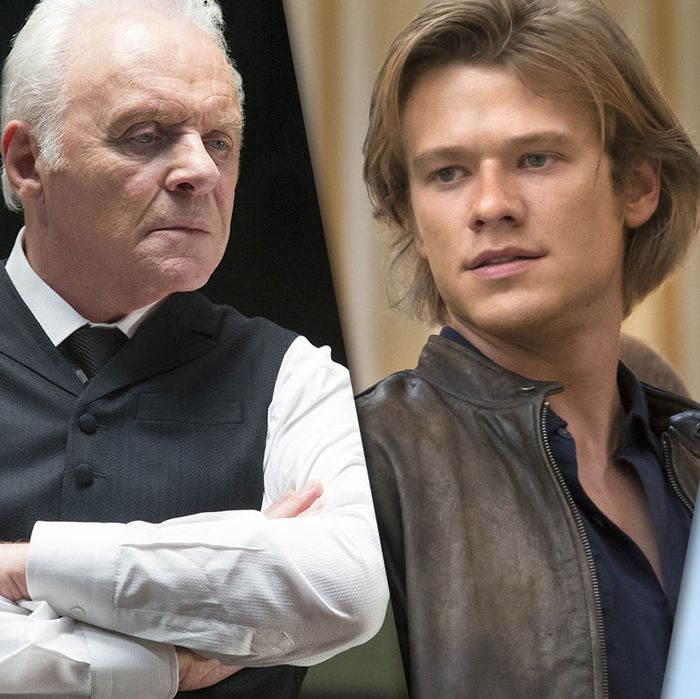 Westworld, MacGyver, Lethal Weapon.
Photo: HBO/CBS/FOX
The success rate for prime-time reboots and film adaptations hasn't exactly been encouraging (see: Limitless, Minority Report, Uncle Buck), but empirical data has never stopped stubborn networks from trying. So behold this fall's slate of reimagined and resurrected franchise properties — running the gamut from beloved '80s action serials to unassuming, turn-of-the-2000s sci-fi thrillers starring Dennis Quaid — all burnished and repackaged for your viewing pleasure. Or, if recent history is any indication, your collective ambivalence.
Lethal Weapon (September 21, Fox)
Based on: Director Richard Donner and writer Shane Black's touchstone 1987 buddy-cop action-comedy.
The plot: Unlikely partners Roger Murtaugh (Damon Wayans) and Martin Riggs (Rectify's Clayne Crawford) battle bad guys, while flummoxing their poor chief (Kevin Rahm) and shrink/presumed love interest Dr. Cahill (Jordana Brewster), in modern-day Los Angeles.
What if I haven't seen its predecessor? You might have less déjà vu than those who have, or be less prone to compare Crawford and Wayans's chemistry to Mel Gibson and Danny Glover's. But all things being equal, the film was ostensibly a procedural, and so is this reboot. You'll be fine.
The Exorcist (September 23, Fox)
Based on: William Friedkin's landmark 1973 creepfest, itself adapted from William Peter Blatty's 1971 novel.
The plot: Two priests (Alfonso Herrera and Ben Daniels) with wildly different methods contend with the evil lurking inside Mr. and Mrs. Rance's (Alan Ruck and Geena Davis) deceptively All-American family home.
What if I haven't seen its predecessor? Then shame on you. But barring the potential for an occasional Easter egg, this iteration aims to spook fans of Emily Rose and Outcast as much those who swear by Linda Blair's head-turning performance in the original.
MacGyver (September 23, CBS)
Based on: The late-'80s action-procedural about a man so adept at solving crises with minimal resources that his name became a recognized verb in the Oxford Dictionaries.
The plot: MacGyver (Lucas Till) is now a millennial, but no less up for the task of top-secret government projects on a tight budget. Brainy cohort and presumed love interest Riley (Tristin Mays) and wacky roommate Wilt (Justin Hires, bouncing back after Rush Hour's cancellation) keep the know-it-all problem-solver on his toes.
What if I haven't seen its predecessor? Well, then surely you've seen MacGruber? Either way, it's neither here nor there — the new MacGyver isn't the old one's son or any such relation. A wise choice when resurrecting a 31-year-old property of modest repute.
Van Helsing (September 23, Syfy)
Based on: The legend of Bram Stoker's primary Dracula antagonist, spun off over the years with mixed results, most notably in 2004's eponymously titled horror-lite hit starring Hugh Jackman and Kate Beckinsale.
The plot: This revival focuses on … wait for it … Vanessa Helsing, the original vamp-hunter's descendant and humanity's main line of defense against postapocalyptic bloodsuckers.
What if I haven't seen its predecessor? Passing familiarity with the protagonist's century-plus lore might help distinguish Van Helsing from the throngs of cable shows about undead predators. But the wild card of feminist agitator Neil Labute making a genre series about a lady ass-kicker could be compelling enough.
Westworld (October 2, HBO)
Based on: Michael Crichton's cult 1973 film about amusement-park robotic "hosts" gone rogue.
The plot: Christopher Nolan's baby bro and screenwriting partner Jonathan co-created with Lisa Joy this deep dive into a pre-fab Wild West that sees its AI hosts discovering their humanity, whatever that means and whatever the cost.
What if I haven't seen its predecessor? Crichton's source material is a fascinating and lurid companion piece to his Jurassic Park novel. But Nolan and Joy have their own point of view and a cast — featuring Anthony Hopkins, Evan Rachel Wood, James Marsden, and Thandie Newton — that even Yul Brynner wouldn't duel with.
Frequency (October 5, the CW)
Based on: Longtime Hill Street Blues director Gregory Hoblit's fantastical, tear-jerking 2000 thriller.
The plot: A young girl's NYPD dad (Riley Smith) gets murdered and smeared as corrupt. Years later, the woman (Peyton List) improbably connects with father via obscure radio frequency, and the two set about repairing their bond, restoring his rep, and not messing too much with the time-space continuum.
What if I haven't seen its predecessor? You wouldn't be alone. And this is a whole different, very CW-ized take, shifting from a father-son to father-daughter dynamic and juggling young love alongside sci-fi melodrama.
Gilmore Girls: A Year in the Life (November 25, Netflix)
Based on: Amy Sherman-Palladino's beloved dramedy about young, single mom Lorelai (Lauren Graham) and her wise-beyond-her-years teen daughter Rory (Alexis Bledel).
The plot: Now both grown-ups (more or less), Lorelai and Rory must deal with death and romantic uncertainty amid four 90-minute episodes spanning a year. And yes: Melissa McCarthy, Milo Ventimiglia, and virtually the entire original ensemble has been reassembled.
What if I haven't seen its predecessor? You should really do that. It's on Netflix. (Or, if you live near a used video store, innumerable VHS and DVD releases.) Otherwise, you'll have no idea why everyone's so excited about those "final four words."