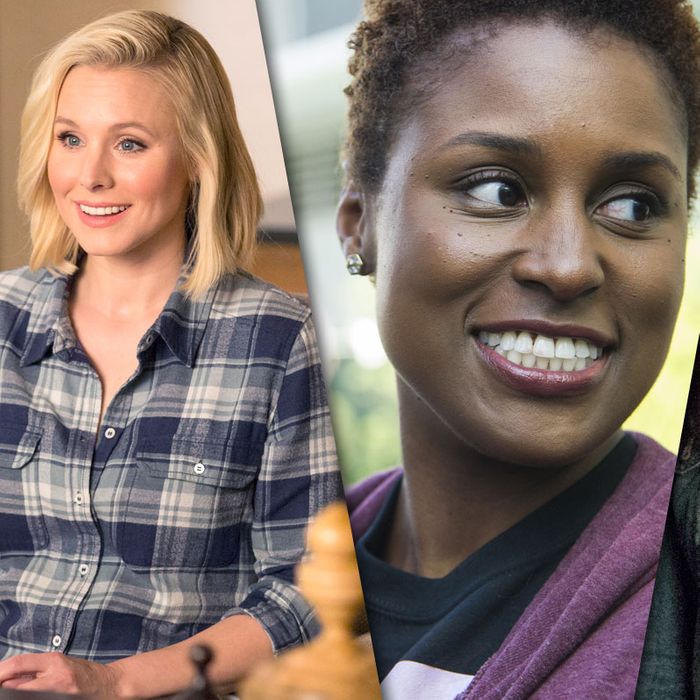 L-R: Kristen Bell, Issa Rae, Lauren Graham
Photo: NBC, HBO, Netflix
TV has changed dramatically this decade, but one thing has not: Fall still matters. Sure, big programing events now pop up every month (at least), and consumption habits have changed so much that a not-insignificant number of viewers are just beginning to sample some of last September's premieres. But the last season of the year still marks the beginning of a new ratings period for both broadcast and cable outlets, brings the return of the medium's most-watched shows, and accounts for the biggest quarterly chunk of small-screen spending by advertisers. For the people who make TV, what happens in the fall goes a long way toward shaping the narrative of the industry for months to come. It can even cost executives their jobs, something former ABC chief Paul Lee learned the hard way when his network's atrocious autumn helped seal his fate.
Fall 2016 will offer all the usual story lines of a new season — hits and flops, breakout stars — and a very substantial known unknown in the form of the presidential election. In addition to competing with each other, networks will be battling the Hillary and Donald Show for attention over the next two months, and all the unpredictability and insanity that have been hallmarks of this campaign cycle. Plus, if the election gets closer as November approaches, look for cable-news ratings to surge, drawing eyeballs from scripted fare on the networks. As for the more traditional fall campaign, here are five other questions the next few months promise to answer:
Can NBC finally revive its comedy brand?
NBC heads into the fall in better shape than any of the major legacy networks. The Voice is arguably the strongest unscripted franchise on TV, Dick Wolf's crime-procedural factory is humming along at full capacity, and non-Wolf dramas Blacklist and Blindspot very solid successes. The one area where the Peacock ratings recovery has yet to take hold is comedy. There's no reason to rehash the network's multiple sitcom failures of the past decade, or to relitigate the decision a few years back to get out of the business of making classy comedies such as The Office and Parks and Recreation. Instead, let's just focus on this: NBC knows it screwed up with recent efforts to copy ABC's family comedy brand (The Michael J. Fox Show) or go bawdy like Fox (Bad Judge.) Network entertainment chief Jennifer Salke* admitted as much last month in an interview with USA Today. "What we were serving was something that felt broader and wasn't feeling of the brand," she told the paper. "It turns out that the NBC comedy (audience) was a pretty loyal, picky bunch and those shows were rejected by a lot of people right out of the gate."
Perhaps because NBC has successfully dealt with so many of its other problems, the network now seems ready to tackle its comedy glut head-on. It renewed The Carmichael Show for a third season despite so-so ratings. And in what's a mostly symbolic (and yet, not unimportant) move, NBC will once again program comedies on Thursday night, home to so many of the Peacock's best half-hours in past years. The well-regarded Superstore, which has been slowly building a loyal audience, will anchor at 8 p.m., and will be paired with newbie The Good Place. The latter series has all sorts of Thursday night mojo: It's created by Mike Schur (a veteran of both The Office and Parks and Recreation), and it co-stars comedy icon Ted Danson, who helped usher in the era of NBC's Thursday comedy hegemony in the 1980s with Cheers. The network is praying the already-established Superstore audience will follow it to a new night and that they, along with Schur's Parks fan base, will give Good a chance. Odds are, the ratings will not be spectacular, particularly when The Big Bang Theory returns to Thursday at the end of October. But NBC is not looking for blockbuster numbers here. The network has been struggling at 8 p.m. on the night for years, and it's not expecting a miracle. What it needs is for the hour to not totally tank, and to start generating good buzz. (Attracting a reasonable number of the highly educated, high-income viewers that advertisers covet would be nice, too.) Even these modest goals may be tough to achieve: NBC's dug a pretty deep hole for itself when it comes to comedy, and audiences are already overloaded with programming choices. Plus, cable and streaming are going to be rolling out a slew of well-executed comedies this fall, too, making it harder for NBC's little hour to get much media oxygen.
Who will win the streaming buzz battle?
In addition to the usual flurry of broadcast TV activity, this fall will feature what appears to be an unprecedented number of fourth-quarter launches by streaming giants Hulu, Amazon, and Netflix. The three major online players will roll out roughly two dozen new or returning series from September through year's end (and that's not counting shows targeted to kids and families). Because the streamers don't release ratings, the main way to judge the "success" of these series will be by whether they appear to break through the pop-culture clutter, as Netflix's Stranger Things did over the summer. By that metric, Netflix would seem to have the two shows most likely to succeed: Marvel's Luke Cage (September 30) and Gilmore Girls: A Year in the Life (November 25). Both are based on presold titles, with the latter also benefiting from nearly a decade of anticipation. These shows will get noticed.
Of course, with such great expectations comes a greater likelihood of disappointment, both among critics and subscribers. Stranger Things greatly benefited from flying under the radar, with chatter around the show building up almost grassroots-style. Amazon seems most likely to get a similarly organic buzz boost with One Mississippi (September 9) and Fleabag (September 16), two indie-style comedies with female leads (Tig Notaro and Phoebe Waller-Bridge, respectively). Both shows have great advance critical word of mouth, and combined with season three of Transparent (September 23) and the launch of Woody Allen's first-ever TV show (September 30), they could help Amazon emerge from the fall with a clearly defined comedy niche. Amazon also has high hopes for Goliath (October 14), the Billy Bob Thornton legal drama that marks writer David E. Kelley's first big foray into streaming. Meanwhile, Hulu is hoping two big TV stars — Hugh Laurie and Jeffrey Donovan (Burn Notice) — can bring their considerable fan bases to streaming with thriller Chance (October 19) and comedic drama Shuteye (December 7). The strategy worked with Mindy Kaling's The Mindy Project, which could end up making nearly as many episodes for Hulu as it did for Fox.
Will HBO turn the corner after an extended down cycle?
It's been a rough couple of years for the pay-cable pioneer. No, the network has never come anywhere close to a true crisis: Game of Thrones has given HBO the biggest hit it has ever had, at least in terms of audience size, while Veep and Silicon Valley both have supporters who argue, convincingly, they're the best comedies currently on TV.  HBO has also never stopped churning out hundreds of millions in profits for its owner, Time Warner. And yet, it would be Pollyannaish to argue there haven't been serious problems at the network that once liked to brag it wasn't really "TV." Showtime has been stealing viewers, Emmys, and critical attention with hits such as Ray Donovan, Homeland and, to a lesser degree, Masters of Sex and The Affair. Starz has become a legit Sunday player with Power. In less than half a decade, Netflix made a serious run for HBO's status as the undisputed champ of the premium-subscription space. A number of big programming bets yielded results that, ratings-wise, were either disappointing (The Leftovers, Looking, Togetherness, The Newsroom) or disastrous (Vinyl, The Brink). And while HBO once again has more Emmy nominees, its overall tally is way down this year, with FX nipping at its heels when you consider only scripted categories.
There are signs, however, HBO may be about to turn the page on its troubles. While it wasn't universally loved, the recently wrapped The Night Of gave the network weeks of mostly positive buzz and strong ratings. What's more, the next few weeks will see HBO debuting an unusually large number of new shows, increasing the odds of new hits emerging. The big roll of the dice is with Westworld (October 2), the futuristic thriller already being positioned as a potential successor to GOT. On the comedy front, HBO is looking past the looming final season of Girls by launching millennial-friendly half-hours High Maintenance (September 16) and Insecure (October 9), both of which seem designed to steal back some of the hipster comedy spotlight stolen from HBO by Netflix and Amazon. Next month also brings the long-anticipated (at least in some quarters) return of Sarah Jessica Parker to HBO with Divorce (October 9), which the network hopes can capture at least a faction of the passionate audience base Sex and the City once boasted (and still does, to a certain extent.) It's unlikely, of course, that everything unveiled over the next two months will end up a wild success. But as long as Westworld doesn't flat-out bomb with viewers, and if even a couple of HBO's newcomers click, the network will have gone a long way toward reversing its recent slump.
Does the CBS audience really want more of the same?
The folks who've (successfully) run the Eye network the past two decades are used to getting beaten up for being boring. They're also used to it not mattering. Save for detours such as The Good Wife, Mom, or this summer's BrainDead, CBS has thrived for over a decade by offering its viewers a programming diet dominated by predictable procedurals, unchallenging comedies, and Survivor. It's a formula that works, and one which CBS execs are loathe to tamper with too much. In fact, this fall's lineup may be the most CBS-y CBS schedule yet: All five of the network's new shows are centered around white male leads, including two starring veterans of previous CBS hits (Kevin James and Michael Weatherly). Based on how well duplication has worked in the past, it would be foolish to predict massive failure for the new lineup simply because critics are likely to pan most of the newcomers. And yet, it's hard not to wonder whether CBS's lack of creative inspiration could finally start to become a liability.
As most networks, broadcast and cable, continue to grapple with serious audience erosion as viewers march from linear viewing to on-demand consumption, the ability of shows — particularly new ones — to stand out has become more important than ever. Buzz may not always lead to bigger same-day ratings, but it can help boost overall viewership by making consumers more likely to either play back a DVR recording or seek out a stream. Advertisers also place a higher value on series that appeal to either a younger or more upscale audience, rather than shows that just get a bunch of (mostly) older viewers. Now, if CBS can get 13 million viewers to become regular fans of former NCIS star Weatherly's new drama Bull, or convince a significant portion of The Big Bang Theory's audience to stick around for Joel McHale's freshman comedy The Great Indoors, critical indifference and social-media irrelevancy simply won't matter. The CBS formula will live to fight another day. But what if audiences once again yawn at the Eye's new offerings, as they did with virtually all of the network's 2015–16 roster? What if CBS's base of older viewers is starting to catch up with the millennials and decides Netflix and Chablis beats settling for whatever knock-off procedural gets squeezed in between NCIS franchises? If that happens, CBS may finally have to come up with a new path forward.
Will Empire be strong enough to keep Fox afloat?
It's hard to overestimate how important Empire's continued health is to Fox's near-term future. The network didn't develop any new breakout hits last season (even if The X-Files had a successful six-week reboot) and a number of shows experienced double-digit ratings drops. On top of tall that, the last few months have been absolutely brutal for the network.  With season two of Wayward Pines a dud, and lacking a strong unscripted summer tentpole such as Big Brother, The Voice, or The Bachelorette, the network has barely registered a Nielsen pulse since last May. During the July political conventions, Fox actually found itself averaging fewer viewers than some of the cable-news channels. Summertime ratings — good or bad— don't always correlate to a network's fall performance, but the near-record lows hitting Fox this year could mean audiences won't be as aware of the network's new fall crop as they might have otherwise. At minimum, it means Fox heads into the new season with one hand tied behind its back.
All of this underlines why Fox needs Empire to remain not just a hit, but a juggernaut. Unfortunately, that may prove to be a tall order. Sure, on average, ratings for season two of Empire were every bit as big as the show's record-shattering freshman year. But that's only because season one was super-short and early episodes scored simply "big" Nielsen numbers as opposed to the monstrous tune in generated toward the end of the show's first three-month run. Toward the end of season two last spring, the show's same-day audience had started drifting toward series lows. This is not to say Fox's hip-hop soap had collapsed, at all: Even at diminished levels, Empire remained a massive success and Fox's most successful series, by a lot. But TV audiences in 2016 are arguably more impatient than ever, ready to shift series from "must-see" weekly appointment to "I'll stream it later" binge material if showrunners give them a reason to move on. And based on critical response and social media buzz — two admittedly unscientific metrics — Empire did exactly that in season two. It wouldn't be at all surprising if the show kicked off season three with still more Nielsen erosion. Once again, because Empire remains such a big hit, the show can sustain even significant losses and still retain its status as a hit. Its ability to make up for Fox's other failings, however, could shrink significantly. All this will be moot, of course, if Fox manages to launch a big new hit with offerings such as the promising Pitch or its remake of Lethal Weapon. But if not, Fox's year-to-year ratings declines could end up being pretty dramatic.
* An earlier version of this piece misspelled Jennifer Salke's name.